HOME PAGE

SITE GUIDE

SEARCH


REVIEWS

REVIEW ARCHIVES

ADVERTISING AT CURTAINUP

FEATURES

NEWS
Etcetera and
Short Term Listings

LISTINGS
Broadway
Off-Broadway

NYC Restaurants

BOOKS and CDs

OTHER PLACES
Berkshires
London
California
New Jersey
DC
Philadelphia
Elsewhere

QUOTES

TKTS

PLAYWRIGHTS' ALBUMS

LETTERS TO EDITOR

FILM

LINKS

MISCELLANEOUS
Free Updates
Masthead

A CurtainUp Review
The Trip to Bountiful
"I guess when you've lived longer than your house and your family, then you've lived long enough" — Mrs. Carrie Watts
---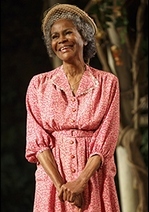 Cycely Tyson
(Photo: Joan Marcus)




Editor's Note: The Trip to Bountiful is just one of Horton Foote's many enduring dramas for stage and screen. To read more about Foote, his life and writing trademarks, and links to other plays reviewed at Curtainup, see our Horton Foote Backgrounder .



Initially, the thought of revisiting Horton Foote's cherished play The Trip to Bountiful so soon (it's actually been eight years, but time flies) after the superb (Signature Theater productionstarring the incomparable Lois Smith made me a little apprehensive. I needn't have worried.

The beautifully produced and finely-acted revival that has just opened on Broadway, under the direction of Michael Wilson, is a joy. It validates both the inherent excellence of Foote's fiercely sentimental play even as it proves once again what another gifted actor can do with the role of the spiritually unfettered but physically limited and aging Carrie Watts.

A glorious spunky Cicely Tyson plays this indomitable, occasionally incorrigible, character who feels trapped living with her son and his wife in a small house in Houston, Texas. It is a plum as well as a perfect role for the 79 year-old Tyson. Noted primarily as an acclaimed award-winning film and TV actor, she has appeared on the stage most notably on Broadway in The Corn is Green in 1983. She has joyously and movingly made Mrs. Carrie Watts her own unique creation.

Tyson has made it the role her own in so many ways that the experience of seeing her is nothing short of revelatory, even in the light of the Academy Award performance of Geraldine Page in the 1985 film version. The trick is to keep watching Tyson as she disarmingly changes her moods and her behavior to keep in line with what is expected of her, as she learns to slyly and mercurially cope with her peace-at-any-price son Ludie (Cuba Gooding, Jr.) and his shrewish, picky wife Jessie Mae Watts (Vanessa Williams).

It is through Tyson's vibrantly expressive eyes that we see Carrie's longing to revisit, before she dies, the country home where she lived most of her life. Forced to remain in the city where her son has found regular employment, Carrie is not so sure she can remain confined to the house, and determinedly and devilishly plots to make the trip back home.

There is no such thing as not being able to go home again for the unsettled Carrie who feels she has become a burden to Ludie and certainly to Jessie Mae who has no patience at all for her. Williams is splendid as the spoiled, forever primping and needling Jessie Mae who doesn't seem to have more to occupy her time than visit a girl friend at the local drug story. At home, Jessie Mae may rule the roost and the close-to-henpecked Ludie (a nicely modulated performance by Gooding, Jr.) but she can't curb Carrie's spirit. There is room for laughter as Carrie wards off her daughter-in-law's disapproval by singing hymns.

Despite the close quarters of their home there is no stifling of air by the undaunted Carrie as her carefully guarded plan of escape becomes a reality. Set designer Pat Bowie brings back the good old days when settings in a play were completely changed as locations changed. Thanks to Bowie, in addition to the cramped Houston apartment, we get the interior of a city bus terminal with its bustling travelers, another depot in the sticks, and also the dilapidated, boarded-up home and the over-grown fields of Bountiful. Everything is beautifully lighted by designer Rui Rita.

The fine actor Arthur French plays the ticket agent at the last stop. The wary, but eventually caring Sheriff who finds himself unwittingly committed to helping Carrie is well played by Tom Wopat.

One of the many lovely scenes in the play involves Carrie with Thelma (Condola Rashad), a young war-bride who is on route to stay with her family while her husband is overseas. Rashad, who received a Tony nomination for her performance in Stick Fly is sweetly affecting as Carrie's helpful and empathetic traveling companion for part of the way.

It's hard to know just how much this emotionally affecting revival rests in the masterly hands of director Wilson or in the instinctively magical moments created by Tyson is hard to know. While we may surmise that this is a play about having the courage to overcome obstacles and to do what one must before life is over, it is also about how important it is to give our life a meaning. What I do know for sure is that The Trip to Bountiful is a trip you would be remiss to miss.



The Trip to Bountiful
By Horton Foote
Directed by Michael Wilson

Cast: Cicely Tyson (Mrs. Carrie Watts), Cuba Gooding, Jr. (Ludie Watts), Vanessa Williams (Jessie Mae Watts), Condola Rashad (Thelma), Devon Abner (Houston Ticket Agent), Curtis Billings (Second Houston Ticket Agent), Arthur French (Roy), Tom Wopat (Sheriff).
Scenic Design: Jeff Cowie
Costume Design: Van Broughton Ramsey
Lighting Design: Rui Rita
Original Music and Sound Design: John Gromada
Running Time: 2 hours 20 minutes including intermission
Stephen Sondheim Theatre, 124 W. 43rd Street
(212) 239 - 6200
Tickets $37.00 - $142.00
Performances: Tuesday - Thursday @7pm; Friday and Saturday @8pm; Wednesday and Saturday @2pm; Sunday @3pm
From 03/30/13 Opened 04/23/13 Ends 07/07/13--extended 09/01/13
Review by Simon Saltzman based on performance 04/19/13

REVIEW FEEDBACK
Highlight one of the responses below and click "copy" or"CTRL+C"

I agree with the review of Trip to Bountiful
I disagree with the review of Trip to Bountiful
The review made me eager to see Trip to Bountiful
Click on the address link E-mail: esommer@curtainup.com
Paste the highlighted text into the subject line (CTRL+ V):

Feel free to add detailed comments in the body of the email. . .also the names and emails of any friends to whom you'd like us to forward a copy of this review.

Visit Curtainup's Blog Annex
For a feed to reviews and features as they are posted add http://curtainupnewlinks.blogspot.com to your reader
Curtainup at Facebook . . . Curtainup at Twitter
Subscribe to our FREE email updates: E-mail: esommer@curtainup.comesommer@curtainup.com
put SUBSCRIBE CURTAINUP EMAIL UPDATE in the subject line and your full name and email address in the body of the message. If you can spare a minute, tell us how you came to CurtainUp and from what part of the country.