HOME PAGE

SITE GUIDE

SEARCH


REVIEWS

REVIEW ARCHIVES

ADVERTISING AT CURTAINUP

FEATURES

NEWS
Etcetera and
Short Term Listings

LISTINGS
Broadway
Off-Broadway

NYC Restaurants

BOOKS and CDs

OTHER PLACES
Berkshires
London
California
New Jersey
DC
Connecticut
Philadelphia
Elsewhere

QUOTES

TKTS

PLAYWRIGHTS' ALBUMS

LETTERS TO EDITOR

FILM

LINKS

MISCELLANEOUS
Free Updates
Masthead

A CurtainUp Review
Anything Goes
Good authors too, who once knew better words
Now only use four-letter words
Writing Prose,
Anything Goes.
---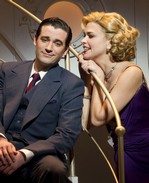 Colin Donnell and Sutton Foster
(Photo: Joan Marcus)

Even lyrics that don't sound as if just written, like the above snippet from the title song of Cole Porter's 1934 musical, are sheer poetry and continue to showcase how a skillfully created rhyme can fit a song's every mood — some have, in fact. been included in The Oxford Book of American Light Verse. Of course, when actually heard and accompanied by dancers with Fred and Ginger nimbleness, the hit parade of songs still makes Anything Goes not just "so easy to love" but impossible not to love.

Ethel Merman, the original Reno Sweeney at the Alvin Theater and Patti Lupone in the 784-performance revival at the Vivian Beaumont have now been joined by another beguiling belter and seasoned dancer, Sutton Foster. With her blonde curls Foster is a knockout. She looks great. She's younger and more wholesome looking than the the tough, been-around-the-bend babe that one associates with the role, but her singing and her dancing are sublime.

Though Foster's Reno Sweeney will have audiences singing "You're the Top" this third Broadway revival of Porter's hit machine isn't a one trick pony. To underscore the show's legendary standing, there's 79-year-old musical theater legend Joel Grey as a puckish Moonface Martin. The prduction at the Stephen Sondheim Theater (the first that's a perfect fit for that gorgeously redesigned venue) is also buoyed by Colin Donnell as a charming and velvety voiced Billy Crocker; the always wonderful John McMartin as his boozy tycoon boss; the lovely Laura Osnes as the love of Billy's life, a hilarious Adam Godley as her rich fiance and Jessica Walter as her bossy mom. Add a shoutout for Jessica Stone's sassy Erma and, most especially, the singing and dancing crew and passengers who make Derek McLane's luxury steamer a must visit for anyone yearning to re-experience the feeling of leaving a theater smiling, humming and bouncing up and down.

This long-legged Reno and petite Moonshine are indeed "De-Lovely." And the current Great Recession may well make this once again the kind of escape fare that has people like Mrs. Evangeline Harcourt and Elisha Whitney gorgeously attired (bravo, Martin Pakledinaz! and saved from financial disasters, despite their wrong-headed choices.

Credit is also due to director/choreographer Kathleen Marshall, music supervisor and arranger Rob Fisher, and the gifted design team. Without the right staging, even an almost fail-proof feel good show like this can spring a leak. But Marshall puts the emphasis exactly where it belongs: The terrific songs with their natural transition into dance by a truly outstanding ensemble)! With the performers making the songs soar and the dances perfectlly in synch with Porter's elegant lyrics and catchy score, the plot is, as it should be, a clothes hanger for the music; and as such it transforms the dated book with its often tired jokes into a priceless collectible.

Timothy Crouse and John Weidman's update of the original book didn't do much to make the farce less predictable or the jokes any less ho-hum but it did make room for some Porter songs from other shows. One of the best of these addition, "Friendship," gives us a welcome duet for Reno and Moonshine and they drolly turn it into one of numerous show stoppers. Another song inserted from elsewhere, "The Crew Song," would be missable if it didn't provide a solo for John McMartin. (Wikipedia has an interesting and very detailed entry on how and where the show was conceived, various updates and changing song lists. -Click here to read).

As for that clothes hanger plot, it contains some tart exchanges (for example when Evangeline Harcourt declares "Alcohol has not touched my lips" Elisha Whitney quips "You mean you've found a short cut?" ). However, it remains easily summed up in a double tweet (You'll find a somewhat more detailed plot summary at the end of the production notes): A London bound luxury cruiser's passengers include a boozy tycoon, an evangelist turned nightclub singer, a gangster disguised as a minister, hopeless romantics and stowaways. After numerous failed schemes and disguises to evade arrest and unite the star crossed lovers all ends well with not one but three happy couples —- or as my mother used to say "every pot finds its cover. " The disguises include a beard made up of hairs from Mrs. Harcourt's missing dog' (don't ask).

The sense of a very special fun time in the offing is established from the moment you enter the theater, with ticket takers and ushers sporting sailor hats, and a sea-blue pull-up curtain with an image of the cruise ship you're about to board. The pit orchestra leaves plenty of room on the triple decker ocean liner for the dance numbers, whether duets, quartets or involving the terrific ensemble. The clever Derek McLane has also managed to create a New York bar for the opening number, and a below deck brig to briefly incarcerate Moonshine and Billy. Peter Kaczorowski's lighting enhances the set as well as what's happening on it.

Overall this is a hugely enjoyable, stylishly nostalgic revival, with applause merited by all concerned. If you're in the mood for ear hugging songs and eye-popping costumes and dances, Anything Goes is, to borrow a line from "Friendship" the perfect "blendship."



Anything Goes
Music and lyrics by Cole Porter Original book by P.G. Wodehouse & Guy Bolton and Howard Lindsay & Russel Crouse
Currently used book by Timothy Crouse & John Weidman
Director/Choreographer: Kathleen Marshall
---
Cast: Sutton Foster (Reno Sweeney), Joel Grey (Moonface Martin), Colin Donnell (Billy Crocker), Adam Godley (Lord Evelyn Oakleigh), Laura Osnes (Hope Harcourt), Jessica Stone (Erma), Walter Charles (Captain)Robert Creighton (Purser), Andrew Cao (Luke), Raymond J. Lee (John), John McMartin (Elisha Whitney), Jessica Walter (Evangeline Harcourt)
Additional cast members: Clyde Alves, Ward Billeisen, Joyce Chittick, Nikki Renée Daniels, Margot De La Barre, Kimberly Fauré, Josh Franklin, Justin Greer, Daniel J. Edwards, Tari Kelly, Shina Ann Morris, Linda Mugleston, Kevin Munhall, Adam Perry, William Ryall, Jennifer Savelli, Anthony Wayne, Kristen Beth Williams

Musical Director: Rob Fisher
' Sets: Derek McLane
Costumes: Martin Pakledinaz
Lights: Peter Kaczorowski
Sound Brian Ronan
Dance Arranger: David Chase
Makeup: Angelina Avellone
Hair and Wig Design: Paul Huntley
Stage Manager: Peter Hanson
Running Time: Approximately 2 hours and 35 minutes, including one intermission
Roundabout Theatre Company at the Stephen Sondheim Theatre West 43rd Street 212/239-6200
From 3/10/11; opening 4/07/11
Tue at 8:00pm, Wed to Saturday 8:00pm, Wed, Sat Sun 2pm
Reviewed by Elyse Sommer at April 3rd press matinee
Book Summary: Boozy, Ivy League tycoon Elisha Whitney's assistant Billy Crocker ends up a stowaway on his boss's cruise ship when he discovers his lost love debutante Hope Harcourt is aboard and about to marry a rich Brit in order to restore the Harcourt's finances. Also aboard is Billy's friend sexy Reno Sweeny, evangelist turned nightclub singer and Minister Dobson who's on board with two of his converts. When Billy mistakenly identifies Dobson to F.B.I. agents as Moonface Martin Public Enemy No 13, the real Moonface and his friend Erma, thank him by giving him their friend's unused ticket and room. The problem is that this ties Billy to Moonface's non-show friend, Snake Eyes Johnson, Public Enemy No 1. So Billy must dodge the law as well as his boss for the rest of the trip with various disguises , even as he tries to convince Hope to be his love instead of the rich Brit's. After various hilarious but failed schemes (including a spell in the ship's brig for Billy and Moonshine) Billy and Hope are a pair again, Evelyn ends up with Reno, and Hope's mom ends her money worries by marrying Whitney-- who retains his fortune thanks to Billy's failure to execute a stock selling assignment.


Musical Numbers

Act One

Overture
I Get A Kick Out of You/Reno Sweeny
There's No Cure Like Travel!/Captain, Purser, Sailors
Bon Voyage/Sailors and Passengers
You're the Top/Billy Crocker & Reno Sweeny
Easy to Love/Billy Crocker
Easy to Love (Reprise)/Hope Harcourt
The Crew Song/Elisha Whitney
There'll Always Be a Lady Fair (Sailor's Chanty)/Quartet
Friendship/ Reno Sweeny and Moonface Martin
It's Delovely/Billy Crocker, Hope Harcourt
Anything Goes/Reno Sweeny, Sailors and Passengers

Act Two

Public Enemy Number One Captain, Purser, Passenger
Blow, Gabriel, Blow/Reno Sweeny, Angels and Passengers
-
Goodbye Little Dream, Goodbye/Hope Harcourt
Be Like the Bluebird/Moonface Martin
All Through the Night/Billy Crocker, Hope Harcourt and Quartet
The Gypsy in Me/ Lord Evelyn Oakleigh and Reno Sweeny
Buddie Beware/Erma and Sailors
Finale/ Full CompanyCompany
REVIEW FEEDBACK
Highlight one of the responses below and click "copy" or"CTRL+C"

I agree with the review of Anything Goes
I disagree with the review of Anything Goes
The review made me eager to see Anything Goes
Click on the address link E-mail: esommer@curtainup.com
Paste the highlighted text into the subject line (CTRL+ V):

Feel free to add detailed comments in the body of the email. . .also the names and emails of any friends to whom you'd like us to forward a copy of this review.

Visit Curtainup's Blog Annex
For a feed to reviews and features as they are posted add http://curtainupnewlinks.blogspot.com to your reader
Curtainup at Facebook . . . Curtainup at Twitter
Subscribe to our FREE email updates: E-mail: esommer@curtainup.comesommer@curtainup.com
put SUBSCRIBE CURTAINUP EMAIL UPDATE in the subject line and your full name and email address in the body of the message. If you can spare a minute, tell us how you came to CurtainUp and from what part of the country.



Slings & Arrows-the complete set
You don't have to be a Shakespeare aficionado to love all 21 episodes of this hilarious and moving Canadian TV series about a fictional Shakespeare Company

Our Review of the Show

TheScottsboro Boyse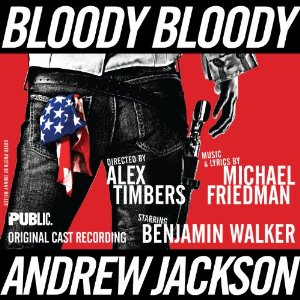 Bloody Bloody Andrew Jackson

In the Heights