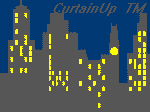 CurtainUp
The Internet Theater Magazine of Reviews, Features, Annotated Listings
www.curtainup.com
HOME PAGE

SITE GUIDE

REVIEWS

FEATURES

NEWS
Etcetera and
Short Term Listings

LISTINGS
Broadway
Off-Broadway

NYC Restaurants

BOOKS and CDs

OTHER PLACES
Berkshires
London
California
DC
Philadelphia
Elsewhere

QUOTES

On TKTS

PLAYWRIGHTS' ALBUMS

LETTERS TO EDITOR

FILM

LINKS

MISCELLANEOUS
Free Updates
Masthead
Writing for Us



CurtainUp Critic

Simon Saltzman



Born, raised and educated in New Jersey, Simon has remained true to his home state. He and his wife Lucy Ann make their home there and two of the publications for which he currently writes -- US1 Newspaper and The Bergen News Group -- are in New Jersey, as is Drew University where Lucy Ann is a professor in the theater department.

While in a bow to practicality, Simon studied accounting and business law at Pace College, his heart always belonged to the theater. Even as he attempted to master the laws of debits and credits, he also studied acting and performed at the famed The New York Dramatic Workshop. During a stint of working for producer Saint Subber and passing the SEC/NASD exam he saw his name on a marquee for the first time, as associate p roducer of Gore Vidal's Weekend at the Broadhurst Theater in 1968. A year later he produced an Off-Broadway show under his own aegis --- Frank Gagliano's City Scene starring Raul Julia, Michael Douglas and Lenny Baker. Finding his talents better suited to journalism than producing, Simon began writing theater criticism and features, a calling he pursues expertly and enthusiastically to this day.

Simon is currently the President of the Outer Critics Circle. The theater bug has also bitten one of the Saltzman's two children, their daughter Alice who teaches the Stella Adler acting technique to NYU students. (Son James is Manager of Digital Media Service, University of N. Carolina School of Medicine, Chapel Hill, N.C. ) and Son Alex and Alice's son Ben have yet to make career choices.

.






©Copyright 2012,Elyse Sommer.
Information from this site may not be reproduced in print or online without specific permission from esommer@curtainup.com