HOME PAGE

SITE GUIDE

SEARCH


REVIEWS

REVIEW ARCHIVES

ADVERTISING AT CURTAINUP

FEATURES

NEWS
Etcetera and
Short Term Listings

LISTINGS
Broadway
Off-Broadway

NYC Restaurants

BOOKS and CDs

OTHER PLACES
Berkshires
London
California
New Jersey
DC
Connecticut
Philadelphia
Elsewhere

QUOTES

TKTS

PLAYWRIGHTS' ALBUMS

LETTERS TO EDITOR

FILM

LINKS

MISCELLANEOUS
Free Updates
Masthead

A CurtainUp Review
The Book of Mormon
Additional Thoughts by Elyse Sommer
Oh boy, just like The Lion King. — Elder Cunningham, upon hearing he is being sent to Uganda.
---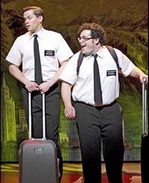 Andrew Rannells and Josh Gad
(Photo: Joan Marcus)

Word has been getting out that the new musical The Book of Mormon might be considered by some to be offensive and even insulting. Provocative in its own right, this audaciously conceived musical is more importantly a celebratory validation of the human spirit in the face of despair.

What could be more despairing or dispiriting to the people in a village in Uganda than to be devastated by AIDS even as they are under siege from a marauding war lord who intends to circumcise all the women? But what could be more engaging, emboldening and even inspiring to them or to any musical than a platoon of young, wide-eyed and especially naïve singing and dancing Mormons with a mission?

The Book of Mormon is the triumphant result of a collaborating triumvirate — Matt Stone (book, music and lyrics) Trey Parker (co-director, book, music, lyrics) and Robert Lopez (book, music, lyrics). They may have plenty to say about the intentions, the mission and the agenda of the Church of Jesus Christ of Latter-day Saints. But they wittily and wisely posit their story on the theory, and in the spirited execution of it, that "Making Things Up" (as one song tells it) is not only the best way to survive, it is the only way.

If you are already a fan of co-creators Parker and Stone's politically incorrect hit animated TV series South Park, this often hilarious assault on the origins, history, and recruitment policies of the Mormons will not come as a shock or as a revelation. I suspect for the rest (myself included) the irresistibly compulsive irreverence that pervades the show becomes increasingly endearing and even (dare I say it) spiritually empowering as the show moves to its exhilarating finale.

For reasons that are more or less understandable, there is no song list in the program. However, I may make reference to those songs that help me convey the joy of the experience. As if they were embarking on Noah's ark, the graduating class of enthusiastic Elders from the Missionary Training Center in Salt Lake City is paired off to travel to various parts of the world to spread the word for a period of two years. What a pair of incompatibles Elder Price (Andrew Rannells) and Elder Cunningham (Josh Gad) make.

The bright faced, self-satisfied, wholesome-to-a-fault Price hardly knows how to cope with the chubby, clinging, overly-needy and motor-mouthed Cunningham who wants nothing more than to be Price's best friend. Price wants nothing more than to prove himself despite his disappointment at not being sent (as he prayed for) to Orlando a.k.a. Disneyworld, Florida. They soon discover that getting converts by ringing door bells (there aren't any) in the small AIDS-ravaged village in Northern Uganda is going to be difficult if not impossible. This is confirmed by the village's chief (Michael Potts), his lovely daughter (Nikki M. James) and the villagers whose attitude toward life is summed up in the score's most outrageously irreverent song "Hasa Diga Eebowai. " translation is unprintable.)

As a result, the prevailing attitude and survival mode for the six clean-cut missionaries and the irrepressibly gay (in denial, of course) team leader Rory O'Malley is to turn off their feelings and their emotions by going into a wonderfully silly and sequined (don't ask) tap dance — one of a number of rip-tickling routines devised by choreographer and co-director Casey Nicholaw (The Drowsy Chaperone). Perhaps the musical's most spectacular and its most amusingly digressive number throws Price into a dream of purgatory in which an assemblage of dancing and writhing demons, devils, and assorted monsters have the benefit of costume designer Ann Roth's imagination.

There is an uproarious scene in which the Ugandans put on a play for the benefit of the visiting Mormon hierarchy in which great liberties are taken re-enacting the story of "Joseph Smith American Moses," as taught to them by the overly imaginative Elder Cunningham. This segment is also a sly reminder of the "Little House of Uncle Thomas Ballet" in The King and I, in which the Siamese tell the story of Uncle Tom's Cabin from their own perspective.

While the melodic and rhythmic score may be remain forever tied to the show, there isn't a mediocre tune in the lot. Scott Pask's scenic designs, as enhanced by Brian MacDevitt's lighting, is as much a celebration of imagination as anything that goes on in front of them.

Perhaps some Mormons will take offence at being reminded that they have scripture that explains why God turned some people black and how God suddenly changed his mind about black people in 1978. But even these little blips in their history can't hold a candle to some of the more disturbing and disabling stuff found in other religions. What this musical does so cleverly and effectively is to show us how one culture can be shown how to remove the drivel, adapt and apply basic truths, and become a part of a unifying universal dream.

Rannell, who was last seen on Broadway as Bob Gaudio (replacement) in Jersey Boys, and Gad, who played Barfee (replacement) in The 25th Annual Putnam County Spelling Bee are delightfully (mis)matched and certainly have equal opportunities as Elder Price and Elder Cunningham to wow us. Terrific performances are also given by Brian Tyree Henry as the war lord (with an unprintable name), Michael Potts as Mafala Hatimbi, and the vivacious Nikki M. James as his daughter. James delights us with her Act I solo and again with Gad, as they give a whole new meaning to getting baptized.

By avidly and conspicuously avoiding the sardonic and the parodic, the collaborators have created a very funny show that honors the age-old genre of biting satire. If I have to quibble a little, it may be that there has been little attempt to create three dimensional characters. But, as in a satirically targeted cartoon, there is satisfaction in even recognizing one dimension from a human perspective. The entire company, under the brilliantly conspiratorial direction of Nicholaw and Parker, are certainly proving that team work is the answer whether you are in the business of converting or simply entertaining, as this show does so wonderfully.

Editor's Note: We usually include a song list with musical reviews but since the show's program does not in this case we too will refrain from doing so in the interest of keeping your experience as fresh and surprising as possible. However, for the incurably curious, you can find the list here.

Additional Thoughts by Elyse Sommer
My worthy colleague has covered the many reasons why The Book of Mormons is more than likely going to be the elephant in the room at every awards ceremony this year, scooping up award after award. Not being a South Park fan, I thought I might just be a tad less smitten by this show, but no, I was as blown away as Simon by all this talent and exuberance that manages to add up to be both irreverent and warm and cuddly — enough so to please a broad spectrum of theater goers even though Parker, Lopez and Stone have seasoned their lyrics with F-bombs and other politically incorrect lines like a cook with a too heavy hand on the salt shaker.

While the tunes are, as Simon noted, so tied to the show to make the sort of standalone breakouts typical of big classic musicals unlikely, everything about The Book of Mormon has the look and feel of less cheeky forbears like South Pacific and The King and I. Speaking of that look, not only has Scott Pask filled the stage with wonderful stage images but he's framed it all with a proscenium dominated by a replica of the Salt Lake City Mormon temple with a swiveling Angel Moroni on top.

As Pask's imagination for each scene is limitless, so is costumer Ann Roth's. The way she's played with the basic black pants, white shirt and tie missionary outfit provides the show with a gradually changing mission accomplished visual arc. When the missionaries, having donned sly and snappily directed sequined outfits, revert to their more traditional attire, the Ugandans join them for the rousing finale.

Will this be as big a hit with members of the Church of Latter-Day Saints as everyone else? Probably not, though so far, several religious press reviews and word of mouth comments have expressed enthusiasm for the show's creativity; relief at the lack of mean-spiritedness, with the ballad "I Believe," sung by Elder Price singled out as pointing to the most positive aspects of Mormonism.

At any rate, there are plenty of folks making up that Everyone Else contingent. There have been daily lines for both standing room and last minute cancellation tickets. It all points to a long run for this truly original piece of musical theater.




The Book of Mormon
Book, music and lyrics by Trey Parker, Robert Lopez and Matt Stone. Choreographed by Casey Nicholaw
Directed by Nicholaw and Parker
---
Cast: Josh Gad (Elder Cunningham), Andrew Rannells (Elder Price), Nikki M. James (Nabalungi) Rory O'Malley (Elder McKinley), Michael Potts (Mafala Hatimbi), with Lewis Cleale, Scott Barnhardt, Justin Bohon, Darlesia Cearcy, Kevin Duda, Asmeret Ghebremichael, Brian Tyree Henry, Clark Johnsen, John Eric Parker, Jason Michael Snow, Benjamin Schrader, Michael James Scott, Brian Sears, Lawrence Stallings, Rema Webb, Maia Nkenge Wilson and Tommar Wilson; also Graham Bowen, Ta'rea Campbell and Tyson Jennette
Set design by Scott Pask
Costume design by Ann Roth
Lighting design by Brian MacDevitt
Sound design by Brian Ronan
Orchestrations by Larry Hochman
Music supervision by Stephen Oremus
Stage Manager:
Running Time:
Eugene O'Neill Theatre 230 West 49th Street 212-239-6200.
From 2/24/11; opening 3/24/11
Tickets, $137.00 - $59.
Monday through Saturday at 8:00 PM, with matinee on Saturday at 2:00 PM. After March 28 --Tuesday through Thursday at 7:00 PM, Friday at 8:00 PM, Saturday at 2:00 and 8:00 PM, Sunday at 2:00 and 7:00 PM. After May 30--Tuesday through Thursday at 7:00 PM, Friday at 3:00 PM & 8:00 PM, Saturday at 2:00 PM and 8:00 PM, Sunday at 3:00 PM. and after September 5: Tuesday through Thursday at 7:00 PM, Friday at 8:00 PM, Saturday at 2:00 and 8:00 PM, Sunday at 2:00 and 7:00
Reviewed by Simon Saltzman at March 22 press preview
REVIEW FEEDBACK
Highlight one of the responses below and click "copy" or"CTRL+C"

I agree with the review of The Book of Mormon
I disagree with the review of The Book of Mormon
The review made me eager to see The Book of Mormon
Click on the address link E-mail: esommer@curtainup.com
Paste the highlighted text into the subject line (CTRL+ V):

Feel free to add detailed comments in the body of the email. . .also the names and emails of any friends to whom you'd like us to forward a copy of this review.

Visit Curtainup's Blog Annex
For a feed to reviews and features as they are posted add http://curtainupnewlinks.blogspot.com to your reader
Curtainup at Facebook . . . Curtainup at Twitter
Subscribe to our FREE email updates: E-mail: esommer@curtainup.comesommer@curtainup.com
put SUBSCRIBE CURTAINUP EMAIL UPDATE in the subject line and your full name and email address in the body of the message. If you can spare a minute, tell us how you came to CurtainUp and from what part of the country.



Slings & Arrows-the complete set
You don't have to be a Shakespeare aficionado to love all 21 episodes of this hilarious and moving Canadian TV series about a fictional Shakespeare Company
Book of Mormon -CD

Our review of the show