HOME PAGE

SITE GUIDE

SEARCH


REVIEWS

REVIEW ARCHIVES

ADVERTISING AT CURTAINUP

FEATURES

NEWS
Etcetera and
Short Term Listings

LISTINGS
Broadway
Off-Broadway

NYC Restaurants

BOOKS and CDs

OTHER PLACES
Berkshires
London
California
New Jersey
DC
Philadelphia
Elsewhere

QUOTES

TKTS

PLAYWRIGHTS' ALBUMS

LETTERS TO EDITOR

FILM

LINKS

MISCELLANEOUS
Free Updates
Masthead

A CurtainUp Review
Tea for Three: Lady Bird, Pat & Betty
You know, Mrs. Johnson invited me over for tea and a tour a few weeks before we moved in. She is such a gracious person, but the house was in terrible shape! She must have been afraid to touch anything Mrs. Kennedy had done. Anyway, with thousands of people coming through here each week, the place takes constant upkeep.— Pat Nixon
---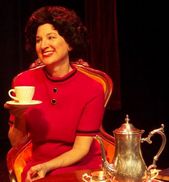 Elaine Bronka as Lady Bird


In 2000, Elaine Bronka landed a job impersonating eight first ladies, starring opposite Rich Little in The Presidents, which aired on PBS and toured across the country. She spent a lot of time poring over videotapes of the ladies, watching how they moved and spoke, and trying to figure out what really made them tick.

Eventually Bronka realized she wanted to write a play in which the first ladies took center stage. So she collaborated with playwright Eric H. Weinberger, and the result is Tea for Three: Lady Bird, Pat & Betty a humorous and very human portrait of three ladies who took on what Pat Nixon called "the hardest unpaid job in the world."

The solo show, directed by Byam Stevens, has three distinct parts divided by three-minute breaks. Set in the first ladies' private quarters, each segment reveals the special qualities that defined these women and their relationship to their husbands and their jobs.

Lady Bird Johnson was elegant, classy and always a ... well ... lady. She was born in a place and at a time when women were expected to devote their lives to their husbands, and she saw her main job as soothing and comforting Lyndon, especially through the trying times of the Vietnam War.

Pat Nixon seems to have known from the very beginning that she had married a difficult man. His career choice only added to her difficulties - from being tormented by protesters in Latin America to bearing the trials of Watergate. If all the first ladies became victims, to some extent, of their husbands' ambition, Pat Nixon was the one who truly suffered.

Betty Ford, a former dancer and party girl, is the most vivacious of the lot. Despite her physical and mental problems, she thoroughly enjoyed being first lady. Unlike the other two, she not only had her own opinions, she also was not afraid to express them. Fortunately, her husband was tolerant to an extent one tends to believe would not have been the case with either Johnson or Nixon.

All three of these women came from different parts of the country. Lady Bird was from Texas, Pat was from California and Betty was from Michigan. Their mannerisms, accents and speech patterns all reflected their places of birth. With a fresh dress and new wig, Bronka takes on all the characteristics that distinguish these three women. Lady bird has a soothing southern sing-song. Pat's voice is guarded and defensive. Betty's is filled with girlish exuberance; she likes to laugh.

Given all that has been written about these presidents and their wives, there probably is not a great deal that is new in Tea for Three, but Bronka's delightful and insightful portrayal of these woman makes them come to life in a particularly theatrical way.

After a 2005 premiere at 12 Miles West inn Bloomfield, New Jersey and eight years of touring across the country, the show is in New York City, thanks to Amas Musical Theatre and a generous contribution from Meryl Streep. Don't miss it.



Tea for Three
Written by Eric H. Weinberger with Elaine Bronka
Directed by Byam Stevens
Performed by Elaine Bronka
Production Stage Manager: Laura Lindsay
Set Coordinator: Matt Kaprielian
Lighting Design: Meghan Santelli
Sound Design: Rory Breshears
Costume Design: Bunny Mateosian and Patricia Carucci
Wig Design: Robert E. McLaughlin
Running Time: 80 minutes with two 3-minute intervals
Presented by AMAS Musical Theatre
The 30th Street Theatre, 259 West 30th Street
From 5/30/13; opening 6/3/13; closing 6/29/13
Wednesday through Saturday at 8pm, matinees Wednesday and Saturday at 2pm, Sunday at 3pm, added performances 5/31 at 2pm, 6/3 at 7pm, no show 6/8 at 8pm
Tickets: $45 (212) 868-4444
Reviewed by Paulanne Simmons June 1, 2013


REVIEW FEEDBACK
Highlight one of the responses below and click "copy" or"CTRL+C"

I agree with the review of Tea for Three
I disagree with the review of Tea for Three
The review made me eager to see Tea for Three
Click on the address link E-mail: esommer@curtainup.com
Paste the highlighted text into the subject line (CTRL+ V):

Feel free to add detailed comments in the body of the email. . .also the names and emails of any friends to whom you'd like us to forward a copy of this review.

Visit Curtainup's Blog Annex
For a feed to reviews and features as they are posted add http://curtainupnewlinks.blogspot.com to your reader
Curtainup at Facebook . . . Curtainup at Twitter
Subscribe to our FREE email updates: E-mail: esommer@curtainup.comesommer@curtainup.com
put SUBSCRIBE CURTAINUP EMAIL UPDATE in the subject line and your full name and email address in the body of the message. If you can spare a minute, tell us how you came to CurtainUp and from what part of the country.