HOME PAGE

SITE GUIDE

SEARCH


REVIEWS

REVIEW ARCHIVES

ADVERTISING AT CURTAINUP

FEATURES

NEWS
Etcetera and
Short Term Listings

LISTINGS
Broadway
Off-Broadway

NYC Restaurants

BOOKS and CDs

OTHER PLACES
Berkshires
London
California
New Jersey
DC
Philadelphia
Elsewhere

QUOTES

TKTS

PLAYWRIGHTS' ALBUMS

LETTERS TO EDITOR

FILM

LINKS

MISCELLANEOUS
Free Updates
Masthead

A CurtainUp Review
Matilda the Musical
The Very, Very British Matilda The Musical Has Landed on Broadway With All the Its Very, Very British, Deliciously Scary Snap, Crackle and Pop In Place. By Elyse Sommer
PEOPLE DON'T LIKE SMARTY PANTS WHAT GO
ROUND CLAIMING THAT THEY KNOW STUFF WE DON'T KNOW.
NOW HERE'S A TIP:
WHAT YOU KNOW MATTERS LESS
THAN THE VOLUME WITH WHICH WHAT YOU DON'T KNOW'S
EXPRESSED
CONTENT HAS NEVER BEEN LESS IMPORTANT, SO…
YOU HAVE GOT TO BE
LOUD (LOUD! LOUD! LOUD!
— Mrs. Wormwood in "Loud," the sassy and satirical putdown of learning .
---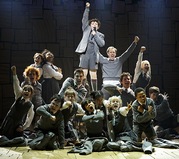 The Broadway Kids (Photo: Joan Marcus)
When Matilda The Musical became an Olivier Award winning hit in London the likelihood its crossing the pond and landing on Broadway was a no-brainer. After all, there's always room for a big show that's family friendly enough to sell more than the usual pair of tickets and have enough all ages appeal so that the adults don't feel that they're just along as chaperones.

Fortunately, while Matilda is still playing in London, Bertie Carvel is on board as the sadistic head mistress, Miss Trunchbull. As Brian Bedford's Lady Bracknell made The Importance of Being Earnest worth seeing yet another time, so Carvel's bosomy, bully would be reason enough to see Matilda even if the rest of the show's assets weren't as dazzling here as they were over there. That goes for the four American kids alternating as the spunky super gifted little bookworm ( I saw Milly Shapiro but friends and colleagues have given high grades to all) to the rest of the American cast. Lauren Ward who, like Carvel, reprises her role as the supportive but also bullied teacher, was actually the only American in the London production so this is a welcome home coming as well as a reprise.

Lizzie Loveridge's review of Matilda in London sums up what made, and still makes, it so refreshing and entertaining. For starters there's Dennis Kelly's faithful adaptation of Roald Dahl's dark but ultimately bracing 1988 children's novel about a super bright unloved little girl who thanks to a naughty streak and special telekinetic power gains happiness and self-esteem despite her abusive, tasteless parents and a school dominated by imagination crushing rules. Equally important vital is Rob Howell's inventive stage craft, Peter Darling's brilliantly peppy choreography and Tim Minchin's versatile, tuneful music. I'll therefore just add some additional comments to her review. It's re-posted right below the current production notes with a picture of Trunchbull and Miss Honey and also the lovely swing scene.

I must however, preface my own praises with a word about the one aspect of this production that kept me from being as 100% bowled over as Lizzie was. Somebody —Director Matthew Warchus, voice director Andrew Wade, music director David Holcenberg, or someone — should be doing to adjust the auditory problems of the production and perhaps have the kids ease up on sounding British so that less of Tim Minchin's clever story propelling lyrics can actually be heard.

The clarity problem often applies even the dialogue, especially the scenes when Matilda enthralls Mrs. Phelps (Karen Aldridg), the librarian with her continuing adventures in which her uncouth, unloving parents metamorphose into a loving couple she calls the Escapist and the Acrobat.

The way Matilda's story telling is illustrated and accompanied by music adds to the show's eye-popping pleasures. But this puts an enormous strain on the young actor's voice — and, alas, on the audience's ability to hear what she's saying. I should add that I spent most of the intermission, asking a number of youngsters and adults whether they were experiencing similar auditory issues. The adults all had problems understanding the words. The kids seemed either more attuned to this kind of amped up sound or got it all via the stage wizardry and from being Roald Dahl fans and consequently just thrilled to see these characters come to vivid musical life.

That quibble, which is not a minor one, aside, this is indeed a thrilling musical. It's moved very comfortably into the Shubert theater with excellent use made of the aisles and, at one point, the front loges.

The American taking over key roles couldn't be better. My Matilda, Milly Shapiro, has the stage presence of someone three times her age and she and her talented schoolmates execute the demanding dances with incredible skill and satisfyingly capture the revolutionary spirit that finally undoes the monstrous Trunchbull.

Karen Aldridge is warm and appealing as the librarian who, besides Miss Honey her teacher, is the only other supportive adult in Matilda's life. Like Bertie Carvel, Lesli Margherita and Gabriel Ebert as the unloving vulgarian parents make these meanies fun to watch.

The ditzy, dance competition obsessed Mrs. Wormwood is terrific in "Loud" which is a snazzy the satirical rant against educated pursuits. Ebert as her sleazy used car salesman spouse will be a revelation to anyone who saw him in Amy Herzog's non-musical 4000 Miles. Who knew he was such a nimble song and dance man. With his green hair (courtesy of Matildá's being naughty to make up for her mistreatment) and garish green plaïd suit to match. In "Telly" he too proudly proclaims his disregard for book learning with "All I know I learnt from telly." The actor not only makes Daddy Wormwood a funny but complex character but delivers an amusing tongue-in-cheek audience address vaudeville bit at the end of the intermission (best to rush back from the bathroom if you don't want to miss it).

I've already praised the Peter Darling who also choreographed Billy Elliot but there's no overpraising his contribution to the success of Matilda. This is especially true for the ensemble numbers like the discipline advocating "Smell of Rebellion" in which Trunchbull puts the ensemble through an exhausting routine that includes vault tumbles.

Given that the Brits have sent us their hit with the man who created the role of Matilda's unforgettable, the initial batch of ecstatic reviews and the crowds at the matinee I attended Matilda the Musical will be as big a hit in New York as in London

New York Production Notes
Book by: Dennis Kelly, based on the Roald Dahl novel
Lyrics and Music by: Tim Minchin
Directed by Matthew Warchus
Choreography: Peter Darling
Cast List: Sophia Gennusa Oona Laurence, Bailey Ryon and Milly Shapiro (Matilda), Bertie Carvel (Miss Trunchbull), Gabriel Ebert (Mr. Wormwood) Lesli Margherita (Mrs. Wormwood) and Lauren Ward (Miss Honey) Karen Aldridge (Mrs. Phelps), John Sanders (Sergei) Philip Spaeth (Rudolpho), Other parts variously played by Frenie Acoba,Erica Barnett, Judah Bellamy, Jack Broderick, Ava DeMary,John Arthur Greene,Emma Howard, Nadine Isenegger,Colin Israel,Thayne Jasperson,,Tamika Sonja Lawrence,Luke Mannikus, Madilyn Morrow,Sawyer Nunes, Jared Parker,Celia Mei Rubin,Ryan Steele Betsy Struxness,Samantha Sturm,Heather Tepe, Ben Thompson,Clay Thomson Taylor Trensch, Beatrice Tulchin,Ted Wilson
Set and Costume Design: Rob Howell
Lighting Design: Hugh Vanstone
Sound Design: Simon Baker
Dramaturgy: Jeanie O'Hare
Voice director: Andrew Wade
Musical director: David Holcenberg
Music coordinator: Howard Joines
Stage manager: Kelly A. Martindale
Run Time: Approximately two hours and 40 minutes, including one intermission
Shubert Theatre 225 West 44th Street 212/239-6200
From 3/04/13; opening 4/11/13; open-ended
Monday - Friday @8pm.Saturday @2 and 8 pm. from 4/16: Tuesday and Thursday @7pm, Wednesday @2 and 8pm, Friday @8pm, Saturday @2 and 8pm, Sunday @3pm
Tickets: $32 - $147
Reviewed by Elyse Sommer at April 13th press matinee
Musical Numbers

Act One

Miracle (Company)
Naughty (Matilda)
School Song (Company)
Pathetic (Miss Honey)
The Hammer (Miss Trunchbull, Miss Honey and Children)
The Chokey Chant (Company)
Loud (Mrs Wormwood and Rudolpho)
This Little Girl (Miss Honey)
Bruce (Children)

Act Two

Telly (Mr Wormwood and Michael Wormwood)
When I Grow Up (Company)
I'm Here (Matilda and Escapologist)
The Smell of Rebellion (Miss Trunchbull, Miss Honey and Children)
Quiet (Matilda)
My House (Miss Honey)
Revolting Children (Company)
Lizzie Loveridge's Review of Matilda the Musical
Looks are more important than books. — Mrs Wormwood
---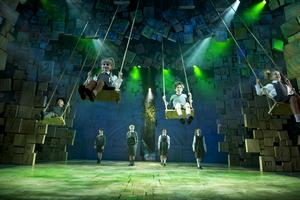 Children in "When I Grow Up" (Photo: Manuel Harlan)

We had heard from its showing in Stratford Upon Avon last year that Matilda the Musical was rather special but I didn't expect to be so blown away by this delightful production about the precocious little girl who loves books and is born into a family of book hating telly addicts. Delightful as ten year old Eleanor Worthington Cox is as Matilda, it is Bertie Carvel as the wicked headmistress Miss Trunchbull who stole the show for me.

It all goes wrong for Matilda at birth when her father, the second hand car dealer Mr Wormwood (Paul Kaye), refuses to acknowledge that she is a girl and calls her boy throughout. Her mother (Josie Walker) is obsessed with ballroom dancing competitions with her dance partner the slimy Rudolpho (Gary Watson).

Matilda discovers she can be naughty and substitutes her father's hair oil for something that turns his hair green. She seeks solace in the stories at the local library with librarian Mrs Phelps (Melanie la Barrie) but is sent to Crunchem Hall Primary School ruled by the vicious ex-hammer thrower, Miss Trunchbull. Matilda is taught by the shy, self effacing Miss Honey (Lauren Ward) and discovers that one of her stories about a daring Escapologist (Matthew Malthouse) and his wife the Acrobat (Emily Shaw) has a basis in fact. She uses her special powers to frustrate Miss Trunchbull and her favoured punishment for the pupils of confinement in a cell with nails and glass in the walls called "Chokey."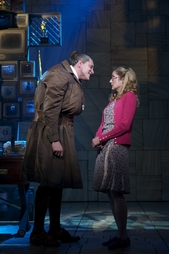 Bertie Carvel as Miss Trunchbull and Lauren Ward as Miss Honey
(Photo: Manuel Harlan)

The music will have you trying to work out where you have heard those notes before, so I presume what we have here is not derivative but pastiche. The tunes are a play on the style and rhythms of those from Oliver, Phantom, Les Miserables and many other well known musicals, and even grand opera. They make excellent hearing.

Minchin's lyrics too are great fun. The choreographed children have been drilled to within an inch of their life and the set piece numbers are startingly good. "When I Grow Up" in which we see smaller children grow up and switch swings with their older counterparts is really impressive and memorable. I loved the gym drill over the gym horse which culminates in Trunchbull athletically skipping with a gymnastic ribbon.

Matthew Warchus' production has plenty of dark fun in it to satisfy adults in the audience but the heart warming story of the delicate Miss Honey never feels sentimental or schmaltzy as admirably underplayed by Mrs Warchus, Lauren Ward. I saw 10 year old Eleanor Worthington Cox as Matilda. She is one of four alternate Matildas. She sings and dances superbly but is a natural actress with an innocent charm that pleases.

Bertie Carvel gives a superbly, wry comic performance as Miss Trunchbull. Part leather clad Richard III, part daunting Olympian in the strength field events, she has a capacious bosom adorned with a T shirt of Olympic rings. Trunchbull so should have been the symbol of the London Olympics in 2012! Carvel has a large hairy mole on his face and stands giving the audience amused asides with one hand permanently bent backwards. We cheer on Bruce (Jake Bailey) who has the challenge of eating all of Miss Trunchbull's Chocolate Cake and love the rock number at the end when the children sing "Revolting Children".

Rob Howell's set and costume designs are delightful. Library shelves fill the stage and the surround is alphabet building blocks lit dramatically by Hugh Vanstone. The RSC may have as big a hit with Matilda as they did with Les Miserables back in 1985. And what do I want for Christmas? A ticket to see Matilda again!



Matilda the Musical
Music and Lyrics by Tim Minchin
Book by Dennis Kelly
Original novel by Roald Dahl
Directed by Matthew Warchus
---

Starring: Bertie Carvel, Paul Kaye, Lauren Ward, Josie Walker,
The Matildas: Eleanor Worthington Cox, Sophia Kiely, Cleo Demetriou, Kerry Ingram
With: Peter Howe, Melanie La Barrie, Matthew Malthouse, Emily Shaw, Verity Bentham, Alistair Parker, Marc Antolin, Nick Searle, Lucy Thatcher, Matthew Clark, Michael Kent, Rachel Moran, Leanne Pinder.
The Children: Ruby Bridle, Jemima Eaton, Ellie Simons, Jake Bailey, James Beesley, Zachary Harris, William Keeler, Alfie Manser, Jaydon Vijn, Lili Laight, Isobelle Molloy, Lucy May Pollard, Toby Murray, Louis Suc, Ted Wilson, Alicia Gould, Jemima Morgan, Annabel Parsons, Oonagh Cox, Fleur Houdijk, Katie Lee, Thomas Atkinson, Callum Henderson Jamie Kaye
Choreography by Peter Darling
Design: Rob Howell
Orchgestrations and Additional Music: Chris Nightingale
Sound: Simon Baker
Lighting: Hugh Vanstone
Illusion: Paul Kieve
Musical Director: Bruce Lee
Running time: Two hours 30 minutes including one interval
Box Office: 0844 412 4652
Booking to 21st October 2012
Reviewed by Lizzie Loveridge based on 21st November 2011 performance at The Cambridge Theatre, Earlham Street, London WC2 9HU (Tube: Covent Garden)