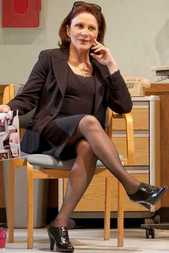 Linda Lavin
(Photo credit: Carol Rosegg)
Linda Lavin is no stranger to Broadway. For Nicky Silver, the creator of Rita Lyons, the monstrous matriarch of his ueber dysfunctional family comedy,
The Lyons,
is his first Broadway outing. While numerous other Silver plays have been staged by the Vineyard Theater, this is the first one to transfer to a Broadway house. The move uptown was fueled by Lavin's incredibly funny and ultimately poignant performance. Though it's a 6-character play — with excellent performances from Dick Latessa, Kate Jennings Grant and Michael Esper as Rita's hapless family members — this was and still is Lavin's show.
Allen Moyer's set fits the larger stage of its new home very nicely and the audience at the press matinee I attended was very responsive. The only major change in the script is the elimination of Kate Jennings Grant's Alcoholic Anonymous meeting monologue after the intermission. Since I thought this was an unnecessary transitional scene, I can only applaud its omission this time around.
The transitional second act openter now takes us from that brilliantly funny-sad bedside scene to the downtown Manhattan apartment that Curtis Lyons is being shown by an actor moonlighting as a real estate agent (Gregory Woodell making the most of his brief appearance). It's a tense little drama within the drama. Though this depicts Curtis as the apple not falling far from the family tree, and as desperately in need of a new start, it's mainly a dramatic device, a bridge to take us back to the hospital after Ben Lyons has met the Grim Reaper. As such, it goes on a bit too long, and I couldn't help thinking that the transition between the Act One finale and the Act Two beginning, needed something more than just deleting that AA meeting.
Except for the rather minor transition problem, seeing
The Lyons
a second time somehow deepened the poignancy underneath Lavin's hilarious portrait of a woman who imprisoned herself in a loveless marriage because it never occured to her to just walk out. Whether that makes it a strong enough play to sustain a successful Broadway run remains to be seen, especially in a season with so many Broadway marquees lit up with new titles,
In the meantime, since Mark Brokaw and the original design team as well as the cast on board again, everything I said last November applies to this production. And so, please continue reading, by clicking
here
where you'll also find links to other Nicky Silver plays reviewed at
Curtainup.
Broadway Production Notes

The Lyons by Nicky Silver
Directed by Mark Brokaw
WITH: Michael Esper (Curtis Lyons), Kate Jennings Grant (Lisa Lyons), Dick Latessa (Ben Lyons), Linda Lavin (Rita Lyons), Brenda Pressley (Nurse) and Gregory Wooddell (Brian).
Scenic design: Allen Moyer
Lighting design: David Lander
Costumes: Michael Krass Original music and sound design: David Van Tieghem
Fight director: Thomas Schall
Stage Manager: Robert Bennett
Running Time: Approx. 1 hour and 40 minutes with 1 intermission
Cort Theatre 138 W. 48 St 212/239-6200
From 4/05/12; opening 4/23/12.
Wednesday - Saturday @8pm, Wednesday and Saturday @2pm Sunday @3pm; after 4/25, Tuesdays at 7, Wed. at 2 and 8, Thursdays at 7, Fridays at 8, Saturdays at 2 and 8 and Sundays at 3.
Tickets $26.50 to $126.50
Review by Elyse Sommer based on 4/21/12 press matinee
Original Review
REVIEW FEEDBACK
Highlight one of the responses below and click "copy" or"CTRL+C"
I agree with the review of The Lyons
I disagree with the review of The Lyons
The review made me eager to see The Lyons
Click on the address link E-mail:
esommer@curtainup.com
Paste the highlighted text into the subject line (CTRL+ V):
Feel free to add detailed comments in the body of the email . . . also the names and emails of any friends to whom you'd like us to forward a copy of this review.