HOME PAGE

SITE GUIDE

SEARCH


REVIEWS

REVIEW ARCHIVES

ADVERTISING AT CURTAINUP

FEATURES

NEWS
Etcetera and
Short Term Listings

LISTINGS
Broadway
Off-Broadway

NYC Restaurants

BOOKS and CDs

OTHER PLACES
Berkshires
London
California
New Jersey
DC
Philadelphia
Elsewhere

QUOTES

TKTS

PLAYWRIGHTS' ALBUMS

LETTERS TO EDITOR

FILM

LINKS

MISCELLANEOUS
Free Updates
Masthead

A CurtainUp Review
Knives in Hens
All I want to do is push names into what is there, the same as when I push my knife into the stomach of a hen. — Young Woman
---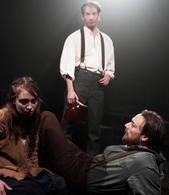 Emilie Krause, Ross Beschler, Jered McLenigan
(Photo Credit: Paola Nogueras.)

Once again true to their mission, Theatre Exile has taken on a challenging script and turned audience expectation on its head. David Harrower's enigmatic Knives in Hens, driven by powerful forces, is nothing like Exile's last three productions, except for the bold excellence of the writing, the knowing direction, and the hard, direct talent of the actors.

There's the feel of a fable: Long ago three rural folks lived near a village in an unspecified place and time. There's Young Woman (Emilie Krause), her husband William (Jered McLenigan) and the miller, Gilbert (Ross Beschler). The woman and her ploughman husband live a rough life in a fairly isolated area. The miller, an outsider, is hated in these environs, for he's more evolved and literate than the nearby villagers, and because for his pay he takes a share of the grain he grinds. The handsome miller, however, holds unsought, dark promise for the young wife.

The ploughman, a blunt and mostly inarticulate man of the soil, paradoxically understands metaphor. Yet the wife, who is deeply affected by words, and strains to cement things with words, doesn't understand. You are "a field, "says the ploughman.";I'm not a field,"says the wife. "How am I a field?" To her a word is a real thing, like her knife in the stomach of a hen. She does not admit metaphor. Symbolic Interactionists must have a field day arguing with this.

Surroundings are very important in the total experience of Exile's production of Knives in Hens. This design team took on the huge task of creating an all-encompassing environment complete with hills, dirt and straw, trees, mists, dark with bits of laced in light, a house, a mill, with a horizontal (!) grinding wheel, and water — all accompanied by original music and sounds. However, the decision to have audience seating running along both sides of the performance space creates a situation where, instead of being submerged in the atmosphere as was the intention, audience members look across the long, narrow created landscape only to see other audience members looking back at them. Still, the misty allegorical set undoubtedly deepens and enhances the work.

Spoiler Alert. Stop here and go see the play. Then come back.

Literacy is not new to the young farm woman. She can read and write, but assisted by the miller, she is becoming freed through writing her words down in ink. Yet her basic relationship to words doesn't evolve, it hardens. It's about permanence. When ink holds down her thoughts, it sets her free. But Harrower's play is more simple and more complex than that. On a more direct level, her knowledge of a controlling, transgressing husband's infidelity will set her free to take steps to deal with a brutally spare marriage.

Something profound is going on, tied up in the relationships, in a cold eroticism, in the land. It's felt under the story, stark and poetic in the peculiar use of words and in the way the actors move, like an allegory you can't quite grasp.



Knives in Hens
by David Harrower
Directed by Brenna Geffers

---

Cast: Emilie Krause, Jered McLenigan, Ross Beschler
Scenic Design: Thom Weaver
Lighting Design: Thom Weaver
Technical Director: Mike Troncone
Costume Design: Rosemarie Mckelvey
Original Music and Sound Design: Christopher Colucci and Daniel Perelstein
Feb 9 – Mar 4, 2012
70 minutes with no intermission
Reviewed by Kathryn Osenlund based on 02/16 performance. Studio X. Theatre Exile, 13th and Reed Sts, Philadelphia
REVIEW FEEDBACK
Highlight one of the responses below and click "copy" or"CTRL+C"

I agree with the review of Knives in Hens
I disagree with the review of Knives in Hens
The review made me eager to see Knives in Hens
Click on the address link E-mail: esommer@curtainup.com
Paste the highlighted text into the subject line (CTRL+ V):

Feel free to add detailed comments in the body of the email. . .also the names and emails of any friends to whom you'd like us to forward a copy of this review.

Visit Curtainup's Blog Annex
For a feed to reviews and features as they are posted add http://curtainupnewlinks.blogspot.com to your reader
Curtainup at Facebook . . . Curtainup at Twitter
Subscribe to our FREE email updates: E-mail: esommer@curtainup.comesommer@curtainup.com
put SUBSCRIBE CURTAINUP EMAIL UPDATE in the subject line and your full name and email address in the body of the message. If you can spare a minute, tell us how you came to CurtainUp and from what part of the country.