HOME PAGE

SITE GUIDE

SEARCH


REVIEWS

REVIEW ARCHIVES

ADVERTISING AT CURTAINUP

FEATURES

NEWS
Etcetera and
Short Term Listings

LISTINGS
Broadway
Off-Broadway

NYC Restaurants

BOOKS and CDs

OTHER PLACES
Berkshires
London
California
New Jersey
DC
Philadelphia
Elsewhere

QUOTES

TKTS

PLAYWRIGHTS' ALBUMS

LETTERS TO EDITOR

FILM

LINKS

MISCELLANEOUS
Free Updates
Masthead

A CurtainUp Review
Paula Vogel's Pulitzer Prize Winning How I Learned to Drive Returns to New York

Sometimes to tell a secret, you first have to teach a lesson. — L'il Bit
---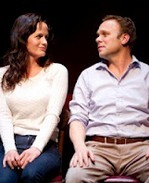 Elizabeth Reaser & Norbert Leo Butz
(Photo credit: Joan Marcus)

How I Learned to Drive, like Wit , is a Pulitzer Prize winning play first seen during Curtainup's infancy now being reprised in New York. Paula Vogel's bravura blending of dramatic devices still makes this a knock-your-socks-off triumph. With sexual abuse scandals all too much in the news, the play is actually more relevant than ever. But this never was, and still isn't, your typical expose. How I Learned to Drive's durability derives less from its timeliness, than from the way Vogel used her impressively diverse dramatic craftsmanship to explore a fraught subject non-judgmentally and with remarkable humor.

Revisiting this devastating study of an older man's long-term emotional and sexual manipulation of his young niece, brought a new appreciation of How I Learned to Drive's adaptability in terms of new interpretations. Norbert Leo Butz is a more memorable than ever Uncle Peck. The actor, best known for his standout performances in Broadway musicals (Catch Me If You Can, Dirty Rotten Scoundrels) brings a riveting complexity to the ex-Marine whose Southern courtliness, inherent kindness and neediness all play into the inappropriate relationship that dates back to when he held the newborn L'il Bit in his hand.

Theater goers who saw the play fifteen years ago, will recall David Morse as a less aggressive predator, especially in the scene that takes the story back to when Uncle Peck lets the too young for driving lessons L'il Bit, pretend-drive while sitting in his lap as well as during a fishing lesson given to a sensitive young nephew. But while Butz's interpretation makes Peck more disturbing, it also intensifies his character as tragic figure and thus watchable and, yes, sympathetic. In fact, Butz's performance is so potent and nuanced that in this production the character who steers this production into high gear, even though L'il Bit is the central character and narrator. Like Butz, Elizabeth Reiser creates her own persona to the role originated by Mary-Louise Parker. She's less fragile, more the flirtatious, rebellious teenager. The tension between her and Butz reaches a crescendo when they meet on her eighteenth birthday, each with a different agenda to this heartbreaking finale to their relationship.

While How I Learned to Drive ranks high in my memory book of original and unforgettable plays, it took this revisit to remind me of the important contributions by the multi-role playing Greek Chorus. The three actors handling the male, female and teenage chorus characters not only add enormously to the play's theatricality but give familial and social context to the story.

Kevin Cahoon, Jennifer Regan and Marnie Schulenburg differentiate expertly between their numerous parts, moving from character to character without a missed beat. As Peck's wife, Jennifer Regan has a particularly heartbreaking and character defining monologue in which she, as Peck's wife Mary, speaks eloquently about his goodness, and absolves him from blame for what she knows is going on with L'il Bit. That same awareness of Peck's unsavory tendencies also applies when she plays L'il Bit's mother.

Kate Whoriskey has seen to it that the back and forth time sequences are play out smoothly. Derek McLane 's scenic design is dominated by an abstract landscape of greenish-blue sky, street lamps, and a spiffy Chevrolet (though the driving lessons take place with Butz and Reaser sitting on two chairs). Peter Kaczorowski's lighting is often breathtakingly evocative and Rob Milburn and Michael Bodeen's original music and sound design is especially effective when the Greek Chorus segues into a Doo-wop sequence.

For all the humor that Vogel has so smartly interlaced with her troubling subject, this is not an easy play to watch. It's also difficult to forget, which is exactly what makes it exactly what good theater is all about. For more details, I'v e included my review of the original production on this page. Original How I Learned to Drive review.




Current Production Notes
How I Learned to Drive by Paula Vogel
Directed by Kate Whoriskey
Cast: Norbert Leo Butz (Peck), Kevin Cahoon (Male Greek Chorus), Elizabeth Reaser (Liíl Bit), Jennifer Regan (Female Greek Chorus) and Marnie Schulenburg (Teenage Greek Chorus)
Sets: Derek McLane
Costumes: Jenny Mannis
Lighting: Peter Kaczorowski
Music and sound: Rob Milburn and Michael Bodeen
Stage manager: Bryce McDonald
Running Time: 90 minutes no intermission
Second Stage Theatre 305 West 43rd Street212.246.4422
From 1/24/12; opening 2/13/12; closing 3/11/12.
Tuesday, 7PM Wednesday & Saturday, 2PM & 8PM, Thursday - Friday, 8PM Sunday, 3PM February 22, 23, 24, 7PM instead of 8PM.
Reviewed by Elyse Sommer on February 18th

REVIEW FEEDBACK
Highlight one of the responses below and click "copy" or"CTRL+C"

I agree with the review of How I Learned to Drive
I disagree with the review of How I Learned to Drive
The review made me eager to see How I Learned to Drive
Click on the address link E-mail: esommer@curtainup.com
Paste the highlighted text into the subject line (CTRL+ V):

Feel free to add detailed comments in the body of the email. . .also the names and emails of any friends to whom you'd like us to forward a copy of this review.

Visit Curtainup's Blog Annex
For a feed to reviews and features as they are posted add http://curtainupnewlinks.blogspot.com to your reader
Curtainup at Facebook . . . Curtainup at Twitter
Subscribe to our FREE email updates: E-mail: esommer@curtainup.comesommer@curtainup.com
put SUBSCRIBE CURTAINUP EMAIL UPDATE in the subject line and your full name and email address in the body of the message. If you can spare a minute, tell us how you came to CurtainUp and from what part of the country.




How I Learned to Drive (1997)

In our last review, (Names,) the late critic Harold Clurman bewailed the state of the theater with "If I'm moved once during a performance I consider myself lucky." Too bad Clurman couldn't come back from that place where they lay critics to rest to see Paula Vogel's wonderfully original new dark comedy How I Learned to Drive. Its impact on the audience's emotions is thunderous and the hour and a half spent with its characters will niggle at the memory for a long time to come.

Ms. Vogel has achieved the seemingly impossible: A story about a disturbing subject, pedophilia, that is as funny--yes, really,--as it is disturbing. Li'l Bit (Mary-Louise Parker) and Uncle Peck (David Morse) are painted with the delicate brush strokes of a sumi painting, more subtle than sensational, and as unstereotypical a victim and victimizer as Lolita and Humbert Humbert (from Nabokov's Lolita which the playwright credits as her inspiration).

Happily, the always adventurous Vineyard Theatre Company has also mounted it with a cast as strong as the script and a director sensitive to the complexity of the characters and the situations--(Mark Brokaw who last distinguished himself with This Is Our Youth) . Before I say one more word, this is one of the must-see events of the season, the shot in the arm to put new muscle into the so-called fabulous invalid.

To sum up the story without spoiling its suspense, How I Learned to Drive recounts the relationship between a young girl from a tightly knit lower-middle-class family and her uncle-by-marriage. The place is Maryland "before the malls took over" and the action moves back and forth between scenes set during the 1960's and 70's, in the same unsystematic manner painful memories tend to scamper through our minds.

Mary-Louise Parker is as convincing as L'il Bit at age eleven as at thirty-five. Her portrait of a young girl torn between love for her uncle and guilty distress about what's happening between them is truly heart-wrenching. David Morse who looks and sounds amazingly like President Clinton, is mesmerizing as the uncle--charming and, in many ways, good and kind; as much victim as victimizer.

Three other actors (Michael Showalter, Johanna Day and Kerry O'Malley)-- listed as Male, Female and Teenage Greek Chorus--play various other members of the family. They are not only versatile, but as funny and moving as the two leads. In contrast to the riotous "The Mother's Guide to Social Drinking" There's Aunt Mary's truly gut-wrenching monologue defending her husband, (Uncle Peck) and blaming Li'l Bit for what is happening.

Using only a few chairs and a table, director Brokaw manages to smoothly convey not only the cinematic flashbacks and forwards, but to subtly alert the audience to what is going on during those driving lessons, even when Li'l Bit and Peck seem at opposite sides of the stage. The background music and lighting contribute much to the seamless transition from one scene, and one time frame to another. The unsettling picture of a crime that is an almost love affair is a triumph for everyone involved.

Note: The production, directed by Mark Brokaw and featuring Mary-Louise Parker and David Morse; with Michael Showalter, Johanna Day and Kerry O'Malley as Male, Female and Teenage Greek Chorus played at the Vineyard Theatre from 3/16/97-4/13/97. It re-opened at the now defunct Century Center right across the street where it played through 4/19/98. Jayne Atkinson (and later Molly Ringwald) and Bruce Davison took over the leading roles It won top acting honors for David Morse and Mary-Louise Parker and the outstanding direction award for. Mark Brokaw. It also nabbed the Best Play Pulitzer.