HOME PAGE

SITE GUIDE

SEARCH


REVIEWS

REVIEW ARCHIVES

ADVERTISING AT CURTAINUP

FEATURES

NEWS
Etcetera and
Short Term Listings

LISTINGS
Broadway
Off-Broadway

NYC Restaurants

BOOKS and CDs

OTHER PLACES
Berkshires
London
California
New Jersey
DC
Philadelphia
Elsewhere

QUOTES

TKTS

PLAYWRIGHTS' ALBUMS

LETTERS TO EDITOR

FILM

LINKS

MISCELLANEOUS
Free Updates
Masthead

A CurtainUp Review
Heroes
"This conversation is insane."— Henri
"Take 'em from the rear, Captain." — Philippe
"One must strive a little for the epic."— Gustave
---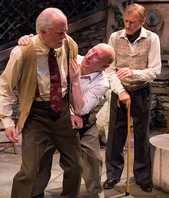 Dan Kern, Mal Whyte, and Peter DeLaurier
Photo: Mark Garvin

On stage at Lantern Theater Company, Heroes enchants. Never having seen Gerald Sibleyras's Le Vent des Peupliers I'd be hard put to say how much of the considerable charm derives from the original play and how much comes from Tom Stoppard's adaptation.

In a play about vets it wouldn't be out of line to anticipate long conversations revisiting the campaigns of glory days. But in this tale of three retired World War I military men living in a French veterans home, any effort to discover much about their pasts is thwarted. The men bear the scars of the Great War and are not free of its shadows, yet they hold their memories close to the vest.

These beautifully articulated and delineated characters, like three legs of a tripod, complement each other. Philippe, who suffers spells from a severe head injury, has been a resident for a decade. Henri, missing half a leg, retired young and has lived at the home for very many years. Gustave, a relative newcomer, suffers from PTSD before it has a name. Much of the success of the Lantern production is related to the sharp eyed casting of the right actors: Mal Whyte is the faithful and rather bawdy Philippe, Peter DeLaurier is the elegant Henri, and Dan Kern is Gustave, of the military bearing and bright, wounded mind.

A defining element of Heroes is that the action takes place in the here-and-now of 1959, not in revisiting the past. However, except for Henri's walks and an occasional veteran's funeral, the men, cloistered in their French sanitarium, don't actually take part in the trends and events of 1959, but live in a hermetically sealed world. Anyone looking for strict realism in this gently chiascuro world of reality and delusion, would be looking in the wrong place.

Meeting regularly on a pleasant empty terrace, the three — four counting the dog statue— share a bonhomie that lifts them from the routine of their days and the inexorable pressure of dwindling time. They consider various adventures: a trip to Indochina, a picnic, or a hike to the far-off poplars that can be seen through binoculars from the veranda — the choice of a hike representing "a halfway house between Indochina and a picnic."

In a world where everything stays the same, a major change is scheduled: The home's main terrace is to be closed and their "private" little sanctuary is soon to be opened to the great unwashed, ie, all the residents. With this looming threat to the exclusive world of their friendship, they first fantasize taking action, mounting a defense involving a French 75, quick firing light artillery. Eventually they begin to consider the actuality of escaping to their "row of distant poplars… stately but supple, bending before the wind." A chimera of possibility sustains the men, buoyed by the sheer persistence of their personalities, camaraderie, and impracticable optimism. The dream of freedom somewhere out there amid the poplars soothes like a truth of the heart.

Terraces and such spaces can tend to be fussy and overdone on stage, but this production design is a pleasure. The set is restrained and genteel, and sometimes during scene transitions smart and jaunty military tunes are heard.

M. Craig Getting, who directed Lantern's winsome production with nimble sensitivity, says: "What I love most about Gerald Sibleyras' play -and Tom Stoppard's sharp adaptation-is its deftness in tackling the difficulties of age with humor and humanity."



Heroes
Adapted by Tom Stoppard from Gerald Sibleyras
Directed by M. Craig Getting

---

Cast: Peter DeLaurier, Dan Kern, Mal Whyte
Scenic Design: Nick Embree
Lighting Design: Janet Embree
Costume Design: Natalia de la Torre
Sound Design: Christopher Colucci
May 16- June 9, 2013
2 hours including one 15 minute intermission
Reviewed by Kathryn Osenlund based on 005/23/13 performance. Lantern Theater Company at St. Stephen's Theater, 10th and Ludlow Sts, Phila.
REVIEW FEEDBACK
Highlight one of the responses below and click "copy" or"CTRL+C"

I agree with the review of Heroes
I disagree with the review of Heroes
The review made me eager to see Heroes
Click on the address link E-mail: esommer@curtainup.com
Paste the highlighted text into the subject line (CTRL+ V):

Feel free to add detailed comments in the body of the email. . .also the names and emails of any friends to whom you'd like us to forward a copy of this review.

Visit Curtainup's Blog Annex
For a feed to reviews and features as they are posted add http://curtainupnewlinks.blogspot.com to your reader
Curtainup at Facebook . . . Curtainup at Twitter
Subscribe to our FREE email updates: E-mail: esommer@curtainup.comesommer@curtainup.com
put SUBSCRIBE CURTAINUP EMAIL UPDATE in the subject line and your full name and email address in the body of the message. If you can spare a minute, tell us how you came to CurtainUp and from what part of the country.