HOME PAGE

SITE GUIDE

SEARCH


REVIEWS

REVIEW ARCHIVES

ADVERTISING AT CURTAINUP

FEATURES

NEWS
Etcetera and
Short Term Listings

LISTINGS
Broadway
Off-Broadway

NYC Restaurants

BOOKS and CDs

OTHER PLACES
Berkshires
London
California
New Jersey
DC
Philadelphia
Elsewhere

QUOTES

TKTS

PLAYWRIGHTS' ALBUMS

LETTERS TO EDITOR

FILM

LINKS

MISCELLANEOUS
Free Updates
Masthead

A CurtainUp Review
The Hampton Years
" John, this is why I push you so hard … You must understand the world you live in… with your art you can say something about it . . .you have to tell the story of your people . . . Don't leave it to others . . .they won't know your experience." "
— Art professor Viktor Lowenfeld to his protégé John Biggers at Hampton University in Southern Virginia.

---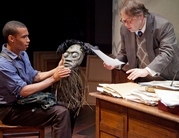 Julian Elijah Martinez and Sasha Olinick
Photo by C. Stanley

Theater J is to be commended for its Locally Grown program that nurtures plays by Washington playwrights who deal with issues that go beyond the Jewish experience. Jacqueline E. Lawton's The Hampton Years is a case in point. Her play examines the relationships a Jewish refugee from Vienna, Austria, Viktor Lowenfeld, has with his African-American students, particularly artist John Biggers, and the administration, white, at Hampton University, now known as the Hampton Institute, an African-American academic institution. The time is 1939.

Much is made of Lowenfeld's immediate past. A respected painter, psychologist and educator in Vienna, he and his wife, Margaret, and their son Johnny arrive in New York penniless. Although Lowenfeld had an offer to teach at Harvard, he chose to make his new start in southern Virginia, educating African-Americans about art and psychology. The juxtaposition of the prejudice experienced by Lawton's characters is quite compelling. Lawton's play relies on original sources such as Lowenfeld's and Biggers' writing. In that sense it is a docu-drama.

Lowenfeld believed in the Haptic theory — that art is made through touch, such as blindfolding a sculptor so that she would make a mother and child not with her eyes but with the sensation that ran through her fingers. "Sculpt how it feels," he tells his student, "not how it looks." Similarly, a muralist learns to draw by letting a pencil guide him not the other way around. Behind a scrim at the rear of the stage, actors portray what the artists are creating.

Sasha Olinick's Viktor Lowenfeld has great sensitivity. Sarah Douglas as his loving wife, Margaret, is excellent. The past they suffered is palpable as is their dedication to passing on to the next generation their knowledge and enthusiasm for creativity.

Splendid performances from both. Academic politics being what they were and still are, the rewards for their generosity came from their students, not the Administration. Julian Elijah Martinez's John Biggers, the muralist who had originally thought he was destined to be a plumber, has just the right amount of emotional fragility. He is truly credible as a man who overcomes his demons. "You must never compromise your truth," he says to his mentor, Lowenfeld, " you told me to do that."

Equally effective in their parts are Crashonda Edwards as the fiery sculptor Samella Lewis; Lolita-Marie as painter Elizabeth Catlett, and David Lamont Wilson as a bit of a hot-headed artist. Rounding out the cast, foils for the stronger and far more interesting personalities, are Colin Smith as University President and Navy Admiral and Edward Christian as the University President's successor and as an odious art critic.

Some of these characters are of course ciphers and some of the conflicts feel as though they have come from a how to book on writing a play,but all in all The Hampton Years has many strengths and deserves to be seen by a wide audience.



The Hampton Years
By Jacqueline E. Lawton
Directed by Shirley Serotsky
Cast: Sasha Olinick (Viktor Lowenfeld); Sarah Douglas (Margaret Lowenfeld); Julian Elijah Martinez (John Biggers); Colin Smith (President Malcolm Shaw MacLean/Navy Admiral); Crashonda Edwards (Samella Lewis) ; Lolita-Marie (Elizabeth Catlett); David Lamont Wilson (Charles White); Edward Christian (President Ralph P. Bridgman/Art Critic).
Scenic Designer: Robbie Hayes; Lighting Designer: Harold F. Burgess II; Costume Designer: Debra Kim Sivigny; Sound Designer: Matthew M. Nielson; Dialects: Gary Logan; Scenic Artist: Amy Kellett.
Running time: 2 hours and 40 minutes.
Theater J, Washington DCJCC, 1529 16th St., NW, Washington, DC; 202-777-3230; theaterj@theaterj.org.
Tickets: $25 to $60. Dates: May 29 to June 30, 2013.
Review by Susan Davidson based on June 3, 2013 performance.

REVIEW FEEDBACK
Highlight one of the responses below and click "copy" or"CTRL+C"

I agree with the review of The Hampton Years
I disagree with the review of The Hampton Years
The review made me eager to see The Hampton Years
Click on the address link E-mail: esommer@curtainup.com
Paste the highlighted text into the subject line (CTRL+ V):

Feel free to add detailed comments in the body of the email. . .also the names and emails of any friends to whom you'd like us to forward a copy of this review.

Visit Curtainup's Blog Annex
For a feed to reviews and features as they are posted add http://curtainupnewlinks.blogspot.com to your reader
Curtainup at Facebook . . . Curtainup at Twitter
Subscribe to our FREE email updates: E-mail: esommer@curtainup.comesommer@curtainup.com
put SUBSCRIBE CURTAINUP EMAIL UPDATE in the subject line and your full name and email address in the body of the message. If you can spare a minute, tell us how you came to CurtainUp and from what part of the country.