"Good things get better, bad get worse. Wait, I think I meant that in reverse. "— Larry, singing about relationships.
---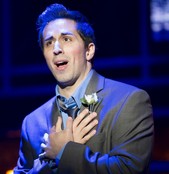 Matthew Scott
Photo by Scott Suchman

Company
seems quaint today. George Furth's book and Stephen Sondheim's music and brilliant lyrics on such themes as loneliness, isolation, sex, passion and compassion are of course universal and timeless themes but the environment in which they exist has changed, in some ways drastically. That is certainly true of
Company
, set in 1970, during the sexual revolution.
There's not much story other than five married couples each with different styles of living and loving try to convince their 35-year old friend Bobby that he too should get married. But Bobby, witnessing his friends' tensions and neuroses, is ambivalent.
Often described as commitment-phobic, Bobby is something of an anachronism. In 2013, being single at 35 is not the anomaly it once was. Nor is bisexuality. There are many Bobbys out there now as are a wider array of combinations of couples and families that makes
Company
a period piece.
Matthew Scott, a very fine actor, glorious singer and good dancer is perfectly cast as Bobby. He has charisma, charm, and more than enough sex appeal to not just carry the show but take it to a soul-wrenching level. What Scott brings to such numbers as "Something to Live For" and particularly "Being Alive" is enormous passion and sensitivity. His moan at the end of "Barcelona" is equal parts irony and humor. I can say unequivocably that his is the best Bobby I have ever seen and I've seen a lot of Bobbies.
The solo numbers sung by Madeline Botteri as the dumb and boring airline stewardess, April, and Erin Weaver as the neurotic bride, Amy, are also high points of this production. Tray Lynn Olivera as Sarah is very funny when giving her husband a lesson or two in karate.
Director Eric Schaeffer has drawn out of them vocally perfect renditions of "Barcelona" and "Getting Married Today" respectively with just the right touch of self-deprecation. Daniel Conway's spare platform and stairway set lit with neon lines by Chris Lee is timeless. Rocco DiSanti's rear screen projections showing not just photos of the couples but street scenes of New York add context while Frank Labovitz's grey costumes evoke a kind of fashion neutrality of palette and era.
Along with the frug and the pony, dances of the 70's are ably incorporated into Matthew Gardiner's choreography. The musicians, under the very able direction of Jon Kalbfleisch, are as always at Signature a pleasure to listen to.
What makes this production uneven are the supporting players. Sherri L. Edelen's shrill drunk, Joanne, is a tiresome cliché that thankfully she tones down enough to give a very good rendition of "The Ladies Who Lunch." Bobby Smith is a very empathetic Peter. And even though some of the other male performers are weak, if you are willing to take the good (and what is good here is very good) with the bad, the production is well-worth seeing.
Company
Music and Lyrics by Stephen Sondheim
Book by George Furth
Originally Produced and Directed on Broadway by Harold Prince
Orchestrations by Jonathan Tunick
Directed by Eric Schaeffer
Cast: Sandy Bainum (Susan); Madeline Botteri (April); Evan Casey (Harry); Carolyn Cole (Marta); Driscoll (Jenny); Jamie Eacker (Kathy, Dance Captain); Sherri L. Edelen (Joanne); James Gardiner (David); Tracy Lynn Olivera (Sarah); Paul Scanlan (Paul); Matthew Scott (Robert); Thomas Adrian Simpson (Larry); Bobby Smith (Peter); Erin Weaver (Amy). Musicians: Jon Kalbfleish (piano/conductor); Matt Belzer, Ben Bokor and Scott Van Domelen (reeds); Chris Walker (trumpet); Mike Selover (Trombone); Gabriel Mangiante (keyboard); Chris Chlumsky (bass); Lee Hinkle (drums). Scenic Design: Sandy Bainum; Costume Design: Frank Labovitz; Lighting Design: Chris Lee, Sound Design: Matt Rowe; Associate Video Design: Rocco Disanti; Associate Music direction: Gabriel Mangiante. Choreography: Matt Gardiner.
Running time: 2 hours and 30 minutes including one intermission.
Signature, 4200 Campbell Avenue, Arlington, Va.; 703-820-977; signature-theatre.org;
Tickets: $40 to $96.80.
May 21 to June 30, 2013.
Review by Susan Davidson based on June 2, 2013 performance.

REVIEW FEEDBACK
Highlight one of the responses below and click "copy" or"CTRL+C"

I agree with the review of Company
I disagree with the review of Company
The review made me eager to see Company
Click on the address link E-mail: esommer@curtainup.com
Paste the highlighted text into the subject line (CTRL+ V):

Feel free to add detailed comments in the body of the email. . .also the names and emails of any friends to whom you'd like us to forward a copy of this review.

Visit Curtainup's Blog Annex
For a feed to reviews and features as they are posted add http://curtainupnewlinks.blogspot.com to your reader
Curtainup at Facebook . . . Curtainup at Twitter
Subscribe to our FREE email updates: E-mail: esommer@curtainup.comesommer@curtainup.com
put SUBSCRIBE CURTAINUP EMAIL UPDATE in the subject line and your full name and email address in the body of the message. If you can spare a minute, tell us how you came to CurtainUp and from what part of the country.