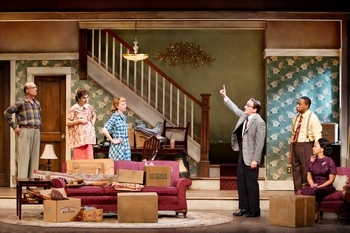 Pictured L-R: Frank Wood, Annie Parisse, Christina Kirk, Jeremy Shamos, Damon Gupton, and Crystal A. Dickinson in a scene from Clybourne Park. (Photo: Nathan Johnson)
Bruce Norris's
Clybourne Park
is that rare play that's well structured as well as both purposeful and entertaining. It tackles the attitudes and circumstances that shape our lives, and does so entertainingly. Like all first-rate dramas it blends humor with seriousness. While laugh lines punctuate most of the two hours, by the time you leave 406 Clybourne Street in the near northwest of central Chicago, Norris has provoked you into questioning a multitude of certainties about: racial relations, real estate decisions and practices, community dynamics. Seeing Clybourne Park for a second time, made me even more aware that Norris's dual career — as an actor first (and still) and a playwright second — makes this play a great gift for the actors as well as the audience. Each of the seven actors is given a chance to portray two different yet ingeniously linked and well developed characters.
If you didn't see
Clybourne Park
during its Playwrights Horizon run in 2010, don't miss the chance to see it now that it's finally made it to Broadway, albeit for a limited 16-week run. If you saw it before, see it again. Second-time-arounders won't have that rare sense of encountering a terrific new work and find themselves muttering, as I did, that "this ought to get the Pulitzer for best drama" before it actually did. But they WILL be pleasantly surprised to be even more taken with Norris's ability to simultaneously provoke and entertain.
Clybourne Park'
s numerous out of town productions between it's long delayed move from an Off to On Broadway theater have proved that the play is strong enough for other capable directors and actors to make it a welcome addition to any neighborhood (see our reviews of productions in
London
and
DC
). However, it's great to have the original director, crafts team and ensemble aboard at the Walter Kerr. The members of the acting septet. once again demonstrates their versatility. If anything, they've deepened their performances and the subtly planted ties between the first act set in 1959, and the second one fifty years later. With our country still bleeding money and lives in an ever more hopeless far away war, the ultimately tragic connections between 408 Clybourne Street then and now, is more moving than ever.
Watching the actors again move seamlessly from one persona to another, I was more taken than ever by Frank Wood's incredibly masterful way with letting tension simmer beneath a laid back exterior and seeing Christina Kirk and Annie Parisse totally transform their looks as well as their characters' personalities.
The actors are all too good to single out a favorite. However, I was newly smitten with Crystal A. Dickinson's way of showing her frustration, both as the maid in act one and the long-standing home owne uneasy about the neighborhood's gentrification. David Gumpton's white folks pleasing husband, displaying a razor-sharp irony as her more independent minded mate in act two is also more impressive than ever.
Jeremy Shamos is beyond excellent as the unctuous Karl Lindner, the one character most closely linked to Lorraine Hansberry's
A Raisin in the Sun
which served as a departure point for
Clybourne Park.
Lindner's appearance at the house he tried to dissuade Hansberry's Younger family from buying and Norris's Russ and Bev from selling to an unnamed black family is the connecting thread between both plays. Besides being a unique use of one play to jump start another completely original one, the Clybourne Park setting makes one wish that Hansberry could leave her too early tenure in the great beyond long enough to see this play and take heart that its winning the Pulitzer is a way of having
Raisin
belatedly share that honor.
If there's anything I'd like to see differently done in this production, it would be to see the curtain left up during the intermission, so that one could see the wizardry with which scenic designer Daniel Ostling and his elves subtly change the condition of that Clybourne Park house. Otherwise, my comments about the 2010 premiere apply to the current, highly recommended Broadway production. And so, please read on, by scrolling past the production notes or clicking
here
.
Broadway Production Notes
Cast (same as at Playwrights Horizon in 2010):Frank Wood (Russ/Dan), Annie Parisse (Betty/Lindsey), Christina Kirk (Bev, Kathy) ,Jeremy Shamos (Karl/Steve), Crystal A. Dickinson (Francine/Lena), Brendan Griffin (Jim/ Tim & Kenneth), Damon Gupton (Albet/ Kevin)
Scenic design: Daniel Ostling
Costume design: Ilona Somogyi
Lighting design: by Allen Lee Hughes
Sound design: John Gromada
Hair and Wig Design: Charles LaPonte
Stage Manager: C. A. Clark Running Time: 2 hours with one intermission
Walter Kerr Theatre 219 West 48th Street
From 3/26/12; opening 4/19/12; closing 8/12/12
Reviewed by Elyse Sommer at April 18th press matinee
Original Review
REVIEW FEEDBACK
Highlight one of the responses below and click "copy" or"CTRL+C"
I agree with the review of Clybourne Park
I disagree with the review of Clybourne Park
The review made me eager to see Clybourne Park
Click on the address link E-mail:
esommer@curtainup.com
Paste the highlighted text into the subject line (CTRL+ V):
Feel free to add detailed comments in the body of the email . . . also the names and emails of any friends to whom you'd like us to forward a copy of this review.