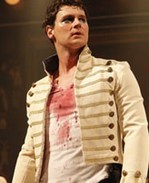 (Photo: Joan Marcus)
We're gonna take this country back,
For people like us— the song declaring the Age of Jackson as the age of populism, "yeah, yeah, yeah."
---
It was a hit downtown in its initial LAB production and won over a larger audience when it moved to the Public Theater's 299 Newman Theater. Now, buoyed by great reviews and wildly enthusiastic audiences,
Bloody Bloody Andrew Jackson
has settled into an even larger Broadway house. Voted in by a landslide, the charismatic Benjamin Walker is back as one of our most interesting presidents (#7) and most of his downtown colleagues are again in the cast, with Kristin Nielson as the Storyteller to add a touch of uptown class.
So here's the skinny on whether this downtown, Generation X geared musical is likely to do uptown: It's a hit, not a
Phantom
or
Lion King
hit that's likely to run for years, but a hit likely to have a very respectable Broadway life, shades of musical kin like
Urinetown
and
Spring Awakening.
The tall, dark and handsome Walker has enough oomph to electrify any stage and Michael Friedman's songs resonate even more powerfully on second hearing. His lyrics of the show's populism anthem that has Jackson's enthusiasts sing "Populism, Yeah, Yeah!. . .Take a stand against the elite/They don't care anything for us " resonates more than ever.
That's not to say that the show has relinquished its downtown, cheeky aura and transformed itself into an authentic history lesson. While we learn quite a bit about Jackson's unusual family history and personal quirks (well, don't many politicians have their quirks?), Alex Timbers' book would hardly pass muster with history scholars, but that never was and still isn't this show's intent. It was and is a fun, in-your-face musical that happens to ring bells no matter what the political era during which you're watching it. (Friedman wrote the lyrics and Timbers the book well before the Tea Party was so much in the news!).
The amazingly talented scenic and lighting designers Donyale Werle and Justin Townsend have recreated the wonderfully over-decorated setting from the Public's Newman stage and again lined the theater's walls with presidential portrait pages. To put audiences more into the Fringe-on-Broadway spirit, they've transformed the entire theater into a combination saloon and hunting lodge with its ceiling festooned with lights, chandeliers and even a large stuffed animal straight from a taxidermist's lab. While the sense of stepping into a wild west fun house certainly sets the the tone, the vulgarity and jejune humor do tend to be just a tad less funny in this high priced uptown neighborhood where it must attract not just Generation-Xers but the millenials and their parents and grandparents . Still, if the Sunday matinee I attended is an indication, enough of this broadened demographic were intrigued enough to give these rowdy populists a look and a listen. The house was packed. It looks like like a yeah, yeah for this inventive musical on the Great White Way.
For more details, the original review follows the current production notes. Of just
click here
.
Broadway Production Notes
Bloody, Bloody Andres Jackson by Alex Timbers
Music and lyrics by Michael Friedman
Directed by Mr. Timbers
Choreography by Danny Mefford
Cast: Benjamin Walker (Andrew Jackson), James Barry (Male Soloist/Citizen/Phil), Darren Goldstein (Andrew Sr./Calhoun), Greg Hildreth (Red Eagle/University President), Jeff Hiller (Cobbler/Messenger/John Quincy Adams/Tour Guide/Florida Man), Lucas Near-Verbrugghe (Keokuk/Van Buren), Cameron Ocasio (Lyncoya), Bryce Pinkham (Black Fox/Clay), Nadia Quinn (Toula/Female Ensemble), Maria-Elena Ramirez (Rachel/Florida Woman), Kate Cullen Roberts (Elizabeth/Erica), Ben Steinfeld (Monroe), Emily Young (Female Soloist/Announcer/Naomi), Kristine Neilsen (the Storyteller) and Justin Levine, Charlie Rosen and Kevin Garcia (Musicians).
Sets by Donyale Werle
Costumes by Emily Rebholz
Lighting by Justin Townsend
Dound by Bart Fasbender;
Musical director, Justin Levine
Music coordinator, Seymour Red Press
Fight director, Jacob Grigolia-Rosenbaum
Production stage manager, Arthur Gaffin
Dramaturgs, Anne Davison and Mike Sablon
Bernard Jacobs Theater, 242 West 45th Street, (212) 239-6200;
Running time: 1 hour 30 minutes.
Re-reviewed by Elyse Sommer 10/14/10
Last performance 1/02/11 after 120 performances.