HOME PAGE

SITE GUIDE

SEARCH

ADVERTISING AT CURTAINUP

REVIEWS

FEATURES

NEWS
Etcetera and
Short Term Listings

LISTINGS
Broadway
Off-Broadway

NYC Restaurants

BOOKS and CDs

OTHER PLACES
Berkshires
London
California
New Jersey
Philadelphia
Elsewhere

QUOTES

TKTS

PLAYWRIGHTS' ALBUMS

LETTERS TO EDITOR

FILM

LINKS

MISCELLANEOUS
Free Updates
Masthead
Writing for Us


A CurtainUp Los Angeles Review
Bloody Bloody Andrew Jackson
Populism! Yeah, yeah, yeah!— Chorus
---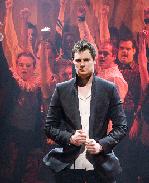 Benjamin Walker as Andrew Jackson

Our 7th President, Andrew Jackson, is, variously, a Hick Cowboy General and a Rock Star President, according to Alex Timbers (Mr. Words) and Michael Friedman (Mr. Music) in their satiric emo-rock musical, World Premiering at the Kirk Douglas Theatre. This is a role Mr. Douglas could have aced with vicious charm back in the day. Actually Old Hickory was played by Charlton Heston twice, in The President's Lady and The Buccaneer. Here he's given a hero's assets and a rock star's weaknesses by Benjamin Walker, seen last year on Broadway as John Scopes in Inherit the Wind, based on the Scopes Monkey Trial.

Vilified for sending the Indians on the Trail of Tears west of the Mississippi thus appropriating their lands for the palefaces and admired for wrenching Florida from the Spaniards who met a bloodier fate, Jackson is juxtaposed here with a clutch of the elite politicians he hated— Clay, Van Buren, Calhoun, Monroe and John Quincy Adams. They wear frilled ruffs around their necks and veer between wanting to use Jackson and lose him.

Maybe because it's a political year and cowboy president is almost a household word, to say nothing of "rock star president", the play stings like a political rally. Although it feels too long and repetitious towards the end and follows Jackson's chronology with a bit of a struggle, Bloody Bloody bubbles with subtext in spite of itself. It implies Jackson hates Indians and foreigners, the former because they murdered his family and the latter because of their brutality to him.

Four men dressed as Indians in togas dance on like ballerinas personifying our dramatic fascination with the noble savages of yesteryear. It's not long before Jackson has a scene confronting the Creeks and other tribes with bribes for their lands. He acts like a petulant child here which works wonderfully well. Less well but making a point is Jackson's shooting of the wheelchair-bound middle-aged teacher (Taylor Wilcox) who insists on narrating his story in the didactic proper manner interpreted by Charlton Heston movies. "I can take it myself from here," snarls this Jackson as he literally cuts her off.

Jackson and wife Rachel (a fiery Anjali Bhimani) swap blood in a curious ritual reinforcing the title. Bleeding was considered medicinal in those days and this concept may be intended to illustrate the bond between the two, though there are any number of weird and wonderful reasons why the authors included it.

The piece has the raw youthful energy of the frontier and is directed with dynamic panache by writer Alex Timbers, for whom over the top is a state of grace. It's a tribute to the concept that even the anachronisms and contemporary curse words seem appropriate. During Jackson' campaign, a bunch of girls cry, &quotWe want to fuck you and debate the tariff." This kind of thing is almost impossible to pull off but Timbers does it.

There's an element of homosexuality in the play that's hard to analyze. It's not particularly in Jackson himself and may be a comment on the whole macho concept of the frontier.

Friedman's down-home songs are so seamlessly integrated into the book that they're not listed separately in the program. Robert Brill's set design includes a large diorama-like frame in the back of the set which contains stuffed animals and is also used to stage battle scenes, heightening the museum quality we give to these events.

The excellent cast is well served by Emily Rebholz's costume design, Gabriel Kahane's music direction and orchestrations, and Kelly Devine's choreography but, most of all, by Alex Timbers' writing and direction whose quality should give this play a lasting life.



BLOODY BLOODY ANDREW JACKSON
Writer/Director: Alex Timbers
Music and Lyrics: Michael Friedman
Cast: Benjamin Walker (Andrew Jackson), Anjali Bhimani (Rachel), Will Greenberg (Clay), Greg Hildreth (Red Eagle), Brian Hostenske (Van Buren), Adam O'Byrne (Calhoun), Ben Steinfeld (Monroe), Ian Unterman (Defense Attor4eny), Taylor Wilcox (Storyteller), Will Collyer (Male Soloist), Diane Davis (Elizabeth), Erin Felgar (Female Soloist), Sebastian Gonzalez (Lyncoya), Zack DeZon, Kristin Findley, Jimmy Fowlie, Patrick Gomez (Ensemble)
Set Design: Robert Brill
Lighting Design: Jeff Croiter
Costume Design: Emily Rebholz
Choreography: Kelly Devine
Sound Design: Bart Fasbender
Running Time: One hour forty-five minutes, no intermission
Running Dates: January 13-February 17, 2008
Where: Kirk Douglas Theatre, 9820 Washington Blvd, Culver City, Reservations: (213) 628-2772.
Reviewed by Laura Hitchcock on January 24.

Easy-on-the budget super gift for yourself and your musical loving friends. Tons of gorgeous pictures.

Leonard Maltin's 2007 Movie Guide


>