HOME PAGE

SITE GUIDE

SEARCH


REVIEWS

REVIEW ARCHIVES

ADVERTISING AT CURTAINUP

FEATURES

NEWS
Etcetera and
Short Term Listings

LISTINGS
Broadway
Off-Broadway

NYC Restaurants

BOOKS and CDs

OTHER PLACES
Berkshires
London
California
New Jersey
DC
Philadelphia
Elsewhere

QUOTES

TKTS

PLAYWRIGHTS' ALBUMS

LETTERS TO EDITOR

FILM

LINKS

MISCELLANEOUS
Free Updates
Masthead
Writing for Us

A CurtainUp Review
Heddatron
Most people don't know about theater history because it is not as interesting as regular history. There aren't any wars.
--- Nugget, the sixth-grader who serves as the narrator for Les Freres Corbusier's sendup of Hedda Gabler which she sums up as a play "about a woman who got married to a man she didn't love" and whose unhappiness has a very personal meaning to Nugget which her teacher told her not to talk about.
---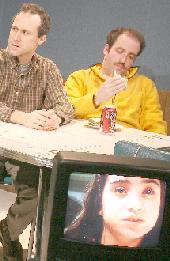 Gibson Frazier as Rick, Sam Forman as his redneck brother Cubby and Spenser Leigh (on screen) being videotaped for the story of her mother's abduction by robots.


Directors and adapters have been diddling with classic texts for years -- making the dialogue more contemporary, changing the time frame, and sometimes drastically deconstructing the original to fit their own vision. While Shakespeare is by far the most often reinterpreted playwright, Henrik Ibsen, the father of the well-made play, has attracted his share of new takes on his convention trapped leading ladies.

Hedda Gabler has been a particular favorite with the edgy set. Ivo van Hove, who hasn't met a classic he couldn't tear apart and put together in his own inimitable fashion, took on Hedda a couple of years ago. Robert Prior's hilarious all-male spoof, Speed Hedda, has a prominent place in that corner of my mind reserved for unforgettable offbeat shows.

Now Hedda has captured the imagination of Les FreresCorbusier, the precocious young company that in just a couple of years on the downtown scene has managed to garner comparisons to the older more sophisticated darling of the Avante Garde, the Wooster Group. It turns out that Hedda fits right in with the group's bent for putting its own comic spin on fictional and real characters, and to roll several themes into a fast-moving, high tech work that is inventive and entertaining despite its often jejune humor.

As in last year's hit Boozy (see link below), director Alex Timbers once again integrates video screens and voiceovers into his production. To compensate for the lack of Boozy's political relevance, the high-tech theatricality has been revved up by enlarging the cast with a group of real robots artfully designed and manipulated by Meredith Finkelstein and Cindy Jeffers. Much hyped as part of Heddatron's advance publicity, those robots don't appear until past the halfway mark but when they do, it's watch out flesh and blood actors! Finkelstein and Jeffers' androids on wheels are real scene stealers.

The robots take the form of two monster characters who abduct Hedda's modern day pregnant and depressed counterpart, a Michigan woman named Jane (Carolyn Baeumler managing to hold her own amidst this formidable competition) to a distant rain forest. Here they force her into a nonstop re-enactment of Ibsen's play which she's been reading compulsively ever since it mysteriously dropped down from the heavens.

The robotically propelled show within the show is not only riotously funny but releases Heddatron from its more sitcomish beginning. My favorite robot was the one playing Aunt Julia, a tall, two-sided figure who covers up her inability to "take a seat "(she rolls towards a chair but only manages to bump into it) with a smooth "no, thank you." But then, Judge Brack as a be-wigged black suitcase form, and Bertha, the maid, as a broom on wheels all enhance the theatrical high jinx. It's also impressive to see Baeumler shift from morose couch potato catapulted by her robotic kidnappers into the world of Ibsen as overtaken by the robots.

The two sub-plots framing the robotically cast Hedda Gabler scene are saved from their triviality by excellent performances and the nifty use of a sixth-grader named Nugget (a nickname given her by her volatile, redneck uncle who says she reminds him of a McNugget) reading from a report about the well-made play generally and Ibsen in particular. The talented Spenser Leigh handles this with dead-on, deadpan finesse and, when called for, participates in the plot elements that give special meaning to her report -- the story of her Hedda-like mom's abduction which her father (Gibson Fraier) and uncle (Sam Forman) are videotaping to publicize their cause and to make a profit in the process.

In between the Michigan kitchen where Nugget and her dad and uncle have been left without a clue as to the pregnant Jane's whereabouts and the living-room where the depressed Jane is overtaken by the silvery napsters, the background details included in Nugget's report play out. This back story shows Ibsen (Daniel Larlham) being distracted from writing his classic play by his shrew of a wife (Nina Hellman) a sexy housemaid (Julie Lake), and his less inhibited rival, August Strindberg (Ryan Karels). Larlham and Hellman obviously have fun once again being a coupled (He played the French architect Le Corbusier and she his mistress, city planner Jane Jacobs, in Boozy).

Cameron Anderson has divided the wide playing area to accommodate the various real and surreal domestic scenes and Tyler Micoleau's lighting casts each in its own garish aura. Judging from the audience at the opening night performance I attended, my husband and I and several other critics, did our bit to raise the median age above the twenty-somethings for whom LesFreres Corbusier continues to make live theater appealing. The $15 ticket price won't hurt to keep this much sought-after audience filling all 99 seats during Heddatron's limited run.

LINKS
Hedda Gabler deconstructed by Ivo VanHove
Speed Hedda -- an all-male Hedda spoof
Boozy

Heddatron
Written by Elizabeth Meriwether
. Directed by Alex Timbers.
---
Cast: Carolyn Baeumler (Jane),Sam Forman (Cubby), Gibson Frazier ( Rick), Nina Hellman (Ibsen's Wife), Ryan Karels (August Strindberg), Julie Lake (Else), Daniel Larlham (Henrik Ibsen), Spenser Leigh (Nugget), Michael Schulman (Strindberg's Monkey), Ian Unterman (Film Student)

Set Design: Cameron Anderson
Costume Design: Jenny Mannis
Lighting Design: Tyler Micoleau
Sound Design: Bart Fasbender;
Video: Jake Pinholster
Robot Design: Meredith Finkelstein, Cindy Jeffers
Dramaturg: Anne Davison;
Running time: 65 minutes without intermission
An Aaron Lemon-Strauss presentation of the Les Freres Corbusier production at Here Arts Center, 145 Sixth Avenue
From 2/08/06 to to 2/25/06; opening 2/16/06
Tickets: $15
Reviewed by Elyse Sommer based on 2/16/06 performance performance
Stage Plays
The Internet Theatre Bookshop "Virtually Every Play in the World" --even out of print plays