HOME PAGE

SITE GUIDE

SEARCH


REVIEWS

REVIEW ARCHIVES

ADVERTISING AT CURTAINUP

FEATURES

NEWS
Etcetera and
Short Term Listings

LISTINGS
Broadway
Off-Broadway

NYC Restaurants

BOOKS and CDs

OTHER PLACES
Berkshires
London
California
New Jersey
DC
Philadelphia
Elsewhere

QUOTES

TKTS

PLAYWRIGHTS' ALBUMS

LETTERS TO EDITOR

FILM

LINKS

MISCELLANEOUS
Free Updates
Masthead

A CurtainUp Review
Blood and Gifts
We knew one your Shah fell, you and yours would look to expand your influence in this region. But Afghanistan? Whose bright idea was that? Nothing but dust and earth . . . it is like your Texas. Why would you want another Texas? Ah! I have a proposition. We give you Afghanistan, you give us Texas. Then we will all be unhappy in new ways and everything will be good
—Dmitri Gromov, the Russian operative to his American counterpart and Blood and Gifts' central character, Jim Warnok
---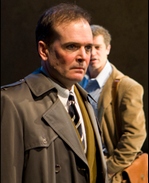 Jefferson Mays (foreground) & Jeremy Davidson
(Photo: T. Charles Erickson)

CIA operative Jim Warnock takes a pass on the above quoted offer by his Russian counterpart Dmitri Gromov to trade Afghanistan for Texas. However, by the end of the decade of political gamesmanship covered in J. T. Rogers' Blood and Gifts, all the factions are indeed unhappy in new ways. While the play ends in 1991, the audience needs no epilogue to explain the continuing meaning of the title: that the extensive blood shed as part of the fighting on different levels and the gifts of money and weapons funneled to the various warring factions have done little other than to prove that our involvement in that part of the world is an unwinnable game.

The epic War of the Roses quality that led Great Britain's politically minded Tricycle Theatre to commission a dozen short plays to cover the invasion and resistance pattern interwoven into the political and cultural fabric of Afghanistan since 1842. The resulting trilogy, The Great Game: Afghanistan included a one-act version of Blood and Gifts. It's understandable why its author withdrew it from the American touring production (New York production review) in order to explore it more fully. After all the the decade covered in Blood and Gifts, was merely a forerunner to yet another decade of disheartening bloodshed and gifts of money and weapons without the desired pay off is certainly a subject that calls for enlightening and serious theatrical interpretation.

Mr. Rogers is certainly not a playwright who's ever shied away from tackling politically volatile, global issues. White People tackled racism through three very loosely intertwined monologues. The Overwhelming explored the devastating Rwanda story (see links to reviews at end of this review). While Blood and Gifts isn't without its disappointments, it comes closer to effectively tackling historic events in dramatic format. No doubt Bartlett Sher's unfussy yet dynamic direction and a uniformly outstanding cast contribute to Rogers' successfully merging the genres of Front Line style documentary and a spy thriller novel.

The play's focal character is a CIA operative Jim Warnock (played with just the right toughness and vulnerability by Jeremy Davidson), who's been given the thankless task of zeroing in on a faction leader most likely to help the US get a foothold in Afghanistan while the Cold War is still in high gear. The plot entails Warnock's interaction with his global counterparts and potential Afghan allies: Jefferson Mays makes a strong impression as Simon Craig, the colorful British MI6 man. Michael Aronov is also effective as Dimitri Gromov. Gabriel Ruiz is aptly unsympathetic as Colonel Afridi, the head honcho, Colonel Afridi), the Pakistani's own Secret Service. Bernard White"s gives a finely shaded performance as the Afghan war lord Abdullah Khan and Pej Vahdat is properly fiery as Saeed, his second in command). When the action briefly shifts to the American capital, we also meet Warni\ock's CIA boss Walter Barnes and Senator Jefferson Bird, with both John Procaccino as Barnes and John Hogan as the powerful Southern senator making the most of brief star turns.

All these encounters illuminate the fantastical senselessness of the Cold War era's poisonous modus operandi in which the only thing one could count on was that each action to do the right thing for one's country was to lead to something counter-productive, and probably worse. Another given in this volatile world is that no one is who he claims to be, making it impossible to trust anyone. No wonder the program's cast list is followed by this quote from William James: "Whenever two people meet there are really six people present. There is each man as he sees himself, each man as the other person sees him and each man as he really is."

The story as told by Rogers and staged by Sher refrains from the violence and edge-of-the-seat tactics of a TV adaptation of a spy novel and also the dry factual rendition of a documentary. It relies instead on giving a back story to each of the key players to believably motivate their actions (in Warnock's case, lingering guilt at not fulfilling his previous mission in Iran) and make them vivid personalities rather than the talking heads typical of documentaries. A modicum of humor -- mostly courtesy of Jefferson Mays' standout portrayal of the caustic MI6 agent Simon Craig and the love affair with Western music expressed by Pej Vahdat's Saeed. (Music heard in the play includes Duran Duran's "Hungry Like the Wall," the Eagles'" Hotel California," Olivia Newton-John's "Let's Get Physical," Rod Stewart's " Do Ya Think I'm Sexy?" and Tina Turner's "What's Love Got to Do with It?"

Unfortunately, Rogers' efforts to enliven this fictionalized slice of history seem forced. For example, there seems no reason for Simon Craig to be Jewish other than give the Pakistani Colonel Afridi to sardonically declare that he too is a Jew — "Not a true Jew, but like a Jew" because "Pakistan is the Israel of this region. A nation surrounded by enemies on all sides." The variously unseen pregnant wives seem a somewhat pat way to make paternity link the stories of the main characters.

Set designer Michael Yeargan rolls minimal props on and off a beautiful locale evoking mosaic floor and uses the back panel to project clarifying scene setting text, and to drop down a huge flag for the American scene. Donald Holder's lighting and Peter John Still's sound design add apt atmosphere and dramatic flavor.

Ultimately, enlightening and worthy as this dramatized history lesson is (even more so if you pick up and read the informative Lincoln Center Theater Review), Rogers' efforts to humanize the lesson never quite escapes its textbook roots. The only deeply felt passion it stirred in me, was anger that we've allowed ourselves to get pulled into this quagmire.

Links to other J. T. Rogers plays reviewed at Curtainup:
The Overwhelming
White People-off-Broadway White People -Shakespeare & Co




Blood and Gifts by J. T. Rogers
Directed by Bartlett Sher
Cast: Michael Aronov (Dmitri Gromov), Jeremy Davidson (James Warnock), Robert Hogan (Senator Jefferson Birch), Jefferson Mays (Simon Craig), Andrés Munar (Military Clerk/C.I.A. Analyst), Rudy Mungaray and J Paul Nicholas (Mujahideen/Clerks/Aides), Paul Niebanck (Soldier/Administrative Aide), John Procaccino (Walter Barnes), Liv Rooth (Congressional Staffer), Gabriel Ruiz (Colonel Afridi), Pej Vahdat (Saeed), Andrew Weems (Political Speech Writer) and Bernard White (Abdullah Khan).
Sets: Michael Yeargan
Costumes: Catherine Zuber
Lighting: Donald Holder
Sound: Peter John Still
Dalect Coach: Deborah Hecht
Stage manager: Jennifer Rae Moore
Running Time: 2 hours 35 minutes plus intermission
Mitzi E. Newhouse Theater, Lincoln Center; (212) 239-6200
From10/27/11; opening 11/21/11; closing 1/01/12
Reviewed by Elyse Sommer at November 26th matinee

REVIEW FEEDBACK
Highlight one of the responses below and click "copy" or"CTRL+C"

I agree with the review of Blood and Gifts
I disagree with the review of Blood and Gifts
The review made me eager to see Blood and Gifts
Click on the address link E-mail: esommer@curtainup.com
Paste the highlighted text into the subject line (CTRL+ V):

Feel free to add detailed comments in the body of the email. . .also the names and emails of any friends to whom you'd like us to forward a copy of this review.

Visit Curtainup's Blog Annex
For a feed to reviews and features as they are posted add http://curtainupnewlinks.blogspot.com to your reader
Curtainup at Facebook . . . Curtainup at Twitter
Subscribe to our FREE email updates: E-mail: esommer@curtainup.comesommer@curtainup.com
put SUBSCRIBE CURTAINUP EMAIL UPDATE in the subject line and your full name and email address in the body of the message. If you can spare a minute, tell us how you came to CurtainUp and from what part of the country.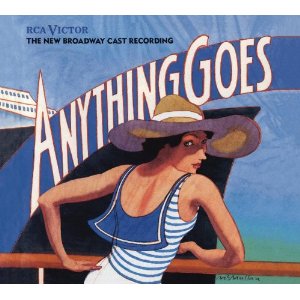 Anything Goes Cast Recording
Our review of the show
Book of Mormon -CD
Our review of the show


Slings & Arrows-the complete set
You don't have to be a Shakespeare aficionado to love all 21 episodes of this hilarious and moving Canadian TV series about a fictional Shakespeare Company