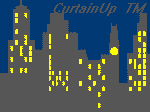 CurtainUp
The Internet Theater Magazine of Reviews, Features, Annotated Listings
HOME PAGE

SITE GUIDE

SEARCH


REVIEWS

REVIEW ARCHIVES

ADVERTISING AT CURTAINUP

FEATURES

NEWS
Etcetera and
Short Term Listings

LISTINGS
Broadway
Off-Broadway

NYC Restaurants

BOOKS and CDs

OTHER PLACES
Berkshires
London
California
New Jersey
DC
Philadelphia
Elsewhere

QUOTES

TKTS

PLAYWRIGHTS' ALBUMS

LETTERS TO EDITOR

FILM

LINKS

MISCELLANEOUS
Free Updates
Masthead


A CurtainUpBerkshire Review

Bashir Lazhar




" Be forever and ever shouting out new and original thoughts. . .Let them come and go like a helium balloon that gets caught in the branches of a tree then drifts off without consequence. "

---

Juri Henley-Cohn
(Photo: Scott Barrow)


Bashir Lazhar (Juri Henley-Cohn) practices his opening lines preparing for the first day as a substitute teacher. The audience is amused and charmed as he is, in turn, ingratiating, friendly and bumbling. We sense his unease as he tries on and abandons each approach for what must be the anticipation of a very difficult first impression on a class of traumatized sixth graders.

Bashir and his students' back stories weave seamlessly through time at The Barrington Stage St. Germain Theatre's dynamic and satisfying production of Bashir Lazhar by Evelyne de la Cheneliere. Her witty and profound observations of the human condition have a universal and timeless appeal.

As a recent Algerian-born immigrant to Canada, Bashir struggles to understand and adapt to an alien culture. The melancholic tension and confusion of an outsider as both an immigrant and substitute teacher evoke our sympathy. We are inexorably drawn into this eighty-minute lyrical examination of the human heart and frailty as Henley-Cohn moves us from the horrors of the 1998 Algerian Civil War to the sweetness of children at play with an uncanny and prescient shape-shifting.

Performed on a deceptively uncomplicated but versatile set by Brett J. Banakis, Juri Henley-Cohn, imbues Bashar's plight with vivid poignancy. This riveting piece of drama explores loss and the challenge to persist in the face of personal tragedy and multicultural misunderstanding. We can imagine every conversation with Bashir's students, principal, colleague, and family in different locations through the ability of one actor and agility of one set.

Shakina Nayfack's confident and sensitive direction, Robert Brown's finely nuanced lighting and Anthony Mettana's original and elegiac music underscore this haunting story about a good man's attempt to make sense of his anguished past in a precarious present.

This Canadian play was the basis for an 84th Academy Award-nominated movie, Monsieur Lazhar. It is the utter purity and poetry of this play that will linger long after the performance.



Bashir Lahzar By Evelyne de la Cheneliere
Translated by Merwyn Brebner
Directed by Shakina Nayfack
Cast: Juri Henley-Cohn (Bashir Lazhar)
Set and Costume Design: Brett J. Banakis
Lighting Design: Robert Brown
Original Score and Sound Design: Anthony Mattana
Running Time: 1 hour 20 minutes; no intermission
Barrington Stage Company's St Germain Theatre, 36 Linden St., Pittsfield, MA (413) 236-8888
Tickets start at $40
Performances: Tuesday through Saturday 7:30; Saturday at 4:00; Sunday at 3:00; added matinee June 6 at 4:00
From 05/22/13 Opened 05/26/13 Ends 06/08/13
Review by Gloria Miller based on performance 05/26/13

REVIEW FEEDBACK
Highlight one of the responses below and click "copy" or"CTRL+C"


I agree with the review of Bashir Lahzar
I disagree with the review of Bashir Lahzar
The review made me eager to see Bashir Lahzar

Click on the address link E-mail: esommer@curtainup.com
Paste the highlighted text into the subject line (CTRL+ V):

Feel free to add detailed comments in the body of the email. . .also the names and emails of any friends to whom you'd like us to forward a copy of this review.

Visit Curtainup's Blog Annex
For a feed to reviews and features as they are posted add http://curtainupnewlinks.blogspot.com to your reader
Curtainup at Facebook . . . Curtainup at Twitter
Subscribe to our FREE email updates: E-mail: esommer@curtainup.comesommer@curtainup.com
put SUBSCRIBE CURTAINUP EMAIL UPDATE in the subject line and your full name and email address in the body of the message. If you can spare a minute, tell us how you came to CurtainUp and from what part of the country.


©Copyright 2013, Elyse Sommer.
Information from this site may not be reproduced in print or online without specific permission from esommer@curtainup.com