HOME PAGE

SITE GUIDE

SEARCH


REVIEWS

REVIEW ARCHIVES

ADVERTISING AT CURTAINUP

FEATURES

NEWS
Etcetera and
Short Term Listings

LISTINGS
Broadway
Off-Broadway

NYC Restaurants

BOOKS and CDs

OTHER PLACES
Berkshires
London
California
New Jersey
DC
Philadelphia
Elsewhere

QUOTES

TKTS

PLAYWRIGHTS' ALBUMS

LETTERS TO EDITOR

FILM

LINKS

MISCELLANEOUS
Free Updates
Masthead

A CurtainUp Review
Annie
When i'm stuck with a day
That's gray,
And lonely,
I just stick up my chin
And grin
And say, '"oh, the sun'll come out
Tomorrow'"
---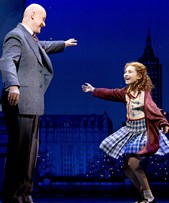 Anthony Warlow & Lilla Crawford
(Photo credit: Joan Marcus)

The 1977 Tony Award winning hit musical Annie is back on Broadway. with a new busy but warm-hearted billionaire to rescue a new adorable red-headed orphan from the clutches of Miss Hanigan, the mean-spirited orphanage manager. The timing couldn't be better. As the original show brought a refreshing sense of hope in the aftermath of Vietnam and Watergate, it now returns in the wake of two wars, a stubborn Great Recession, and an unwelcome visit from a Sandy in the form of a devastating hurricane rather than a lovable pooch. it would take someone meaner than Miss Hannigan not to welcome the return of this musical with its message of hope.

The revival now at the Palace Theater under the direction of Sondheim specialist James Lapine is certain to please a fresh crop of kids, dog lovers and optimists of all ages. For those with clear memories of the long running original, this Annie may fall short of some expectations. However, even if the sum of its parts don't add up to a perfect ten, enough of those parts are top tier. Enough so to make Annie fun and a likely family hit, especially during the Thanksgiving through Christmas holiday season.

The fun begins even before the curtain rises with the cell phone announcement via a lively bark from Sandy (off-stage name, Sunny). And no fear all you dog lovers. . . Sandy makes several other well-behaved, endearing appearances, and even has his own understudy to insure his presence no matter what.

Sandy is a major contributor to Annie' s being as enduring a hit as the Harold Gray comic strip that inspired it The human ranking at the top of the outstanding elements specific to this production is Anthony Warlow as the richest man in a generally poor country. He brings warmth and stature to Oliver (Daddy) Warbucks. His opera trained voice comfortably fills the huge venue, unspoiled by the amplification. I've always thought of Annie as pretty much a one song musical — that song of course being "Tomorrow" with lyrics upbeat enough to inspire Franklin D. Roosevelt (Merwin Foard) and his cabinet to sing it nnd create the New Deal and the W.P.A. Warlow not only adds new richness to one of that anthem's several reprises, but makes a strong case for the melodic wit of "NYC," "You Won't Be an Orphan for Long" and the emotional heft of "Missing" (a solo) and "Don't Need Anything But You."

As for the girl the show is all about, Lila Crawford is as cute as the perennial button. She has a big and belting a voice that almost seems too powerful for an 11-year-old. But talented as she is, Ms. Crawford doesn't quite succeed in establishing herself as a perfect ten Annie. She dances and prances around energetically and offers a fine rendition of "Tomorrow" but she's just not as memorable as Warlow. Also, and this is not her choice but a directorial decision, considering that she sports curly but long red tresses throughout and looks as pretty as a ragamuffin as in the coat Oliver Warbucks' assistant Miss Farrell Brynn O'Malley) buys for her, there's not a real sense of her Cinderella-like transition. When she finally dons the signature Orphan Annie red dress and short curly Orphan Annie wig, youngsters unfamiliar with the comic strip Annie are likely to wonder why in the world she looks less pretty now that she's a little princess? As my companion noted, the artificiality of that scene was oddly underlined by kabuki-like white makeup.

Just as important as Annie and her Daddy-Prince Charming is the play's villainess. That of course is the hard drinking, shrewish orphanage manager, Miss Hannagan. It's to see the Tony-Award winning Katie Finneran portray her that probably accounts for many of the adults without kids in the audience.

Finneran has been walking away with the lions' share of applause since her appearance as a ditsy blonde in Noises Off. A more recent scene stealing turn as a hilarious drunken barflay in the revival of Promises, Promises made her a natural for Hannigan. In the slinky outfits provided by Susan Hilferty, she's a rather too gorgeous gorgon, but she delivers the goods, though not to the point of stealing this show's top performer credits from Warlow. There are times when her bits of shtick are overcooked and feel borrowed from her Promises, Promises barfly. However, she does tap into the yearning romantic underneath the hard-drinking harridan she now plays.

This is a big cast, probably even bigger than Newsies, the other Depression era musical, this one about a bunch of young boys in need of a brighter Tomorrow. As with any Annie, it would take a heart of steel to resist being won over by the chorus of orphan girls singing "It's a Hardknock Life" at the New York Municipal Orphanage. Even though you're likely to miss some of the lyrics thanks to the Broadway-ish amplification, the initial scene when we first meet the children and the conniving Hannigan starts things off on a high note in terms of performances and staging. Other notable performers we first meet at the Orphanage include Brynn O'Malley as Oliver Warbuck's personal assistant Grace Farrell and Clarke Thorell as Rooster Hannigan, an even nastier piece of work than his sister.

Important as the performers are, the production values are a make or break element of any Broadway musical. David Mitchell's Tony Award Winning scenery no doubt contributed greatly to the original production's success. But there have been some tremendous advances in staging that have been incorporated into this revival to good advantage.
David Korins' flying, sliding and swivelling sets and Wendall K. Harrington's video projections are very much among the strongest assets specific to this production. Korins has created a dual stationary space. The orphanage, a grim affair with a staircase to indicate that what happens here is indeed life in the lower depths takes up about a third of the stage and the rest accommodates everything else. That everything else includes a scene at a dark Hooverville atmospherically lit by Donald Holder, the spectacular Warbuck mansion becoming increasingly more spectacular courtesy of a series of turning panels, and studio of the popular radio show where Warbucks offers a reward for Annie's true parents. A curtain of hanging undergarments that cover the entire stage at the beginning gets lifted upwards like a hovering cloud looks nice but doesn't really say anything. The orphan girls are forced to work for some sort of dress company but they're not incarcerated in the scandalous Irish Magdalene Laundries in Ireland.

Susan Hilfterty's costumes, Donald Holder's lighting and Brian Ronan's sound design are top drawer. The choreography, another Tony Award winning element of the original, is now handled by. Andy Blankenbuehler. It's lively and fun enough but there's nothing especially drop dead about it.

Charles Strouse's songs and Martin Charnin's lyrics hold up well and unlike so many musicals these days, doesn't have that hollow, over-miked sound. But if you ask anyone to name a song from the show, it's sure to be "Tomorrow" But Annie is not just for kids, but aims to please the whole family and moms and dads and grannies and granddads will find plenty of more sophisticated in numbers like "We'd Like To Thank You Herbert Hoover." And if Annie sends them home believing that "the sun'll come out, tomorrow" and seeing big smiles on their kids' faces — who cares about any imperfections.

In case any reader wants a plot synopsis, it's includes after the song list.



Annie
l B ased upon Harold Gray comic strip Little Orphan Annie,
Book by Thomas Meehan
Music by Charles Strouse and lyrics by Martin Charnin
irected by James Lapine
Choreographed by Andy Blankenbuehler.
Cast: Katie Finneran (Miss Hannigan), Anthony Warlow(Daddy Warbucks)Lilla Crawford (Annie), Brynn O'Malley (Grace Farrell), Clarke Thorell (Rooster Hannigan), J. Elaine Marcos (Lily St. Regis). The Orphans: Madi Rae DiPietro as July, Georgi James as Pepper, Junah Jang as Tessie, Tyrah Skye Odoms as Kate, Taylor Richardson as Duffy.
Scenic design: David Korins
Costume design: Susan Hilferty
Lighting design: Donald Holder
Sound design: Brian Ronan
Projection design: Wendall K. Harrington
Music director and Vocal arrangements: Todd Ellison
Orchestrations: Michael Starobin
Dance music arrangements: Alex Lacamoire
Musical coordinator: Patrick Vaccariello
Hair and wig design:Tom Watson
Animal training: William Berloni
Running Time: 2 1/2 hours including one intermission Palace Theatre Broadway at 47th Street
From 10/03/12; opening 11/08/12.
Reviewed by Elyse Sommer at November 2nd press preview
Musical Numbers

Act One

Overture – Orchestra
"Maybe" – Annie and Orphans
"Hard Knock Life" – Annie and Orphans
"Hard Knock Life" (Reprise) – Orphans
"Tomorrow" – Annie
"We'd Like to Thank You" – Annie and Ensemble
"Little Girls" – Miss Hannigan
"Little Girls" (Reprise) – Miss Hannigan
"I Think I'm Gonna Like It Here" – Annie, Grace and Ensemble
"N.Y.C." – Warbucks, Grace, Annie, Lily, Ensemble
"Easy Street" – Miss Hannigan, Rooster and Lily
"You Won't Be an Orphan for Long" – Warbucks,Grace, Annie, Ensemble

Act Two

"Maybe" (Reprise ) – Annie
"You're Never Fully Dressed Without a Smile" – Bert Healy and the Boylan Sisters
"You're Never Fully Dressed Without a Smile" ( Reprise) – Orphans
"Easy Street" (Reprise) – Miss Hannigan, Rooster, Lily
"Tomorrow" Reprise) – Annie, Warbucks, F.D.RRoosevelt, Cabinet
"Something Was Missing" – Warbucks
"Annie" – Grace, Ensemble
"I Don't Need Anything But You" – Annie, Warbucks, Grace Ensemble
"Maybe" (Reprise) – Annie
"New Deal for Christmas" – Annie, Warbucks, Grace Orphans, Ensemble, Annie, Roosevelt and staff
Plot synopsis: In the depths of the 1930's, Annie a full of verve 11-year-old young girl who was left at a New York orphanage with a note from her parents promising to return. When the show opens she escapes from the tyrannical Miss Hannigan-- but is apprehended and returned. But just as her situation looks hopeless it changes dramatically when she is selected to spend a week at the residence of the wealthy munitions industrialist, Oliver Warbucks. It's a public relations ploy but Annie charms not only the staff of the mansion but wins over the the tycoon. He puts aside his own yearning to adopt her to help her find her long lost parents by offering a reward if they would come with proof (the parents included half a locket with their note for that purpose) of their identity. Miss Hannigan knows about the looket and helps her crooked brother Rooster and his girl friend impersonate the parents to collect the reward. Scary as this promises to be for Annie, all ends well. The Hannigans are banished, and Annie becomes Annie Warbucks gaining not only a Daddy but a Mommy (Warbucks' assistant Grace).
REVIEW FEEDBACK
Highlight one of the responses below and click "copy" or"CTRL+C"

I agree with the review of  Annie
I disagree with the review of Annie
The review made me eager to see Annie
Click on the address link E-mail: esommer@curtainup.com
Paste the highlighted text into the subject line (CTRL+ V):

Feel free to add detailed comments in the body of the email. . .also the names and emails of any friends to whom you'd like us to forward a copy of this review.

Visit Curtainup's Blog Annex
For a feed to reviews and features as they are posted add http://curtainupnewlinks.blogspot.com to your reader
Curtainup at Facebook . . . Curtainup at Twitter
Subscribe to our FREE email updates: E-mail: esommer@curtainup.comesommer@curtainup.com
put SUBSCRIBE CURTAINUP EMAIL UPDATE in the subject line and your full name and email address in the body of the message. If you can spare a minute, tell us how you came to CurtainUp and from what part of the country.