HOME PAGE

SITE GUIDE

SEARCH


REVIEWS

REVIEW ARCHIVES

ADVERTISING AT CURTAINUP

FEATURES

NEWS
Etcetera and
Short Term Listings

LISTINGS
Broadway
Off-Broadway

NYC Restaurants

BOOKS and CDs

OTHER PLACES
Berkshires
London
California
New Jersey
Connecticut
DC
Philadelphia
Elsewhere

QUOTES

On TKTS

PLAYWRIGHTS' ALBUMS

LETTERS TO EDITOR

FILM

LINKS

MISCELLANEOUS
Free Updates
Masthead
Writing for Us



A CurtainUp New Jersey Review
The Tangled Skirt
One thing about a small town, you're always near the morgue. — Bailey
---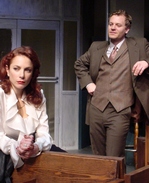 Carmit Levité and Vince Nappo
(Photo: SuzAnne Barabas )

Pulp fiction, the genre that invites us to look at the seedier and darker side of life has rarely been used or adapted successfully in dramatic literature. In those often derided but popular books, the principal characters are frequently cynical detectives and social outsiders who live on the fringes of society and don't generally conform to the more accepted rules of ethics and morality. The narrative is often as gritty and suggestive as it is florid and unreal. And so it is with Steve Braunstein's mock pulp The Tangled Skirt, a humorously conceived, if also sloppily contrived, melodrama now having its world premiere. The play's primary virtue is in its ability to keep us glued to and amused by every cliché that comes from the mouths of its two purposely enigmatic characters.

What is it that brings well-dressed but nervous looking Bailey Bryce (Vince Nappo) to the crummy bus depot of a small town in the middle of nowhere? One may assume that the way he clutches his suitcase, that it may contain more than a change of clothes. We can also assume that he's expecting to get on the next bus out of town. It is 12:30 am, the next bus isn't until 2 am and we sense that he is more than a little anxious. He looks about furtively but finds time to take a recording device out of his jacket pocket. He speaks into it, beginning a narrative ("I'm a story-teller. . .") possibly the one that is about to unfold.

Uh oh, who's this stunning, shapely dame with red hair who just came into the depot also gripping a suspicious looking satchel? She's Rhonda Claire (Carmit Levité), just the sort of femme fatale who makes desperate middle of the night escapes from whistle-stop towns. Bailey makes idle chit chat in an attempt to get more information from her than she clearly cares to disclose. He's brusque, she's defensive. "I'm trouble and you're trouble too, " he deduces, as Rhonda Claire attempts to keep the conversation away from the murder that was evidently committed in town earlier that evening.

The cat and mouse game is played out as Bailey appears to be reading her mind. He talks of such things as manifest destiny and how he would like to "wash this town off me." The jittery Rhonda snaps "I've been disposable longer than you have." snaps the increasingly jittery Rhonda Claire. It's flippant and insinuating dialogue like this that tumbles non-stop out of their mouths even as a kind of chemistry is being activated between them.

Braunstein, who has had a number of his plays produced regionally as well as in New York (Perched on a Gabardine Cloud had a run at Playwrights Horizons in 1976) certainly doesn't lack the conceit or the panache to keep his pot-boiler from curdling long before its conclusion. There are, to be sure, irrefutable holes in the plot and just as many infuriating lapses in logic. But who can argue with the way things progress when Rhonda Claire says, "We're just killing time in Hell."

Director Evan Bergman keeps the actors niftily confined to their one-dimensional characters. This doesn't stop Levité from making the skittishly sensual Rhonda a most provocative object of desire. Nappo, who, in his credits, makes claim to playing Richard II on a trapeze, is firmly grounded as the hard-boiled "story-teller. " The play's biggest mystery may be the title, but with a little thought on the way home I was able to decipher its meaning. Let's assume that you may also, without me give away any more of this soiree into noiree.



The Tangled Skirt
By Steve Braunstein
Directed by Evan Bergman

Cast: Vince Nappo (Bailey Bryce), Carmit Levité (Rhonda Claire)
Scenic Design: Jessica Parks
Lighting Design: Jill Nagle
Costume Design: Patricia e. Doherty
Sound Design: Nathan Leigh
Running Time: 1 hour 40 minutes including intermission
New Jersey Repertory Company, 179 Broadway, Long Branch, NJ
(732) 229 - 3166
Performances: Thurs & Friday at 8 PM; Sat at 3 PM & 8 PM; Sun at 2 PM
Tickets ($40.00; senior $36.00)
Opened 12/4/10
Ends 01/23/11 (no performances weeks of 12/20 & 12/27)
Review by Simon Saltzman based on performance 12/18/10





REVIEW FEEDBACK
Highlight one of the responses below and click "copy" or"CTRL+C"

I agree with the review of The Tangled Skirt
I disagree with the review of The Tangled Skirt
The review made me eager to see The Tangled Skirt
Click on the address link E-mail: esommer@curtainup.com
Paste the highlighted text into the subject line (CTRL+ V):

>Feel free to add detailed comments in the body of the email and state if you'd like your comments published in our letters section. . .also the names and emails of any friends to whom you'd like us to forward a copy of this review.

You can also contact us at Curtainup at Facebook or Curtainup at Twitter and Curtainup's Blog Annex