By Simon Saltzman
The Playboy of the Western World is not a play with a purpose in the modern sense of the word, but although parts of it are, or are meant to be, extraneous comedy, still a great deal more that is in it, and a great deal more that is behind it, is perfectly serious, when looked at in a certain light. — J.M. Synge (from a letter to the press in 1907)
---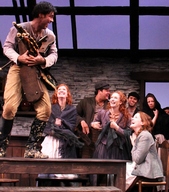 A scene from Playboy of the Western World
It's roundup time for all the playboys and playgirls to attend the Shakespeare Theatre of New Jersey's splendid production of John Millington Synge's rollicking and rueful
The Playboy of the Western World
. Even before I share my enthusiasm, I'd like to quote Russian dramatist Maxim Gorky who said this about the play: "the comical side passes quite naturally into the terrible, while the terrible becomes comical just as easily."
It is not surprising that this play, written in 1907, has retained its lofty place among the masterpieces of modern dramatic literature. The play's self-incriminating charms and its purposefully conflicted morals are attested to by director Paul Mullins. Mullins, who is in his twenty-second season with STNJ, keeps the faith mainly by not underlining that which meets our astonished eyes and pricks up our ears. This is, if you choose it to be, simply a provincial folk tale embroidered with some wry observations and raucous behavior about the making of heroes and reputations. Of course, the truth is that there is definitely much more for us to recognize and consider. And that's a good thing.
It may take you a while to embrace the poetic mix of the improbable, the furious and the funny. Be assured that you will want to think and discuss (as we did with friends following the performance) the play's premise of how and why an entire town becomes intrigued and enamored of a stranger in their midst, who admits killing his father and fleeing.
The STNJ's 51st season gets a kick start with a classic that is buoyed by strong performances and Mullins's deft direction. I appreciated his and, of course, the company's uncompromised affection for the shimmering language of a playwright who knew how to expose the longings of the human heart as well as to slyly poke fun at the narrow-minded and easily provoked. Listen closely as the dialect may seem at first a little thick, but it quickly assumes the savory lilt that is half the fun.
Michael A. Newcomer is terrific and charismatic as Christopher Mahon, the scruffy, posing parricide who infatuates a bevy of giddy, mostly red-headed young women even as he infuriates and impresses the gullible men with his faux heroics and athleticism. Newcomer is, indeed, a newcomer as this is his first season with STNJ, although he played Macduff in Macbeth under Mullins direction at the Old Globe. Despite what we know and what we find out, it's the way that Christie craftily exploits himself that wins us over as well, and that's all to the good of the play.
The setting, as evoked by designer Brittany Vasta, is a public house in a remote village on the wild coast of Mayo, the stone walls are impressive as are the rustic furnishings that accommodate the locals as well as the local poteen (illegally distilled whiskey). It makes impressive use of the full width of the stage.
Also not above fawning over the stranger in their midst is the pub owner's (Matt Sullivan) smitten daughter Pegeen Mike, as played by a delightfully feisty and very pretty Izzie Steele. She loses no time in disdainfully discarding her lily-livered current suitor Sean Keogh (a comically timid James Russell) for the young man with the strong arms and fiery speech. Emma O'Donnell is hilariously nervy as The Widow Quin who challenges Pegeen and is willing to pull out all the stops to win Christy's carnal interest.
The irony of the play is how quickly this initially humble and frightened lad re-makes himself into a boastful extrovert enabling him to go out and win an athletic prize. His transformation into "The Playboy...." is blunted, however by the sudden appearance of Christy's enraged father (played with comical brilliance by Edmond Genest) who has tracked down his son and now intends to drag him home. Of course the deception creates havoc and mayhem in the community and results in...but why spoil it for you. Just go and enjoy and be entertained by this most essential of literary donnybrooks.
The Playboy of the Western World
By J.M. Synge
Directed by Paul Mullins

Cast:Izzie Steele (Margaret Flaherty, called Pegeen Mike), James Russell (Shawn Keogh (James Russell), Matt Sullivan (Michael James Flaherty), Michael Daly (Jimmy Farrell), Patrick Toon (Philly Cullen), Michael A. Newcomer (Christopher Mahon), Emma O'Donnell (Widow Quin), Madeline Fendrick (Sara Tansey), Megan Sass (Susan Brady), Elaine Stenson (Honor Blake), Sarah Quigley (Nelly Delaney), Edmond Genest (Old Mahon), Tom Duke, Theo McKenna, Isaac Miller, Gray West (Townspeople)
Scenic Designer: Brittany Vasta
Costume Designer: Candida Nichols
Lighting Designer: Michael Giannitti
Sound Designer: Steven L. Beckel
Running Time: 2 hours 10 minutes including intermission
F.M. Kirby Shakespeare Theatre, 36 Madison Avenue, Madison, NJ (on the campus of Drew University).
(973) 408 - 5600
Tickets: $35.00 - $70.00; Student rush $15.00 thirty minutes prior to curtain Performances: Sunday, Tuesday and Wednesday evenings at 7:30pm; Thursday, Fridays, Saturday evenings at 8pm; Saturday and Sunday matinees at 2 pm.
From 05/29/13 Opened 06/01/13 Ends 06/23/13
Review by Simon Saltzman based on performances 06/01/13
Subscribe to our FREE email updates with a note from editor Elyse Sommer about additions to the website -- with main page hot links to the latest features posted at our numerous locations. To subscribe, E-mail: esommer@curtainup.comesommer@curtainup.com
put SUBSCRIBE CURTAINUP EMAIL UPDATE in the subject line and your full name and email address in the body of the message -- if you can spare a minute, tell us how you came to CurtainUp and from what part of the country.
Visit Curtainup's Blog Annex
For a feed to reviews and features as they are posted add
http://curtainupnewlinks.blogspot.com
to your reader
Curtainup at Facebook
. . .
Curtainup at Twitter
REVIEW FEEDBACK
Highlight one of the responses below and click "copy" or"CTRL+C"

I agree with the review of The Playboy of the Western World
I disagree with the review of The Playboy of the Western World
The review made me eager to see The Playboy of the Western World
Click on the address link E-mail: esommer@curtainup.com
Paste the highlighted text into the subject line (CTRL+ V):

>Feel free to add detailed comments in the body of the email and state if you'd like your comments published in our letters section. . .also the names and emails of any friends to whom you'd like us to forward a copy of this review.

You can also contact us at Curtainup at Facebook or Curtainup at Twitter and Curtainup's Blog Annex