HOME PAGE

SITE GUIDE

SEARCH


REVIEWS

REVIEW ARCHIVES

ADVERTISING AT CURTAINUP

FEATURES

NEWS
Etcetera and
Short Term Listings

LISTINGS
Broadway
Off-Broadway

NYC Restaurants

BOOKS and CDs

OTHER PLACES
Berkshires
London
California
New Jersey
DC
Philadelphia
Elsewhere

QUOTES

TKTS

PLAYWRIGHTS' ALBUMS

LETTERS TO EDITOR

FILM

LINKS

MISCELLANEOUS
Free Updates
Masthead

A CurtainUp Review
Pippin
OH, IT'S TIME TO START LIVIN'
TIME TO TAKE A LITTLE FROM THE WORLD WE'RE GIVEN
—Pippin's Grandma Berthe.
---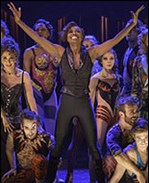 Patina Miller and Pippin cast members

The circus has pitched its tent on Broadway. Not the elephants and the clowns and the cotton candy vendors, but the amazing acrobats à la the Cirque du Soleil. But hold on, the tent show at the Music Box is really a musical and it's chief ring master is the talented rail slim, singer and dancer Patina Miller.

The theme of this entertainment revolves around a long ago prince in search of a meaningful life. His name: Pippin. Sound familiar? Well it should be. The musical named for its young searcher for a meaningful life first danced and sang on Broadway in 1972 and ran for 1944 performances. Pippin was led by the then Main Player Ben Vereen through his quest for a life that will be something "more than just long."

Okay, so this is a revival and not a new show. It's even been made into a movie. However, given that Diane Paulus is at the helm, this is a ravishing revisical rather than a revival. Diane Paulus has once again dipped into her bag of directorial tricks and given a scintillatingly fresh and magical twist to a popular musical work ( Hair , Porgy & Bess ).

Though always narrated as a play within a play, Paulus has this time framed Pippin's musical saga with a circus troupe. It's a concept that's allowed her and her cast to invigorate this show, and musical theater in general, in a whole new way.

To give you just a sample of what you can expect: Performers juggle swords, they jump rope (with one performer actually becoming a rope), wondrous things are achieved with hula hoops, and the king rides a unicycle.

The story inspired by King Charlemagne's heir to the throne during the ancient Holy Roman Empire (circa 780 A.D.) is hardly a very substantial and accurate slice of history. But, while the plot was and is still rather silly and not as much loved as composer Stephen Schwartz's mega hit Wicked, it is filled with lovely, songs, including standouts like the delightful "Corner of th Sky." Best of all this Pippin it's beautifully orchestrated and the lyrics, unlike those in the otherwise splendid new family hit Matilda, epitomize clarity.

Patina Miller is a mesmerizing dancer and were Bob Fosse, the original director-choreographer, around, he'd give a thumbs up to the way she's got his moves down pat. Miller also knows how to belt out a tune and give her Leader a combination of kindly yet pushy big sister.

Matthew James Thomas, a young Brit, hits all the bases. He's enormously winning as the smart boy heir to King Charlemagne of the Franks who's not yet smartened up about life. He has a fine voice and nicely relaxed stage presence. What's more, he more than holds his own with all the acrobatic talents around him (After all, he previously did some high flying in Spider-Man).

As for this production's favorite character, no contest there. Seasoned show stealer Andrea Martin as Pippin's starved for gossip grandmother Berthe is likely to keep winning mid-show curtain calls with her sing-a-long "No Time at All." Nothing old lady about this grandma in her glittery body suits. While Martin has only one solo, she is part of the circus troupe ensemble.

Veteran husband and wife musical stars Terrence Mann and Charlotte d'Amboise are fun to watch as the King of the Franks and his nasty second wife Queen Fastrada. So is Erik Altemus as the dumb, battle-happy son Lewis who Frastrada would like to see on the throne instead of Pippin. Mann is especially amusing when he deftly navigates the high-speed lyrics of "War Is a Science."

And speaking of the war scenes, though Paulus hasn't made any major script or song changes, she has staged the war with a decidedly dark and grisly edge. A soft shoe number led by Miller takes place against a background of the enemies being killed. One Visigoth warrior is hanged, the severed head of another pops up from inside a trunk — and speaks! No wonder Pippin doesn't find the answer to his quest in war!

This is more than ever a dance show. Chet Walker who danced in the original Pippin and created th musical Fosse, deserves a standing ovation for the true to the Fosse choreography plus acrobatics original choreography. If I could end this review with Pippin and The Players doing the first act's "Morning Gory" finale, this revisical would earn an unqualified rave. But there's no denying that the incredible energy of this production somehow flags a bit after the intermission. Apparently, even the gifted Ms. Paulus couldn't overcome this second act problem which dogged the original production's final act.

Even this somewhat less perfect second act doesn't diminish the triumph of this production, especially since it brings Rachel Bay Jones on stage. As Catherine, the young widow who is the focus of Pippin's last stop on the road to a meaningful life, she adds a lovely voice and considerable charm to the cast. She wins us over as she does our prince charming.

The somewhat lesser second act not withstanding, there's enough spectacle and pleasure on offer to keep the Music Box filled for a long time to come. And in a world sill beset by war, we could do a lot more than follow grandma Berthe's 's ever timely advice to "Live in the moment. Look at this day."




Pippin Music by Stephen Schwartz
Book by Roger O. Hirson
Directed by Diane Paulus
Choreography by Chet Walker
Cast: Matthew James Thomas (Pippin), Patina Miller (Leading Player), Terrence Mann(Charles), Charlotte d'Amboise (Fastrada), Rachel Bay Jones (Catherine), Andrea Martin (Berthe); also Erik Altemus, Grégory Arsenal, Andrew Cekala, Lolita Costet, Colin Cunliffe, Andrew Fitch, Orion Griffiths, Viktoria Grimmy, Sabrina Harper, Olga Karmansky, Bethany Moore, Brad Musgrove, Stephanie Pope, Philip Rosenberg, Yannick Thomas, Molly Tynes, Anthony Wayne, Ashton Woetz.
Running Time: Two hours and 35 minutes, includes an intermission
American Repertory production at Music Box Theatre 239 W. 45th St
From 3/23/13; opening 4/25/13.
Tickets from $142 to $59
Premium seating is available. Tuesday - Saturday @ 8pm, Wednesday & Saturday @ 2:30pm , Sunday at 3pm. The performances on Sunday, March 24 and Sunday, March 31 are at 7:00pm (instead of 3pm)
Reviewed by Elyse Sommer 4/20/13 press matinee.
Act One Songs

Magic to Do /Players
Corner of the Sky / Pippin
War Is /a Science / Charles and The Players
Glory Leading Player and The Players
Simple Joys /Leading Player and The Players
No Time at All / Berthe and The Players
With You /Pippin and The Players
Spread a Little Sunshine / Fastrada
Morning Glow /Pippin and The Players

Act Two Songs

On the Right Track / Leading Player and Pippin
Kind of Woman /Catherine
Extraordinary / Pippin and The Players
Love Song / Pippin and Catherine
Finale / Leading Player, Pippin and The Players