HOME PAGE

SITE GUIDE

SEARCH


REVIEWS

REVIEW ARCHIVES

ADVERTISING AT CURTAINUP

FEATURES

NEWS
Etcetera and
Short Term Listings

LISTINGS
Broadway
Off-Broadway

NYC Restaurants

BOOKS and CDs

OTHER PLACES
Berkshires
London
California
New Jersey
DC
Philadelphia
Elsewhere

QUOTES

On TKTS

PLAYWRIGHTS' ALBUMS

LETTERS TO EDITOR

FILM

LINKS

MISCELLANEOUS
Free Updates
Masthead
Writing for Us


A CurtainUp New Jersey Review
To Kill A Mockingbird
"You never really understand a person until you consider things from his point of view... until you climb into his skin and walk around in it." — Atticus
---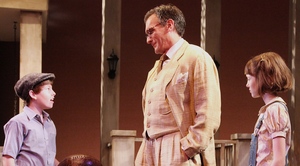 l-r: Frankie Seratch, Brent Harris and Emmanuelle Nadeau

Harper Lee's popular and lauded 1960 novel To Kill A Mockingbird was lovingly adapted by Horton Foote for the 1963 film version. The film was a great success and praised, notably for Gregory Peck's Academy Award-winning performance as Atticus, but also for the performances of the children (Mary Badham and Phillip Alford) through whose eyes and actions we get a perception of a small Alabama town in 1935.

  The Shakespeare Theater of New Jersey is presenting a very fine production of the popular stage adaptation by Christopher Sergel. As a child's point of view is so essential to the story, it is worth mentioning at the top that the three very young actors assigned to key roles are giving very delightful performances. This production, under the excellent direction of Joseph Discher, works hard and succeeds in keeping the children front and center.

  For those of us who cherish the novel as well as the film version, there are just enough endearing traces of 'Scout's outspokenness and tomboyish behavior in Emmanuelle Nadeau's performance, as well as a good deal of amusement to be found in the antics of her brother Jem (Frankie Seratch) and their little misfit of a friend Dill (Ethan Haberfield), the character based on Lee's childhood friend Truman Capote. The play's most effective device is having Jean Louise Finch, the adult 'scout' serve as an almost constant presence/bystander who delivers the narrative thread as a memory. She is played by a luminous and ingratiating Nisi Sturgis.

  The adaptation is certainly a sincere effort to bring attention to the novel's most beguiling and fundamental virtues. At its most endearing, this growing-up story of a rambunctious little girl nick-named 'Scout' offers us glimpses into her feelings. She also provides numerous demonstrations of her winsome precociousness, especially in the way she idolizes her widowed father Atticus – the town's most respected attorney. Like the trustworthy, kind, brave, etc. scoutmaster his daughter sees him, Brent Harris, who is making his first appearance at STNJ, is commendably honest and forthright.

  This may be Scout's story, but it is also about the social attitudes and biases that prevailed at the time among the townspeople and the farmers. Act 1 is largely taken up with exposition and as a build-up to the trial. The adaptation loses some dramatic traction with the plodding opining and submissions of a sweet neighbor Miss Maude (Maureen Stillman), the busy-body-ness of the sourish Miss Stephanie Crawford (Eileen Glenn) and the eccentric nastiness of the elderly and ill Mrs. Dubose (Jean Walker). It is always amazing, even in real life, how little one cares about what the neighbors think, or think they know.

  The courtroom scene, in which Atticus defends a young, black farmhand (Ray Fisher) charged with raping a white girl (Alexis Hyatt), gives Harris an opportunity to shine as he expresses some strong and stirring opinions on human behavior and the course of justice.

  Marjorie Johnson makes an outstanding impression as Calpurnia, the Finch's strictly no-nonsense black housekeeper. Conan Meehan and Alexis Hyatt succeed in giving us the chills, as vicious, vindictive and ignorant poor white trash. The large, first rate supporting cast includes Chase Newhart, as the overly conciliatory Judge Taylor, and James Michael Reilly, as Sheriff Heck Tate.

  The unit setting mainly depicting the Finch's front porch and the neighboring home of the reclusive Arthur 'Boo' Radley (Jake Berger) makes an impressive transition into the interior of the court house including its balcony seating reserved for the black. For those who cherish Lee's novel, Sergel's adaptation has its shortcomings, but under Discher's skillful guidance, it is a mostly affecting dramatic tribute to an author who would never write another story.

  The program explains Lee's decision to never write again via this comment attributed to her by a close friend, Rev. Dr. Thomas Lane, in a 2011 interview with The Daily Telegraph: "Two reasons: one, I wouldn't go through the pressure and publicity I went through with To Kill A Mockingbird for any amount of money. Second, I have said what I wanted to say and I will not say it again."

  Mary Badham, who played Scout Finch in the film will, as also announced in the program discuss the novel and its messages as well as engage in a question and answer session with the audience on November 8th & 9th at 7:30 PM prior to the performance.

 

To Kill A Mockingbird
  Adapted by Christopher Lee from the novel by Harper Lee
  Directed by Joseph Discher

  Cast: Nisi Sturgis (Jean Louise Finch), Emmanuelle Nadeau ('Scout' Finch), Maureen Silliman (Miss Maudie Atkinson), Marjorie Johnson (Calpurnia), Chase Newhart (Judge Taylor), James Michael Reilly (Heck Tate), Eileen Glenn (Miss Stephanie Crawford), Frankie Seratch (Jem Finch), Jean Walker (Mrs. Dubose), Allan R. Walker (Reverend Sykes), Alexis Hyatt (Mayella Ewell), Conan McCarty (Bob Ewell), Ethan Haberfield (Dill), Don Meehan (Nathan Radley), Brent Harris (Atticus Finch), Don Meehan (Walter Cunningham), Eric Rolland (Mr. Gilmer), Ben Sterling (Court Clerk), Ray Fisher (Tom Robinson), Rocio Alexis Mendez (Helen Robinson), Jake Berger (Arthur 'Boo' Radley)
  Scenic Designer: Anita Tripathi Easterling
  Costume Designer: Maggie Dick
  Lighting Designer: Matthew E. Adelson
  Sound Designer: Steven L. Beckel
  Fight Director: Rick Sordelet
  Running Time: 2 hours 20 minutes including intermission
  Shakespeare Theatre of New Jersey, The Main Stage at the F.M. Kirby  Shakespeare Theatre located on the campus of Drew University, 36 Madison Avenue (at Lancaster Road) Madison, NJ.
  (973) 408 – 5600
  Tickets ($40 - $55)
  Performances: Tuesdays and Wednesdays at 7:30 p.m., Thursdays and Fridays at 8 p.m., Saturdays at 2 and 8 p.m., Sundays at 2 and 7:30 p.m.
  From: 10/11/11
  Opening: 10/15/11
  Closing: 11/20/11
  Review by Simon Saltzman based on performance 10/16/11

Subscribe to our FREE email updates with a note from editor Elyse Sommer about additions to the website -- with main page hot links to the latest features posted at our numerous locations. To subscribe, E-mail: esommer@curtainup.comesommer@curtainup.com
put SUBSCRIBE CURTAINUP EMAIL UPDATE in the subject line and your full name and email address in the body of the message -- if you can spare a minute, tell us how you came to CurtainUp and from what part of the country. Visit Curtainup's Blog Annex

For a feed to reviews and features as they are posted add

http://curtainupnewlinks.blogspot.com

to your reader

Curtainup at Facebook

. . .

Curtainup at Twitter





REVIEW FEEDBACK
Highlight one of the responses below and click "copy" or"CTRL+C"

I agree with the review of To Kill A Mockingbird
I disagree with the review of To Kill A Mockingbird
The review made me eager to see To Kill A Mockingbird
Click on the address link E-mail: esommer@curtainup.com
Paste the highlighted text into the subject line (CTRL+ V):

>Feel free to add detailed comments in the body of the email and state if you'd like your comments published in our letters section. . .also the names and emails of any friends to whom you'd like us to forward a copy of this review.

You can also contact us at Curtainup at Facebook or Curtainup at Twitter and Curtainup's Blog Annex

Book of Mormon -CD
Our review of the show


Slings & Arrows-the complete set
You don't have to be a Shakespeare aficionado to love all 21 episodes of this hilarious and moving Canadian TV series about a fictional Shakespeare Company