HOME PAGE

SITE GUIDE

SEARCH


REVIEWS

REVIEW ARCHIVES

ADVERTISING AT CURTAINUP

FEATURES

NEWS
Etcetera and
Short Term Listings

LISTINGS
Broadway
Off-Broadway

NYC Restaurants

BOOKS and CDs

OTHER PLACES
Berkshires
London
California
New Jersey
DC
Philadelphia
Elsewhere

QUOTES

On TKTS

PLAYWRIGHTS' ALBUMS

LETTERS TO EDITOR

FILM

LINKS

MISCELLANEOUS
Free Updates
Masthead
Writing for Us


A CurtainUp New Jersey Review
The Little Mermaid

"I'd rather be a sailor than a prince."—Prince Eric
---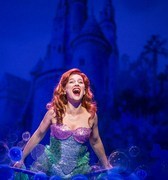 Jessica Grove

Whatever were the major issues - and there were plenty - that plagued the stage version of the popular 1989 cartoon feature when it first opened on Broadway in 2008 (after a lengthy preview period), seem to have been mainly and commendably resolved in this newly conceived staging at the Paper Mill Playhouse. While this co-production with Pittsburgh Civic Light Opera and Kansas City Starlight Theatre (where it will play following this engagement) still mainly adheres in song (with a few exceptions) and text (with a few exceptions) to the original Disney Theatrical Production, it is a better show all around.

Most notable is scuttling of the "heelies" (shoes that let you roll across flat surfaces, except for eels) for the inhabitants under-the-sea. It has been replaced with flying by wires by Ariel, Prince Eric, King Triton and some of the sea-creatures. It's a better idea and the effect works just fine, but as my grandson critiqued, "I only give the show three and a half stars because you can see the wires."

If The Little Mermaid is a bit sillier and less adult friendly than most of the Disney musicals, there were many little girls jumping out of their seats with joy during the show, finale and curtain calls. Adults are obliged to be tolerant with the text and story, but will surely be awestruck by the sheer extravagance of this production.

The brilliantly iridescent costumes are eye-popping and a constant pleasure to behold. Amy Clark & Mark Koss are credited with Costume Co-ordination & Design, but the shows original costume designer Tatiana Noginova is also given credit. So who knows? Nevertheless, the Mersisters no longer have cumbersome fish tails and exposed legs but rather gorgeous, graceful garments with flowing fabric for tails. The more humorously inspired suits for Sebastian the Crab, Scuttle and Gulls, the electrified eels, and the grandiose outfit and headdress for the multi-tentacle Ursula are knock-outs.

Glenn Casale's brisk direction is clearly focused to get through the basic story that the Disney collaborators based on the fairy tale by Hans Christian Andersen. Kenneth Foy's scenic design has the whimsy of a children's picture book, but also less surreal in concept than was the Broadway production. He uses bubbles as a theme and as a frame for the show. The lighting by Charlie Morrison is exceptional and keeps the light board busy.

There are some minor changes to the bouncy and charming original score by Alan Menken (music) and the late Howard Ashman (lyrics) which was augmented for the Broadway production with more songs by Menken and lyrics by Glenn Slater. Comparing the song list from the original program, the changes I can see are: "Human Stuff" sung by the scuttle fish and gulls in the original has been scuttled, and "Daddy's Little Angel," as now sung by Ursula, Flotsam and Jetsam, has replaced "I Want the Good Times Back." The most captivating songs remain the calypso frolic "Under the Sea," and the dreamy "Kiss the Girl."

These nicely support the bubbly romantic pursuit of Ariel (a spunky and pretty Jessica Grové), a rebellious mermaid in her quest to marry a prince and discover the world beyond the watery one governed by her autocratic father King Triton (an imposingly virile Edward Watts, who also played the title role in the recent Encores' Superman). Nick Adams exerts an impetuous panache as Prince Eric who immediately falls in love upon hearing Ariel's voice while at sea. All sing well and do better in that regard than with the unexceptional text by Doug Wright.

Some performers such as Matt Allen as a glib, feathered seagull, Alan Ming, Jr., as a Caribbean Crab, Liz McCarney, as the fearsome sea-witch Ursula, Scott Leiendecker and Sean Patrick Doyle, as a devious pair of electric eels, Timothy Shew, as the palace chef, and Christian Probst, as a love-struck Flounder rise above the text with amusing performances. More amusing is watching the performers under water keep on singing and speaking all the while keeping their bodies undulating. I don't think that is choreographer John MacInnis's finest moments under the sea, but there is a terrific tap dance on the beach for Scuttle and Gulls.



The Little Mermaid Music by Alan Menken, Lyrics by Howard Ashman & Glenn Slater Book by Doug Wright
Directed by Glenn Casale

Cast: Jessica Grové (Ariel), Timothy Shew (Pilot), Nick Adams (Prince Eric), Ron Wisniski (Grimsby), Christian Probst (Flounder), Matt Allen (Scuttle), Alan Mingo, Jr. (Sebastian), Kristine Bennett, Nicole Javanna Johnson, Lisa karlin, Morgan kirner, Erica Mansfield, Jessica Wockenfuss (Mersisters), Scott Leiendecker (Flotsam), Sean Patrick Doyle (Jetsam), Liz McCarney (Ursula), KC Fredericks, Dennis O'Bannion, Robbie Roby (Gulls), Timothy Shew (Chef Louis).
Scenic Design: Kenneth Foy
Costume Coodination & Design: Amy Clark & Mark Koss (original Broadway Costume Design Tatiana Noginova)
Flying Sequences choreographed by Paul Rubin
Flying by Foy
Orchestrations: Danny Troob
Incidental Music &Vocal Arrangements: Michael Kosarin
Running time: 2 hours 30 minutes
Paper Mill Playhouse, 22 Brookside Drive, Millburn, NJ
(973) 376 - 4343
Tickets: $26.00 - $97.00
Performances: Wednesday at 7pm, Thursday at 1:30pm and 7pm, Friday at 7pm, Saturday at 1:30pm and 7 pm, and Sunday at 1:30pm and 7pm.
From 05/29/13 Opened 06/02/13 Ends 06/30/13
Review by Simon Saltzman based on performance 06/02/13

Subscribe to our FREE email updates with a note from editor Elyse Sommer about additions to the website -- with main page hot links to the latest features posted at our numerous locations. To subscribe, E-mail: esommer@curtainup.comesommer@curtainup.com
put SUBSCRIBE CURTAINUP EMAIL UPDATE in the subject line and your full name and email address in the body of the message -- if you can spare a minute, tell us how you came to CurtainUp and from what part of the country. Visit Curtainup's Blog Annex

For a feed to reviews and features as they are posted add

http://curtainupnewlinks.blogspot.com

to your reader

Curtainup at Facebook

. . .

Curtainup at Twitter





REVIEW FEEDBACK
Highlight one of the responses below and click "copy" or"CTRL+C"

I agree with the review of The Little Mermaid
I disagree with the review of The Little Mermaid
The review made me eager to see The Little Mermaid
Click on the address link E-mail: esommer@curtainup.com
Paste the highlighted text into the subject line (CTRL+ V):

>Feel free to add detailed comments in the body of the email and state if you'd like your comments published in our letters section. . .also the names and emails of any friends to whom you'd like us to forward a copy of this review.

You can also contact us at Curtainup at Facebook or Curtainup at Twitter and Curtainup's Blog Annex

New Similes Dictionary
Book of Mormon -CD
Our review of the show


Slings & Arrows-the complete set
You don't have to be a Shakespeare aficionado to love all 21 episodes of this hilarious and moving Canadian TV series about a fictional Shakespeare Company