HOME PAGE

SITE GUIDE

SEARCH


REVIEWS

REVIEW ARCHIVES

ADVERTISING AT CURTAINUP

FEATURES

NEWS
Etcetera and
Short Term Listings

LISTINGS
Broadway
Off-Broadway

NYC Restaurants

BOOKS and CDs

OTHER PLACES
Berkshires
London
California
New Jersey
DC
Philadelphia
Elsewhere

QUOTES

On TKTS

PLAYWRIGHTS' ALBUMS

LETTERS TO EDITOR

FILM

LINKS

MISCELLANEOUS
Free Updates
Masthead
Writing for Us


A CurtainUp New Jersey Review
The Liar

"Ladies & Gentlemen! Mesdames, messieurs! All cell phones off? All cellophane secure? Finish your texting now, not during my scene. I'm in some theater, But, like, where's the screen? "— Cliton (opening monologue)
---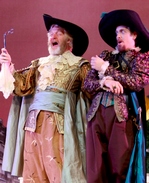 (l to r) Jim Hopkins as Dorante's father, Brian Cade as Dorante
(Photo: Gerry Goodstein)

I'm wondering how many who attended the opening night of David Ives's The Liar at the Shakespeare Theatre of New Jersey were anticipating the wildly irreverent adaptation of Pierre Corneille's rarely seen or produced 17th century boulevard comedy (Le Menteur) that greeted them? Aside from such plays as All in the Timing, Is He Dead?, Venus in Fur, Ives's ability to give a classic comedy the gift of his audacious playfulness was once again apparent just last season Off Broadway when the Classic Stage Company produced School for Lies, his hilarious adaptation of Moliere's The Misanthrope.

Although The Liar had its world premier at Washington's Shakespeare Theatre Company in 2010 (Curtainup review), this new production, under the sparkling direction of Paul Mullins, has been cast with some wonderfully deft pretenders and artful poseurs, all adept at the hitting the mark on all those rhymed couplets. If the pentameter-propelled text is often more than one can absorb, so is the plot. But who really cares? We are, nevertheless, intrigued enough to follow the amorous misadventures of a country lawyer/egotistical would-be Casanova named Dorante (Brian Cade), as he gets deeper and deeper in the maze he creates with his lies among the Parisian aristocracy. His self-incriminating dilemmas are set in motion with his telling a trio of strolling lovely ladies that he is a distinguished soldier returned from the wars.

The situation is set up delightfully by Cliton (a wry and chipper performance by Kevin Isola), a vagrant who cleverly reveals to us that he cannot tell a lie. He does seize upon the opportunity to become a valet to the well-dressed Doronte when he targets him while walking in the Tuileries Garden. The handsome setting designed by Michael Schweikardt has just enough landscaping with potted greenery and a picturesque backdrop to make its case. It is a kick to see chandeliers hanging on high and prepared to make their obligatory descent when the scene changes.

Soon enough Cliton becomes Dorante's unwitting collaborator in his master's recklessly misguided wooing of a dazzling blonde Clarice (Jane Pfitsch), her winsome best friend Lucrece (Maya Kazan) and their respective servants, both played delightfully and marked contrast of personality by Katie Fabel for the usual comedy of errors results. Cade is a hoot as the incorrigibly self-serving Doronte who divulges an elaborately plotted but never really executed seduction of Clarice to his best friend Alcippe (Clark Carmichael). That's when things get complicated. Not only is Alcippe secretly betrothed to Clarice, but she also is plotting with Lucrece, who secretly loves Dorante. This does not take into account the machinations of Dorante's father Geronte (a bellowing Jim Hopkins) to get a wife for his son.

The real pleasures of this hardly risqué but stunningly convoluted romp are not derived by following its contrivances (impossible), but in falling in line with the constant barrage of giddily contemporized rhymes that drive this daffy farce and by the charm of the actors delivering it. Enormous credit goes to this fine cast that nevertheless strikes their respective poses with consummate skill and panache. If I have a quibble, it is the preponderance of posturing by the actors obliged to speak directly to the audience, an apparent homage to the 17th century style of acting. The 17th century also in-our-face haute couture by costume designer Candida K. Nichols is spectacular.

A highlight is a riotously funny duel between Dorante and Alcippe in which neither (well, I won't spoil it for you). Yes, scenery chewing is part of the fun and fun it is if you fall in line with Corneille's theme as spoken by Dorante, "The unimagined life is not worth living." There may be some who will want to agree more with Cliton's remark "This may be more than what I asked for," but in the end you will mostly likely have to admit that what you got was good for quite a few laughs.



The Liar
By David Ives, adapted from the comedy by Pierre Corneille
Directed by Paul Mullins

Cast: Brain Cade (Dorante), Kevin Isola (Cliton), Jim Hopkins (Geronte), Jane Pfitsch (Clarice), Maya Kazan (Lucrece), Clark Carmichael (Alcippe), James Russell), Katie Fabel (Isabelle, Sabine)
Scenic Designer: Michael Scheeikardt
Costume Designer: Candida K. Nichols
Lighting Designer: Andrew Hungerford
Sound Designer: Karin Graybash
Running time: 2 hours including intermission
Shakespeare Theatre of New Jersey, located on the campus of Drew University, 36 Madison Avenue, Madison, NJ.
(973) 408 – 5600
Tickets ($32 - $70)
Performances: Tuesdays and Wednesdays at 7:30 p.m., Thursdays and Fridays at 8 p.m., Saturdays at 2 and 8 p.m., Sundays at 2 and 7:30 p.m.
From: 07/04/12 Opened 07/07/12 Ends 07/29/12
Reviews by Simon Saltzman based on performance 07/07/12

Subscribe to our FREE email updates with a note from editor Elyse Sommer about additions to the website -- with main page hot links to the latest features posted at our numerous locations. To subscribe, E-mail: esommer@curtainup.comesommer@curtainup.com
put SUBSCRIBE CURTAINUP EMAIL UPDATE in the subject line and your full name and email address in the body of the message -- if you can spare a minute, tell us how you came to CurtainUp and from what part of the country. Visit Curtainup's Blog Annex

For a feed to reviews and features as they are posted add

http://curtainupnewlinks.blogspot.com

to your reader

Curtainup at Facebook

. . .

Curtainup at Twitter





REVIEW FEEDBACK
Highlight one of the responses below and click "copy" or"CTRL+C"

I agree with the review of The Liar
I disagree with the review of The Liar
The review made me eager to see The Liar
Click on the address link E-mail: esommer@curtainup.com
Paste the highlighted text into the subject line (CTRL+ V):

>Feel free to add detailed comments in the body of the email and state if you'd like your comments published in our letters section. . .also the names and emails of any friends to whom you'd like us to forward a copy of this review.

You can also contact us at Curtainup at Facebook or Curtainup at Twitter and Curtainup's Blog Annex

Book of Mormon -CD
Our review of the show


Slings & Arrows-the complete set
You don't have to be a Shakespeare aficionado to love all 21 episodes of this hilarious and moving Canadian TV series about a fictional Shakespeare Company