HOME PAGE

SITE GUIDE

SEARCH


REVIEWS

REVIEW ARCHIVES

ADVERTISING AT CURTAINUP

FEATURES

NEWS
Etcetera and
Short Term Listings

LISTINGS
Broadway
Off-Broadway

NYC Restaurants

BOOKS and CDs

OTHER PLACES
Berkshires
London
California
New Jersey
DC
Connecticut
Philadelphia
Elsewhere

QUOTES

TKTS

PLAYWRIGHTS' ALBUMS

LETTERS TO EDITOR

FILM

LINKS

MISCELLANEOUS
Free Updates
Masthead

A CurtainUp Feature

Return of the Controversial Knickerbocker Holiday



Broadway was sadly unreceptive this past year to two exceptionally fine new musicals, The Scottsboro Boys and Bloody Bloody Andrew Jackson. Despite mostly favorable reviews both failedto interest enough people to buy tickets. These excellent examples of political-social satire are both irrevocably consigned to the genre that was acerbically defined by George S. Kaufman as, "It's what closes on Saturday night."

But hold on to your britches, because on the 25th and 26th of this month you will be able to hear and also hopefully admire an important example of vintage musical political satire: Knickerbocker Holiday as produced by the renowned Collegiate Chorale. For two nights only, Tuesday night January 25th and Wednesday night January 26th at Alice Tully Hall, the Kurt Weill (music) Maxwell Anderson (lyrics and book) 1938 musical will be sung by a top-drawer cast that includes Ben Davis , Christopher Fitzgerald Victor Garber (as Peter Stuyvesant) David Garrison, Kelli O'Hara and Bryce Pinkham. They will be supported by the renowned Collegiate Choraleand the American Symphony Orchestra under the baton of James Bagwell, who says it is "one of Weill's most underrated scores and it deserves a new hearing. We will be using the original orchestrations."

Most famously remembered as the show in which Walter Huston, in the role of Stuyvesant, sang "September Song," Knickerbocker Holiday also has a text that was considered controversial in its time. Ted Sperling, who is directing the entire presentation, told me in an email that "the script could be considered politically incorrect, because the Native Americans are considered the enemy, and the plot hinges on an illegal trade with the tribes in liquor and firearms." But as Sperling went on to explain "this is based on Washington Irving's stories, which were written in the early 1800's, when the notion of political correctness didn't exist, and I've decided not to try to monkey with this. . . the plot wouldn't make any sense if we eliminated these elements."

It is the subtext of this musical that is particularly worthy of conversation. Although this sadly neglected musical comedy cum allegory is set in New Amsterdam (now New York) in 1647 it was actually devised by Weill and Anderson as a veiled spoof of the presidency of Franklin Delano Roosevelt and his "New Deal." Anderson's pacifist philosophy and his fear of corporate and political power is hardly a secret. Within the plot, he made one of FDR's relatives a character on the corrupt town council.

The basic plot which is essentially romantic in tone and light-hearted in spirit concerns the attempts by Brom (Davis,) a rebellious young man to win the hand of Tina (O'Hara) the daughter of the town counselor. Her father would rather see Brom hang so that that she may be courted by Stuyvesant, the new governor.

Apparently in an effort not to offend, Anderson made the historically brutal and openly anti-Semitic Stuyvesant (the last of the Dutch governors of New Amsterdam) into a more engaging curmudgeon. If a kernel of Washington Irving's Father Knickerbocker Stories served as a jumping off point for Anderson and Weill, it was their mutual goal to equate the New Deal with fascism which they hoped would result at the same time in an enlightened entertainment for the general public. One song, "How Can You Tell an American," as sung by Brom Broek (Davis) and Washington Irving (Pinkham), specifically extols American individualism.

If Weill was still to reach his peak as composer of such Broadway hit shows as Lady in the Dark (1941), One Touch of Venus (1943,) as well as Lost in the Stars (1949), his final collaboration with Anderson it is Knickerbocker Holiday in which we hear how he integrated his love of contemporary American pop with the last vestiges of old world operetta. This musical fits perfectly into the mission of The Collegiate Chorale, for the past sixty-nine years one of New York's foremost vocal ensembles. Its broad range of music included the world premiere two-act concert version of last season of Ricky Ian Gordon's opera The Grapes of Wrath.

While theater buffs will recall that Knickerbocker Holiday was part of the York Theater's "Mufti" reading series in 2009, this notable reprise of the score promises to be closer to the original including, as Sperling says, "a song for the character of Tenpin (played by Fitzgerald) that was cut from the original production." Sperling, who won the 2005 Tony and Drama Desk Awards for his orchestrations of The Light in the Piazza, says that he is keeping the staging simple. "The orchestra will be in a pit configuration, but in the way Broadway shows used to be, with the pit only slightly below audience level, so you can see, hear and feel the music being played live!"

Knickerbocker Holiday originally opened on Broadway at the Ethel Barrymore Theater on October 19, 1938 and closed on March 11, 1939 after 168 performances. In the cast were Walter Huston, Jeanne Madden, and Ray Middleton.

The curren production will be at Alice Tully Hall, 1941 Broadway, at Lincoln Center. Tuesday January 25 and Wednesday January 26 at 8 PM. For single tickets starting at $25.00 www.collegiatechorale.org or call (646 - 202 - 9623.


Slings & Arrows-the complete set
You don't have to be a Shakespeare aficionado to love all 21 episodes of this hilarious and moving Canadian TV series about a fictional Shakespeare Company

Our Review of the Show

TheScottsboro Boyse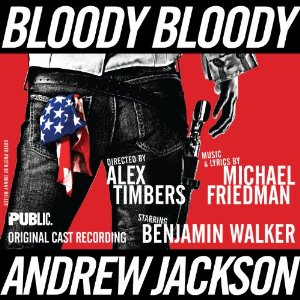 Bloody Bloody Andrew Jackson

In the Heights