HOME PAGE

SITE GUIDE

SEARCH


REVIEWS

REVIEW ARCHIVES

ADVERTISING AT CURTAINUP

FEATURES

NEWS
Etcetera and
Short Term Listings

LISTINGS
Broadway
Off-Broadway

NYC Restaurants

BOOKS and CDs

OTHER PLACES
Berkshires
London
California
New Jersey
Philadelphia
Elsewhere

QUOTES

TKTS

PLAYWRIGHTS' ALBUMS

LETTERS TO EDITOR

FILM

LINKS

MISCELLANEOUS
Free Updates
Masthead

A CurtainUp Los Angeles Review
Joe Turner's Come and Gone
"You got to let him find where he's supposed to be in the world. — Bynum
---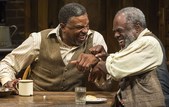 Keith David and Glynn Turman
(Photo credit: Craig Schwartz)

Joe Turner's Come and Gone is a here-to-stay masterwork. It's the second in August Wilson's ten play "Pittsburgh Cycle," which explores the African-American experience in each decade of the twentieth century. First presented in 1986, Joe Turner might be the best at representing the whole. It contains multitudes, which is appropriate to its boardinghouse setting.

The working-class home of Seth and Bertha Holly (Keith David and Lillias White) accommodates a broad swath of guests. And Wilson reflects their varied experiences by incorporating a range of styles. Earthy blues, folklore, and breezy naturalism alternately come to the fore as the different characters take focus. The dialogue similarly swings from the wrenchingly poetic to spirited humor and Wilson pulls all of it off as if each element expressed more of his true nature than the last.

With an ebullience similar to White's welcoming hostess, director Phylicia Rashad makes the disparate elements feel at home by scooping them up warmly in an all-encompassing hug. The accessibility distinguishes the production from both Broadway versions. The large cast of veterans and newcomers, each doing vividly flavorful work, makes phenomenally good company.

David's avuncular performance sets the inviting tone from the start as Seth. He expresses concern for the well-being of all the freed slaves and their children migrating north with the hope of finding work, but that doesn't stop him from demanding that his guests pay their bill. New boarder Jeremy (Gabriel Brown) is of a younger generation that has less discipline or interest in putting down roots.

Seth's industriousness is never in doubt. He has a day job and owns the boarding house, but that doesn't stop him from making a deal with Rutherford Selig (even the character names spark the synapses), to supply a pile of dust pans. Selig's ancestors brought Africans to America as slaves but now, as an itinerant peddler, he uses his extensive knowledge of the area and its inhabitants to find people for a fee.

He's been hired by Seth's only long-term resident, the voodoo-practicing Bynum (Glynn Turman), to find the "Shiny Man," who'd helped Bynum realize his "song" in life is to bind people. He wants to see the man one more time to confirm the validity of that mission. After masterfully establishing this fraught dynamic between destiny and dislocation, pragmatism and conjuring, Wilson introduces Herald Loomis (John Douglas Thompson) and his young daughter who stay at the house while Selig searches for his wife.

Seth is put off by a fearsome darkness in the black-clad Loomis, but Bertha doesn't want to turn away his little girl. David and White have such large personalities, the production seems weighted towards their hands-on practicality. As a result, the elements of black magic and folklore don't land as fully as they might.

Thompson's Loomis seems more haunted by heartbreak than possible demons. His husky voice carries pain rather than danger. Fitting Rashad's softer approach, this avoids the potentially forbidding aspects of the play, but also limits its primal force.

Nonetheless, Thompson and the production are terrifically moving. Turman's Bynum cannily draws Loomis out, getting him to admit that his wife Martha had run off while he'd been imprisoned by the legendary Joe Turner and forced, like so many other young black men, to work for him.

Loomis doesn't understand why Turner took him, but Bynum does: "What he wanted was your song. He wanted to have that song be his." Rashad and her cast demonstrates the loving opposite, sharing Wilson's characters with us by singing their distinctive song with respect and buoyancy.

The love triangle between young guests Jeremy, his upstanding girlfriend Mattie Campbell (January Lavoy) and loose woman Molly Cunningham (Vivian Nixon) is presented without melodrama or judgement.

The pair of scenes between Zonia (Skye Barrett) and a pre-adolescent swain (Nathaniel James Potvin) are audience-pleasers which miraculously sidestep any cutesiness. And Erica Tazel meets the greatest challenge, entering towards the very end as Loomis' wife, Martha Pentecost, with a transfixing righteousness.

Turman speaks Wilson's truths with a simplicity and spirit backed by a lifetime of experience. Whether one believes as his Bynum does in mysticism or as Martha does, in organized religion, or as Seth does in hands-on work, Rashad's production will make you a believer in August Wilson and the power of theater to shake you up and set you back down with a soul that feels a bit bigger.

Editor's Note: For more about August Wilson and links to other plays by him reviewed at Curtainup, see our August Wilson Backgrounder .

Joe Turner's Come and Gone by August Wilson
Directed by Phylicia Rashad

Cast: Skye Barrett, Gabriel Brown, Keith David, January LaVoy, Vivian Nixon, Nathaniel James Potvin, Raynor Scheine, Erica Tazel, John Douglas Thompson, Glynn Turman, Lillas White
Set designer: John Iacovelli
Lighting designer: Allen Lee Hughes
Sound designer: Cricket S. Myers
Costume designer: Karen Perry
Music: Kathryn Bostic
Production Stage Manager: David Blackwell
Running Time: Two hours and thirty minutes including one intermission
Runs Tuesdays to Sundays through June 9 at the Mark Taper Forum, 135 N. Grand Ave, Los Angeles (213) 628-2772.
Reviewed by Jon Magaril

REVIEW FEEDBACK
Highlight one of the responses below and click "copy" or"CTRL+C"

I agree with the review of Joe Turner's Come and Gone
I disagree with the review of Joe Turner's Come and Gone
The review made me eager to see Joe Turner's Come and Gone
Click on the address link E-mail: esommer@curtainup.com
Paste the highlighted text into the subject line (CTRL+ V):

Feel free to add detailed comments in the body of the email. . .also the names and emails of any friends to whom you'd like us to forward a copy of this review.

Visit Curtainup's Blog Annex
For a feed to reviews and features as they are posted add http://curtainupnewlinks.blogspot.com to your reader
Curtainup at Facebook . . . Curtainup at Twitter
Subscribe to our FREE email updates: E-mail: esommer@curtainup.comesommer@curtainup.com
put SUBSCRIBE CURTAINUP EMAIL UPDATE in the subject line and your full name and email address in the body of the message. If you can spare a minute, tell us how you came to CurtainUp and from what part of the country.