HOME PAGE

SITE GUIDE

SEARCH


REVIEWS

REVIEW ARCHIVES

ADVERTISING AT CURTAINUP

FEATURES

NEWS
Etcetera and
Short Term Listings

LISTINGS
Broadway
Off-Broadway

NYC Restaurants

BOOKS and CDs

OTHER PLACES
Berkshires
London
California
New Jersey
DC
Philadelphia
Elsewhere

QUOTES

On TKTS

PLAYWRIGHTS' ALBUMS

LETTERS TO EDITOR

FILM

LINKS

MISCELLANEOUS
Free Updates
Masthead
Writing for Us


A CurtainUp New Jersey Review
Into the Woods

" How do you say to your child in the night?
Nothing's all black, but then nothing's all white
How do you say it will all be all right
When you know that it might not be true?
What do you do? "
— The Witch
---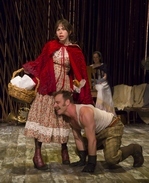 Emily Young and Noah Brody



Once upon a time, but not that long ago Fiasco, an adventurous and creative young troupe with members from a Brown University theatre program, impressed the New York critics and audiences with their minimalist six-actor version of Shakespeare's Cymbeline. The troupe is now in Princeton with a 10-actor version of Stephen Sondheim's Into the Woods. They are here to prove, and they do, that this ever enchanting musical is open and receptive to many different approaches and styles.

The one thing that I insist upon is being able hear clearly and without distortion every witty word in this brilliant score. Imagine, if you will, not being able to clearly understand lyrics like that above. For the excellence of this aspect of the current production, I commend sound designer Darron L. West, who should be sent immediately to oversee the re-engineering in most sound booths on Broadway.

Leaving behind the more giant-like footsteps often left by previous productions, this version takes us imaginatively into the woods made of shimmering piano strings that crisscross across the width of the stage of the Berlind Theatre at the McCarter Theatre Center even as they reach from the floor to the rafters. If that isn't stunning enough, set designer Derek McLane has placed on high ten very differently shaped chandeliers each casting it own sparkle on the action as co-existing celestial bodies. That's a very spectacular frame in which the ten performers are already seen scurrying about on an aged wood floor. Their muted but also whimsically consigned garments may look as if they have been rescued from an attic trunk, but the performers are exuberant, attractive and best of all disarmingly talented.

In this setting that is probably meant to be an attic there are boxes, crates, ladders strewn about, also an old-fashioned dress-making form that, as you can imagine, will serve as a tree. A piano, however, is the main set piece.

On the two side walls are complimentary installations that continue the piano motif. There are a few musical instruments propped in various locations, each ready to be used by a performer who may or may not also be in the midst of becoming another character - the Wolf becomes the Prince, Rapunzel becomes Red Riding Hood, the Cow becomes the Prince's brother.

Every production of Into the Woods has the potential for one or two performers to step forward and make their character a signature opportunity. This staging allows virtually every member to stand out and shine, make us laugh or simply make us just think. Wow!

For hearty laughs, there is Andy Grotelueschen's who gets milked in a most usual way as Milk White, the Cow. He is also Rapunzel's slightly goofy Prince as well as Florinda the giddiest of Cinderella's sisters, who, sidles up against Noah Brody (who plays the other silly sister Lucinda), so they may flit their way around the stage behind a twin set of window curtains that remain on the rod.

Brody is fun to watch as the sly Wolf, but also as Cinderella's unfaithful husband ("I've been raised to be charming, not sincere.") When the two princes gallop on stage and stop to sing their duet (about being in love with someone else) "Agony," it will surprise you to see who gets to hold on to their stallions.

Terrific performances are given by Jessie Austin as Baker's bossy, ill-fated Wife; Liz Hayes, as Cinderella's loopy step-mother and Jack's over-protective mother. As Cinderella, the delightful Claire Karpen loses her slippers as often as she loses her balance. Patrick Mulryan never loses Jack's endearingly "vague disposition and Jennifer Mudge's witch will astonish you when she makes her incredible transformation from yuck to wow. Emily Young is wonderful as the golden hair (made of yellow yarn make for unraveling) and also as a particularly scrappy Little Red Riding Hood. Even the excellent Matt Castle, at the piano, gets a line, or rather a "moo."

What seems to me more apparent every time I see another production is how masterfully Sondheim and Lapine were able to embrace, through contemporary sensibilities and artistic savvy, both the universality and the timelessness of these legendary fables. The Fiasco troupe's concept certainly casts it own unique spell on the Grimmsian stories. I don't want to be a spoiler by writing about all the tricks that are played on some of the most famous story-book characters before and beyond "happily ever after."

What a pleasure it is to be in the company of a troupe that, under the joint direction of Noah Brody and Ben Steinfeld, playfully pays their respects to Sondheim and his collaborator James Lapine, at the same time bringing a revitalizing freshness to the music, lyrics and book. Many of the songs, in particular "No One is Alone," as beautifully sung by Karpen and the ensemble, linger in the head long after you have left the theater. But all the music is addressed without pretense by performers who we see earnestly at play, discovering and using what they find, believing and becoming who and what they can be.

One is impressed pretty quickly by how the Fiasco troupe make us see each of the character's faults, foibles and idiosyncrasies, all of which we can recognize daily in each other. The moral and ethical imprint on this musical is as relevant today as it was when this amazing musical first took us into the woods.

Within the musical's quixotically episodic context, that imprint is not simply meant to be a silly and comical distortion by Sondheim and Lapine of the instructive, but mysteriously veiled parables they have taken mainly from the brothers Grimm. As the musical begins to cast its magical spell, we learn along with these edge-of-the-forest inhabitants, many of whom are not only neighbors but relatives, that getting one's wishes in life is not necessarily deliverance from self-centeredness and immaturity. Even the well-intentioned witch learns that you can't keep your chaste and beautiful daughter locked up in a tower without her reaping serious psychological consequences. And what a shame that our spirited Cinderella (Karpen) who talks to the birds isn't better appreciated by her prince?

The concept of having actors play musical instruments isn't exactly new, as it has been used for recent productions of Company and Sweeney Todd. Considering the Public Theater's production of Into the Woods last summer in Central Park didn't move to Broadway as some expected, there may be hope that this delightfully scaled-down version will prove the one parable that can be attributed directly to Sondheim and Lapine that "wishes are children and wishes come true."

The songs are mostly in the same order as found in Curtainup editor Elyse Sommer's review of the Broadway production .



Into the Woods
Music and Lyrics by Stephen Sondheim
Book by James Lapine
Re-imagined by Fiasco Theater
Directed by Noah Brody and Ben Steinfeld

Cast: Jessie Austrian (Baker's Wife), Noah Brody (Lucinda, Wolf, Cinderella's Prince), Paul L. Coffey (Mysterious Man), Andy Grotelueschen (Milky White, Florinda, Rapunzel's Prince), Liz Hayes (Cinderella's stepmother, Jack's Mother), Claire Karpen (Cinderella, Granny), Jennifer Mudge (Witch), Patrick Mulryan (Jack, Steward), Ben Steinfeld (Baker), Emily Young (Little Red Ridinghood, Rapunzel), Matt Castle (Pianist).
Music Director: Matt Castle
Choreographer: Lisa Shriver
Set Design: Derek McLane
Costume Design: Whitney Locher
Lighting Design: Tim Cryan
Sound Design: Darron L. West
Running Time: 2 hours 40 minutes including intermission
The Berlind Theatre at the McCarter Theatre Center, 91 University Place, Princeton, NJ
(609) 258 - 2787
Tickets: $20 - $85
Performances: 7:30 p.m. Tuesdays-Thursdays, 8 p.m. Fridays and Saturdays, 3 p.m. Saturdays and 3 p.m. Sundays.
From 05/03/13 Opened 05/10/13 Ends 06/09/13
Review by Simon Saltzman based on performance 05/10/13

Subscribe to our FREE email updates with a note from editor Elyse Sommer about additions to the website -- with main page hot links to the latest features posted at our numerous locations. To subscribe, E-mail: esommer@curtainup.comesommer@curtainup.com
put SUBSCRIBE CURTAINUP EMAIL UPDATE in the subject line and your full name and email address in the body of the message -- if you can spare a minute, tell us how you came to CurtainUp and from what part of the country. Visit Curtainup's Blog Annex

For a feed to reviews and features as they are posted add

http://curtainupnewlinks.blogspot.com

to your reader

Curtainup at Facebook

. . .

Curtainup at Twitter





REVIEW FEEDBACK
Highlight one of the responses below and click "copy" or"CTRL+C"

I agree with the review of Into the Woods
I disagree with the review of Into the Woods
The review made me eager to see Into the Woods
Click on the address link E-mail: esommer@curtainup.com
Paste the highlighted text into the subject line (CTRL+ V):

>Feel free to add detailed comments in the body of the email and state if you'd like your comments published in our letters section. . .also the names and emails of any friends to whom you'd like us to forward a copy of this review.

You can also contact us at Curtainup at Facebook or Curtainup at Twitter and Curtainup's Blog Annex

New Similes Dictionary
Book of Mormon -CD
Our review of the show


Slings & Arrows-the complete set
You don't have to be a Shakespeare aficionado to love all 21 episodes of this hilarious and moving Canadian TV series about a fictional Shakespeare Company