HOME PAGE

SEARCH

REVIEWS

FEATURES

NEWS
Etcetera and
Short Term Listings

LISTINGS
Broadway
Off-Broadway

BOOKS and CDs

OTHER PLACES
Berkshires
London
LA/San Diego
Philadelphia
Elsewhere

QUOTES

On TKTS

LETTERS TO EDITOR

FILM

LINKS

MISCELLANEOUS
Free Updates
Masthead
Writing for us
A CurtainUp

London Review

Pantomines and Christmas Shows in London 2005



Pantomimes
The holiday season brings a huge range of pantomines to the UK's theatres. For many it will be their first experience of live theatre and for some it will be their only experience. The pantomine is based on a fairy tale and really a variety show with singing, dancing, joke telling, slapstick and that essential, a man in drag playing an older woman called a pantomime dame. Original pantomimes also had a long legged girl playing the young hero, she is called the principal boy but today this is comparatively rare as a huge succession of male TV soap stars line up for the major romantic leads in pantomime. The income from their "panto" can often subsidise a theatre for the rest of the year.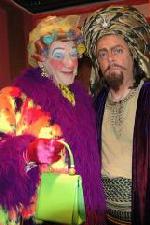 Ian McKellen and Roger Allam as Widow Twankey and Abbanazar in 2004 (Photo: Keith Stern)

This year the most famous and unlikely Dame is Sir Ian McKellen who will play Widow Twankey in Aladdin at the Old Vic under the artistic direction of Kevin Spacey. He is reprising the role he played in 2004/5. Another classical actor, Roger Allam will play Abbanazar.

Old Vic Box Office: 0870 060 6628
Booking to 22nd January 2006 but selling out fast
Our Review

One I shall definitely be taking in, is the magnificent Clive Rowe at the Hackney Empire in the comparatively rare Jack and the Beanstalk as Dame Trot, the impoverished widow who charges her son with selling the cow.

Hackney Empire Box Office: 020 8985 2424
Booking to 7th January 2006 Jack and the Beanstalk-- the Review

Another theatre known for its excellent pantomime is Greenwich whose Aladdin will provide an interesting contrast with that of its near neighbour in Southwark. In one trip you could take in ice skating in the magnificent surrounds of the Old Royal Naval College, Greenwich and top it off with a fun Panto.

Greenwich Theatre Box Office: 020 8858 7755
Booking to 7th January 2006. review

The Theatre Royal at Stratford East will be playing "the cautionary tale of the small boy with the large nose", Pinocchio to full houses as it also has a super reputation for really good pantomime.

Theatre Royal Stratford East Box Office: 020 8534 0310
Booking to 21st January 2006

I should also want to see what David Farr, the exciting new Artistic Director at the Lyric Hammersmith makes of the pantomime, The Magic Carpet which he has adapted with Ben Hopkins.

Lyric Hammersmith Box Office: 0870 050 0511
Booking to 14th January 2006

The New Wimbledon Theatre in SW19, the one I chose to take my children to for their first pantomime, is again showing Cinderella. As Cinderella's coach arrived onstage lit by dozen of fairy lights and pulled by two real Shetland ponies, my four year old daughter remarked that, "It was as if they had stepped out of the screen"

New Wimbledon Box Office: 0870 060 6646
Booking to 15th January 2006

Plays for children and other Christmas themed shows

The star of this year's Christmas plays for children is bound to be Tintin at the Barbican from the Young Vic production team that brought us the stellar Sleeping Beauty in 2002 and 2004. With Rufus Norris at the director's helm and a real white terrier onstage playing Snowy, even theatre critics are fighting for tickets for this one!

Barbican Box Office: 020 7638 8891
Booking to 22nd January 2006 Our Review

The Soho has The SnowDragon. Billy is the kid who has everything a young goat could want . . and more for everyone aged 3 and up. At the Peacock is that Christmas perennial, The Snowman

Soho Box Office: 0870 429 6883
Booking to 8th January 2006

Charles Dickens' A Christmas Carol has at least three versions playing in London (and many more outside), Patrick Stewart at the Albery, Alexander Horla's version at the Trafalgar 2, and the musical Scrooge with Tommy Steele at the London Palladium. I saw Patrick Stewart as Scrooge years ago at the Barbican, and apart from Neil Bartlett's version at the Lyric Hammersmith in 2002, only Tim Curry could persuade me to engage with Scrooge and the mawkish Tiny Tim Cratchit ever again. Bah Humbug!

Don't forget the new Unicorn Theatre for children in Tooley Street London SE1 which will be showing year round theatre for children.

Unicorn Box Office: 08700 534 534

And at the National Theatre for older children is the epic Coram Boy about children in a London orphanage in the mid eighteenth century.

National Theatre Box Office: 020 8420 3000
Coram Boy booking to 4th February 2006

Readers who will be in New York during the holidays may want to check out our New York Holiday 2005 Show List.







Retold by Tina Packer of Shakespeare & Co.
Click image to buy.
Our Review