HOME PAGE

SEARCH

CurtainUp



REVIEWS

FEATURES

NEWS
Etcetera and
Short Term Listings

LISTINGS
Broadway
Off-Broadway

BOOKS and CDs

OTHER PLACES
Berkshires
London
LA/San Diego
DC
Philadelphia
Elsewhere

QUOTES

On TKTS

LETTERS TO EDITOR

FILM

LINKS

MISCELANEOUS
Free Updates
Masthead
NYC Weather
A
CurtainUp
Book Review
Tales From Shakespeare Retold by Tina Packer
By Elyse Sommer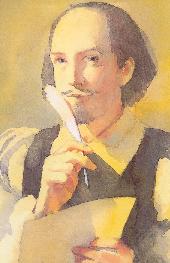 Portrait of Shakespeare by Jon J. Muth

As a part-time resident of the Massachusetts region known as The Berkshires, I've watched Tina Packer build the theatrical enterprise she founded into one of the prime attractions for visiting this cultural treasure box. Besides mounting innovative productions of Shakespeare's and other playwrights' work, Shakespeare & Company has been actively engaged in bringing Shakespeare into the classroom. Thus, Ms. Packer's mouthwateringly beautiful, accessibly retold Tales From Shakespeare fits her company's mission like the perennial glove.

Scholastic Press has gone all out to make this a book everyone in the family, not just the 9 to 13 year-olds who are its target audience, will want to browse through and read often. Each of the ten plays Ms. Packer has chosen to retell is printed on different pastel colored pages and illustrated by a different artist (There's also a small illustration at the end of each play-- sort of a visual epilogue). Yet, there's a wonderful unity to the overall look of the book, just as the diverse stories are unified by Shakespeare's unique gift. As the informative introduction explains that gift it is how, no matter what the play, Shakespeare makes us "see ourselves" and "to see the world" To paraphrase one of his own famous quote: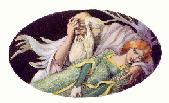 Illustration at the end of King Lear

Retelling rather than reprinting the ten selected plays (probably Shakespeare's best known and best loved), readers get the full story of each but as a straightforward text. However, while the format is that of a novel or book of short stories, Ms. Packer has sandwiched in enough of Shakespeare's most trenchant lines of dialogue to familiarize us with the richness of his language. These are not dry plot summaries, but colorful, detailed stories. The beginning of each section or retold play features a gorgeous full page illustration, a brief paragraph summing up what the play's about, followed by a page which lists the main players and the time and place.

Beautiful as this book is, I hope that Scholastic applies its well-known marketing savvy to reaching an even larger audience by eventually reprinting each play as a small, inexpensive paperback for kids to carry in their rucksacks. Of course, it would also be nice to see follow-ups of this volume and get the Henry and Richard plays and Julius Caesar and Othello between covers.

A special note to aunts, uncles and grandparents: This is one of those books that will have you digging deep into your pockets to buy a copy not only for the kids in your life, but one to keep on your own coffee table. Unless I miss my guess, this will be this summer's "hot" multiple copy seller at Shakespeare & Company's Founders Theater gift shop.



Tales From Shakespeare Retold by Tina Packer


The 10 Plays retold and their illustrators:
A Midsummer Night's Dream . .. Gail De Marcken
Hamlet/P.J. Lynch
Much Ado About Nothing/Mary Grandpre
King Lear/Leo and Diane Dillon
As You Like It/Barbara McClintock
Macbeth / Barry Moser
The Tempest/Mark Teague
Othello / Kadir Nelson
Twelfth Night/ Chesley McLaren
Romeo and Juliet/ David Shannon
Hardcover: 192 pages
Publisher: Scholastic, April 1, 2004
For ages 9 to 12
Availabe at Amazon

Reviewed by Elyse Sommer

Retold by Tina Packer of Shakespeare & Co.
Click image to buy.



6, 500 Comparative Phrases including 800 Shakespearean Metaphors by

CurtainUp

's editor.
Click image to buy.
Go here for details and larger image.