HOME PAGE

SITE GUIDE

SEARCH


REVIEWS

REVIEW ARCHIVES

ADVERTISING AT CURTAINUP

FEATURES

NEWS
Etcetera and
Short Term Listings

LISTINGS
Broadway
Off-Broadway

NYC Restaurants

BOOKS and CDs

OTHER PLACES
Berkshires
London
California
New Jersey
DC
Connecticut
Philadelphia
Elsewhere

QUOTES

TKTS

PLAYWRIGHTS' ALBUMS

LETTERS TO EDITOR

FILM

LINKS

MISCELLANEOUS
Free Updates
Masthead

A CurtainUp Review
Uncle Vanya
My mind's still sharp, but my feelings have got — somehow — duller. There's nothing I want, nothing I need, no-one I love.— Astrov
---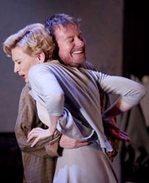 Cate Blanchett and Richard Roxburgh (Photo: Lisa Tomasetti)

A buzz surrounds the Sydney Theatre Company's Uncle Vanya currently playing at the Kennedy Center, the production's only U.S. venue. Actually, there are two kinds of buzz.

First there's the anticipation of seeing once again, live on stage, the remarkable Australian actress Cate Blanchett. Her previous Washington appearance, in A Streetcar Named Desire was a triumph. Her Blanche Dubois was definitive, mesmerizing and memorable. Her Yelena in Uncle Vanya is every bit as good, if not better. Theater of this caliber is a very special treat.

The other buzz is the hum of insects that can be heard as the play opens. It's summer, the harvest is ready, and life at the dacha is stifling. Not just because the bugs are noisy and try to bite. The environment is filled with ennui. The so-called quiet of a farming family used to bumbling along with its respective chores, deep-rooted unhappiness borne of boredom and the lack of love, is disrupted by the visit of an arrogant, self-centered professor Serebryakov (John Bell) and his much younger, wife Yelena (Cate Blanchett).

Serebryakov, never as brilliant as he would have others believe, is retired but he claims to be working hard on his papers, often at night. His gout is bothersome. He's the kind of high-maintenance house guest who disrupts everyone else's routines to suit his own. His wife is tolerant while inwardly smouldering. Nanny, who does the cooking, is perturbed by the irregular meal times. She's irritated by this guest as are all the other characters under this roof.

Astrov (a very convincingHugo Weaving) cares little for his patients but is nonetheless a hard-working doctor whose only respite is vodka and battles with his frenemy, Vanya (Richard Roxburgh). They are two sides of a love triangle. While Cate Blanchett's Yelena is a joy to watch, she is well matched in Roxburgh's brilliant performance as Vanya. Joyful one moment, despairing the next, he plays Vanya's mood swings with breathtaking alacrity and veracity. He makes you cry and laugh, sometimes at the same time.

Much has been said about Cate Blanchett's beauty and grace. As Yelena, she is exquisite. Equally adept at comedy and tragedy, her performance allows for both ends of that spectrum with many emotions in between. She's an icey and elegant Grace Kelly one moment, a funny drunk the next. Her clowning antics and her physical comedy are effortless and hilarious.

While Blanchett and Roxburgh are in equal measure the evening's standouts, the ensemble is completely in tune with one another, probably because they're directed by the very talented Tamás Ascher, a Hungarian, whose specialty is Chekhov. Whether he is placing his actors at the very edge of the stage, almost in the wings, bringing the audience into the characters' sadness, or adding a silly song with a "cluck, cluck, cluck" refrain to the entr'actes (there are four scenes in two acts) or having an actor fall out of a window, slapstick style, into pouring rain, or . . .and the list goes on . . .Ascher's approach is original and illuminating. Andrew Upton's adaptation makes Anton Chekhov's script very accessible for a modern audience.

Cate Blanchett, a tall, slim, leggy blonde with perfect posture and a dancer's ability to move gracefully, cannot be difficult to clothe and costume designer Gyõrgyi Szakás gives her one stunning outfit after another: first, a white outfit with swirling skirt, then the palest blue skirt and sweater, followed by a siren red form-fitting dress, and finally a pale grey suit. What a contrast to the well-worn clothes from a palette that ranges from grim to grimmer browns of the rest of the cast and set designer Zsolt Khell's wooden farm house where the furniture is old, uncared for, and mismatched.

Just as the Sydney Theatre Company's Streetcar stunned audiences with its brilliance, so does Uncle Vanya. Come back soon, STC, please, and stay a while.



Uncle Vanya by Anton Chekhov, adapted by Andrew Upton
Director: Tamás Ascher
Cast: John Bell (Serebryakov); Cate Blanchett (Yelena); Sandy Gore (Maria); Hayley McElhinney (Sonya); Anthony Phelan (Telegin); Richard Roxburgh (Vanya); Andrew Tighe (a laborer); Hugo Weaving (Astrov): Jacki Weaver (Marina).
Set Designer: Zsolt Khell
Costume Designer: Gyõrgyi Szakás
Lighting Designer: Nick Schlieper
Running time: 2 hours 45 minutes

August 4 - 27, 2011 at the Kennedy Center/Eisenhower Theater, Washington, D.C. 202-467-4600; www.kennedy-center.org.
Review by Susan Davidson based on August 9, 2011 performance.