HOME PAGE


SEARCH

REVIEWS

FEATURES

NEWS
Etcetera and
Short Term Listings

LISTINGS
Broadway
Off-Broadway

NYC Restaurants

BOOKS and CDs

OTHER PLACES
Berkshires
London
California
DC
Philadelphia
Elsewhere

QUOTES

On TKTS

PLAYWRIGHTS' ALBUMS

LETTERS TO EDITOR

FILM

LINKS

MISCELLANEOUS
Free Updates
Masthead
Writing for Us

A CurtainUp Review
Sidd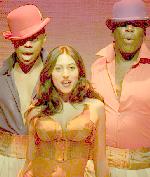 Arthur W. Marks, Natalie Cortez, Gerry McIntyre
(Photo: Carol Rosegg)



Sidd, the newest arrival at the multi-venue complex of Dodger Stages, like Altar Boyz at the same address, is an upbeat spiritual musical, perhaps in its narrative even more so in the tradition of Godspell, the granddaddy of this sub-genre, in having a story to tell which focuses on a central character and his journey through assorted experiences and temptations. Here, in some respects, there are even parallels to Homer's Odyssey, as the eponymous Sidd (an informal moniker derived from Herman Hesse's novel Siddhartha, the show's literary inspiration) also follows his own perhaps heroic protagonist's circuitous path.

The title role was taken on late in previews by the charismatic Manu Narayan, recently prominent in Bombay Dreams. The current production is lucky to have him, as he winningly embodies both the curious and spiritually-based nature of both his character and of the entire play, which totally depends on a sensitive and appealing reading of the adventurous Sidd. As the show begins, our hero is center stage in a seated yoga position, soon to be joined by an ensemble of six who in effect serenade him with some saccharine platitudes with ever-repeating lyrics such as "you are the sweetest of all, you are the bravest of all." Fortunately, the rest of the show is considerably more interesting. In fact, the score is musically quite satisfying, with enough South Asian flavor to provide an intended Buddhist inflection, and a happily natural sound that itself invites a spiritual engagement with its audience. At the preview attended, an unusually high number of youthful attendees were present.

The minimalist production values are entirely apt, with a saffron-colored fabric extending from the stage area's back wall to the floor to create a neutral yet both bright and restful surface. (One wonders if there was a salvage sale after Christo and Jean-Claude's "The Gates" appeared in Central Park a year ago.) Yet set designer Maruti Evans's concept that "less is more" works, and is perfectly complemented by the expressive and harmonizing lighting by Chris Dallos. This pristine stage environment certainly suits the decision by director/book writer/co-lyricist Andrew Frank to have all characters always in bare feet, even when they are in effect "worldly outsiders". To see Sidd himself in bare feet of course is no surprise, and the absence of footwear on an all-too-briefly-seen Buddha character is even more appropriate. As the unadorned Buddha, Arthur W. Marks nevertheless wears a glowing incandescent smile that could not be more welcome. In fact, this performer, taking on multiple and sometimes anonymous multiple roles as do other members of the fine ensemble, is a standout who makes the stage thrillingly sing with joy every moment he is on stage, whether he is singing or not.

After a slow start in which the material suffers from some plodding exposition and an unhelpful tendency towards a sung-through structure, the music does rise to the intended levels of peacefulness and charm. The voices are appealing, and the hidden musical trio, led by musical director Ned Paul Ginsburg at the piano, achieves remarkable variety and subtlety in its instrumentation. Among the other performers, also especially impressive are Gerry McIntyre as a robust and sometimes humorously spirited mature man, Dann Fink as a yeoman capitalist, and Natalie Cortez, herself a late replacement during previews, as an alluring sex worker tempted by love. They all assist Sidd in his discovery that the "path to enlightenment is with mysteries leading to true peace."

The venue's intimacy works to the piece's advantage. In a larger theater the natural sound quality as well as some of the subtlety of the performances would be a challenge to preserve. So if you have an opportunity to catch Sidd in its 199-seat jewel box, chances are especially strong you will have a very good time in the theater.

Editorial Note: Readers might be interested in reading our review of a quite different, non-musical theater piece fashioned from Hesse's novel at the Berkshire Theatre Festival: Siddhartha: a Jungian fantasy









SIDD
Book, Lyrics & Direction by Andrew Frank, based on the novel Siddhartha by Herman Hess
Music: Doug Silver
Choreograpy by Fran Kirmser Sharma
Musical Direction: Ned Paul Ginsburg
---
Cast: Marie-France Arcilla (Valerie and others), Dann Fink (Willie and others), Natalie Cortez (Mala and others), Nicole Lewis (Lead Mystic and others), Manu Narayan (Sidd), Arthur W. Marks (Buddha and others) and Gerry McIntyre (Father, Ferryman and others).
Set Design: Maruti Evans
Costume Design: Michael Bevins
Lighting Design: Chris Dallos,
Sound Design: Andrew Bellware
The Band: Piano/Ned Paul Ginsburg; Drums &Percussion/Stefan Schatz; Cello/Mary Wooten
Running Time:2 hours, including one 15 minute intermission.
Dodger Stages, Stages, 340 West 50th St 212-239-6200
2/23/06; opening 3/15/06.
Tuesday - Saturday @ 8:00 PM with matinees on Wednesday & Saturday @ 2:00 PM and Sunday @ 3:00 PM.
Tickets: $45-$60
Reviewed by Brad Bradley based on March 9th press performance
To an early grave 3/26/06 after 23 previews and 13 regular performances.
Musical Numbers

Act One

Bravest of All /Ensemble
You Will Do Great Things/ Father, Townspeople
Valerie's Decision /Valerie
Standing and Waiting / Father. Sidd
The Map Song /Sidd, Valerie
Let it Go/ Mystics
Two Villagers /Villagers
Borders / Sidd, Valerie, Mystics
Buddha's Song /Buddha
Everybody Needs Something/ Willie, Sidd
Happy Shop/ Mala. Dancers
That's Business /Willie, Sidd. Swami
Teach Me How to Move/ Sidd, Mala
Act One Finale / Ensemble

Act Two

Working Man's Shuffle /Workers
It Ain't Good/ Willie, Sidd
Here's the Thing / City People
Something Going On / Sidd. Mala
Fifteen Years /Sidd
Always On the Way/ Valerie, Sidd, Ferryman
You Are Here/ Ferryman, Sidd, River
Lessons:
Part One: Moving/ Merchant, Sidd, Ferryman, River
Part Two: Changing/ Traveler, Sidd, Ferryman, River
Part Three: Voices /Buddha Followers, Sidd, Ferryman, River
Part Four: Hello, Ferryman /Mala, Sidd, Son, River
Is There Anything I Can Do?/ Sidd
He Is My Son /Ferryman, Sidd, Son
Sidd's Enlightenment/ River, Sidd, Ferryman
Finale/ Ensemble
Stage Plays
The Internet Theatre Bookshop "Virtually Every Play in the World" --even out of print plays