HOME PAGE



REVIEWS

FEATURES

NEWS
Etcetera and
Short Term Listings

LISTINGS
Broadway
Off-Broadway

NYC Restaurants

BOOKS and CDs

OTHER PLACES
Berkshires
London
California
DC
Philadelphia
Elsewhere

QUOTES

On TKTS

PLAYWRIGHTS' ALBUMS

LETTERS TO EDITOR

FILM

LINKS

MISCELLANEOUS
Free Updates
Masthead
Writing for Us

SITE GUIDE
A CurtainUp Feature
The 2013 Shaw Festival
This year's Shaw Festival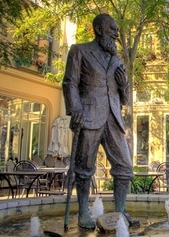 Shaw's statue at Stratford

Although there's no official theme that unites the productions in the 2013 Shaw Festival season, they all share a fascination with the utopian (and destructive) potential of fantasy. Shaw's Major Barbara concludes with a visit to a city without poverty; Loesser, Swerling and Burrows' Guys and Dolls was written during the Cold War, but its imaginary New York City is sealed off from the nuclear paranoia outside the theater; Tom Stoppard's Arcadia offers its audiences a cosmic view of past and present, layered on top of each other, that might redeem the grief and ignorance of characters who are bound to one time period. Beautiful Niagara-on-the-Lake remains a refuge of wineries, art galleries and water sports to enjoy while you consider the political necessity of the imagination and the talent of Canada's finest actors.

Reviews of plays will be posted as they open. Future reviews will include Lady Windermere's Fan by Oscar Wilde, Enchanted April by Oscar Wilde (from the novel from Elizabeth von Arnheim), Peace in Our Time: A Comedyby John Murrell (adapted from Bernard Shaw's Geneva), Craig Lucas and Adam Guettel's The Light in the Piazza, Susan Glaspell's Trifles, Eugene O'Neill's A Wife for a Life, Brian Friel's Faith Healer and Tom Stoppard's Arcadia.
Links to shows covered: Our Betters | Major Barbara| Guys and Dolls |

Editor's Note: For complete schedules and other details, check the web site: http://www.shawfest.com/. You may also want to check out the pages of our previous coverage of this as well as the Stratford Festival, all of which feature some wonderful pictures: 2012 Shaw Festival. . . 2011 Shaw Festival2010 Shaw Festival. . . 2009 Shaw Festival. . .2008 Shaw Festival Feature. . .2007 Shaw Festival Feature. ..2006 and Introduction- 2005


Our Betters
W. Somerset Maugham's 1917 comedy of trans-Atlantic manners isn't exactly a neglected gem, but it is extremely funny and occasionally insightful, and it's hard to imagine a better production than this sparkling revival. Maugham trains his satirical sights on American heiresses on the make for European husbands, trading new money for ancient titles. American millionairess Bessie Saunders (Julia Course) has joined her sister, Pearl (Claire Jullien), aka Lady Grayston, for the London Season. Her sister married a baronet and Bessie, who has ambitions beyond building a mansion and a family in the Midwest, has attracted the attention of the handsome diplomat Lord Bleane (Ben Sanders). She amuses herself among her sister's ex-pat set, most of whom have learned British accents and dancing from expensive tutors: Minnie, aka the Duchesse du Surennes (Laurie Paton) and Flora, aka the Princess della Cercola (Flora). These women are fashionable, rich, politically influential and intriguingly amoral.

They are also unhappy, in (or recently out of) loveless marriages that they distract themselves from with affairs, gossip, and extravagant parties. Bessie's ex-fiancé, Fleming Harvey (Wade Bogert-O'Brien), has followed her to England, and grimly points out the hollowness and backstabbing among the transplants. If Maugham had simply written a morality play with a disillusioned young American woman at its core, Our Betters would be cut-rate Henry James. Instead, through Pearl the play offers a simultaneous and comic perspective on the same set of circumstances. She uses the freedom of an absentee aristocrat husband and endless leisure to be a matchmaker, to manipulate her friends, and to make her relationship with her lover, Arthur (Lorne Kennedy), a bit more interesting by provoking his jealousy. In place of easy judgment, in other words, Maugham offers multi-perspectivalism: and we get to choose whether we're on the side of the visiting American Puritans or the occasionally pained, occasionally ecstatic emigrants.



As Pearl, Claire Jullien is an intriguing cipher: has she lost her soul to European easy virtue, or does she willfully celebrate scandal and pleasure like one of Oscar Wilde's raisonneurs? It's hard to tell, and that's what makes her performance mesmerizing. Laurie Paton, meanwhile, is sad and silly as the aging Duchesse, a self-pitying, autocratic, love-starved woman who chases after her young kept man, Tony Paxton (Charlie Gallant). Paton adds flesh to a dowager stereotype, making her pitiable, cunning, and, like Jullien's Pearl, refreshingly unpredictable. The dance of need and defiance she performs with Gallant, who also dignifies his comic type with a mixture of cocky pride and inexperience, is the most psychologically complex portrait of love at the Shaw this year. The one note that needs tuning is Bogert-O'Brien's Fleming. He is certainly handsome enough to warrant the ladies' wide-eyed inspection, but he hasn't yet found the insecurity behind the priggish American's stream of disapproval.

Although director Morris Panych usually takes a more stylized approach to period productions, this is some of his most thoughtful work: elegant, swift, rigorous and finally light. There's not a bit of gristle here—not a moment that isn't amusing, brooding, or atmospherically rich. Ken MacDonald, Panych's designer/partner, matches his sensibilities with a white dream of a sophisticated Mayfair drawing-room and a gently caricatured, finely detailed English country house, with stained-glass windows, peeling wallpaper, and other trappings of respectable decay. This isn't the only kind of play that the Shaw does well, but there isn't anywhere else in the world that puts on early 20th-century British social comedy with the same affection and commitment.
---
Major Barbara
An audience member could be forgiven for thinking she'd wandered into a production of an unusually ardent Noel Coward play for the first half of the Shaw Festival's new production of Major Barbara. The muted monochromes of Judith Bowden's set and costume designs—blacks, whites, beiges, overcast greens—and the muted, almost languid thump of John Gzowski's tuba-driven incidental music, take the edge off Shaw's 1905 master class on the collaboration between religion and predatory capitalism. By the glorious last act, the actors catch fire, and the season poster, which depicts Barbara Undershaft shooting into the sky atop a cannonball, finally makes sense. It's an uneven ride to an incandescent conclusion.
Shaw's intricate parable begins with a decoy marriage plot: Lady Britomart, the autocratic mother of a fashionable household, summons the estranged father of her children, Andrew Undershaft, to bestow dowries on her two daughters, Sarah and Barbara. The play soon explodes out of the drawing room to the outskirts of London and the English countryside, and focuses on the forces of religion and manufacturing, represented by Barbara's Salvation Army and Undershaft's munitions factory, that tussle for the souls of men.
Benedict Campbell is superb in his second appearance at the Shaw Festival as Undershaft. In 2005, he was seductive, but oilier and less humane. This time, Campbell is, at first, a posh, self-satisfied businessman who delivers Shaw's long stump speeches as ironic rhetorical showpieces. In most productions of Major Barbara, Undershaft's downfall is his stubbornness, his refusal to evolve. In this version, Campbell is a slow fuse that suddenly ignites in the second half to reveal a man so deeply offended by the genteel British tolerance for poverty that he literally can't contain himself anymore. His passion is galvanic: the whole cast wakes up when Campbell delivers the fiercest, most animally succinct performance I've ever seen of Undershaft's advocacy of revolutionary violence, "mak[ing] war on war."
Nicole Underhay is a vulnerable, then wounded Barbara, but she doesn't seem divinely inspired until the final moments. Director Jackie Maxwell has added a short sample of Salvation Army brimstone to the beginning of the play—delivered by Barbara to the audience—that seems intended to establish Barbara's vitality and charisma. But Underhay is too tentative, for now, to seize us by the lapels with her conviction, and it takes her most of the play for her to build to the passion that ought to be there from the beginning. Graeme Somerville, as Barbara's lover, Greek scholar Adolphus Cusins, likewise struggles with a wavering Australian accent that makes him less certain in his speeches than in his virtuosic physical comedy.
Before that transcendent ending, Maxwell and the cast reveal their gifts as miniaturists. Shaw's minor characters have the grotesque definition of walk-ons in a Dickens novel: Anthony Bekenn as the perpetually anxious butler Morrison, for instance, and Peter Krantz, playing against type as the prematurely aged working man Peter Shirley, establish a comic outer world that surrounds the serious debates at the core of the play. James Pendarves as Bill Walker, a skeptical bruiser who visits the Salvation Army shelter, makes the harsh atmosphere of poverty vivid by striking women and overturning benches in close proximity to the audience. In this "intimate" Major Barbara, placed in the smallish Royal George Theatre, the percussion of Bill's fists brings the abstract violence in the speeches jarringly close to home.
Major Barbara is a play that is perennially topical, maybe never more so than in an age of global capitalism and outsourced, dematerialized warfare. The trouble with this production is that it lacks a sense of the urgency of the play and the courage to harness or toy with Shaw's shifting attitudes towards social change and the questionable mans of achieving it. Some judicious cutting lends the play momentum. Other cuts shear the squalid moral drama from the script, making it too easy to agree with Undershaft, whose creed of "money and gunpowder" as the basis of civilization is surely contestable. (I miss, for instance, Undershaft's troubling claim that the only ballot that governs is the one that has a bullet wrapped in it.) Maxwell's production notes claim that she has tried to place Barbara at the center of the action despite the diabolical appeal of Undershaft, but Barbara doesn't become a compelling counterweight until the final moments. This year's Major Barbara takes risks with the acting, but plays it a bit too safe with the stakes of this still incendiary play.
---
Guys and Dolls
Guys and Dolls is one of the most perfect musicals ever written, and the Shaw's production of it is a shot of pure joy. Set designer Peter Hartwell begins with a drop curtain with a photograph of the Great White Way as Mondrian imagined it: a network of lights, beguiling and unreal. Tadeusz Bradecki's production maintains that buoyant spirit as the photo is whisked away to reveal a black-and-white slice of New York City that never existed, populated by gangsters who exchange taunts in extravagant slang that no one ever spoke.
In 1950, composer Frank Loesser and book-writers Jo Swerling and Abe Burrows cooked up the story of Nathan Detroit's search for a place to stage his crap game and Sky Masterson's bet that he can get Salvation Army sergeant Sarah Brown down to Havana from an assortment of ingredients, including Shaw's Major Barbara and Damon Runyon's stories about colorfully-named criminals. Part of the fun of Guys and Dolls is the wink it shares with the audience: this collation of high and low theatre, burlesque numbers and half-quotations from classical music, seems like it's thrown together out of spare parts, though that looseness conceals almost miraculous intelligence and ingenuity.
Probably the single most life-enhancing moment of this production has that same improvisatory spirit. Thom Allison, as perpetually hungry Nicely Nicely Johnson, is called on to give testimony about his life as a sinner. He invents an allegorical dream about a journey to heaven that becomes the second-act showstopper "Sit Down, You're Rockin' the Boat." In the recording from Jerry Zaks' sublime 1992 production, Walter Bobbie sounds like this extravagant conceit sprung from his head fully-formed. It is Allison's genius—the production's genius—to make a tune that's part of the American Songbook seem like a spontaneous act of invention that might, or so Allison's saucer-sized eyes convey, collapse at any moment. The drama of Allison's performance is the movement from creative anxiety to hope to bliss, all contained within a four-minute molecule. Actors talk about performing "discoveries," finding points in a speech where we can see a character understanding or feeling for the first time. A whole lot of this production feels like an evening-long discovery, totally alive yet fully assured.
In a star-making performance, Jenny L. Wright as Miss Adelaide, for instance, obviously loves her dance routines at The Hot Box, which are staged as the stripteases they've always been. But she also loves commitment-phobic Nathan, and in "Adelaide's Lament" she seems to learn, right in front of us, that her love life is actually making her sick. Shawn Wright's bulldog-faced Nathan is more suavely self-confident. He hasn't quite nailed the tension between coolness and terror in the character (or the Yiddish that's occasionally thrown into his songs), but his love for Adelaide feels real from the start, and their duet, "So Sue Me," is a fully dramatized plea for forgiveness encased in a lover's quarrel.
Elodie Gillett as Sarah is beautiful and entirely persuasive in her rather sudden fall (or is it a rise?) to love with visiting high-roller Sky Masterson. She strains a bit at the top of her range in the unforgiving "I'll Know" early in the show, but by the end of the first act Gillett has revealed the most lushly operatic voice in the cast. Kyle Blair's Sky is unusually boyish for a legendary gangster. He doesn't have the daring sex appeal and occasional world-weariness that Marlon Brandon brought to the role in the 1955 film, though he is credible as a match for Sarah, and he's a lithe dancer in a thrillingly acrobatic "Luck Be a Lady Tonight." It'll be worthwhile to follow the run to see if his performance darkens over time.
Parker Esse's choreography is unashamedly libidinal: there's a hint of Fosse and a dollop of Shakira in the Latin bacchanal of "Havana." The sensual crackle of this musical has been missing from the more restrained spectacles of My Fair Lady and Ragtime during the last couple of years. More than any single element, though, there's a sense of "event" around this production, an excitement among the cast that this is the hit of the Festival.
---