HOME PAGE

SEARCH

REVIEWS

FEATURES

NEWS
Etcetera and
Short Term Listings

LISTINGS
Broadway
Off-Broadway

NYC Restaurants

BOOKS and CDs

OTHER PLACES
Berkshires
London
California
DC
Philadelphia
Elsewhere

QUOTES

On TKTS

PLAYWRIGHTS' ALBUMS

LETTERS TO EDITOR

FILM

LINKS

MISCELLANEOUS
Free Updates
Masthead
Writing for Us

A CurtainUp Review
Light In the Piazza,
By Elyse Sommer
Let's Walk. Let's walk beyond our vanity
---Signor Naccarelli and Margaret Johnson in "Let's Walk"
---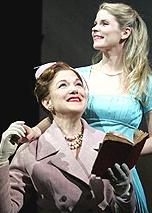 Victoria Clark & Kelli O'Hara
(Photo: Joan Marcus)

A friend recently asked me whether seeing as many shows as I do had made me less likely be intensely moved -- whether to laughing out loud or crying. When you see a string of cynically manufactured shows, it's easy to worry that you have indeed become jaded and immune to strong emotional reactions. Then along comes The Light in the Piazza, the gorgeously staged and musically sophisticated adaptation of Elizabeth Spencer's almost fifty-year-old but still widely reprinted novella and you know that all it takes is a genuinely moving theater piece to make you respond as if you were seeing your first show. When Victoria Clark's sang her immensely touching finale, "Fable" my throat tightened and tears fogged up my glasses.

Adam Guettel doesn't write easily accessible show tunes that instantly embed themselves in your ear for morning after humming as you put on the coffee or take your shower. But the Guettel sound is nevertheless plush and enjoyable with a genuine musical theater sensibility (the plushness greatly enhanced by an orchestra that includes cello, harp, guitar and mandolin players) with enough of an operatic flavor so that, like Sondheim's Passion, its future lies as much with small and medium-sized opera houses as regional theaters.

Speaking of Sondheim, his name comes up as often as that of Richard Rodgers in any discussion of Adam Guettel's place in the musical theater pantheon (Rodgers was Guettel's grandfather), Craig Lucas's subtle libretto compensates for the fact that Guettel's strength is as a composer rather than as a lyricist. He might at some future date follow his grandfather's practice of working with collaborators -- one of whom interestingly was Sondheim for a 1965 musical romance, also about an American in sunny Italy, Do I Hear a Waltz (adapted from Arthur Laurents' The Time of the Cuckoo).

Lucas, known for his often quirky and ambiguous scripts (Reckless, Prelude to a Kiss), has remained true to the unvoiced undercurrents as well as the story line that lifted Elizabeth Spencer's novella above standard romantic fiction. The Florentine holiday romance between a beautiful American girl with limited mental capacities as a result of an accident and the smitten young man she meet s by happenstance challenges her mother to put her trust in the miracle of young love even as she faces the truth about her own marriage. Lucas has made room for the young lovers voices and retained enough of the psychological complexities to prevent this from being the dated soap opera it could easily have been.

As this Guettel/Lucas collaboration is based on a touching fairy tale grounded by characters who are given an original and moving score to express their feelings, so the casting reflects choices made without regard to names with box office drawing power. And so, while Victoria Clark, is hardly a musical theater novice (her resume includes Titanic, How to Succeed in Business. . ., Sunday In the Park With George, A Grand Night For Singing), it is her remarkably rich performance as the upper middle class Southern mother that is the central diamond in this diamond-studded ensemble.

Clark digs deep beneath the charming Southern matron to paint a portrait as varied as the Florentine sights she associates with her once romantic marriage. From the start we sense that her trying to put the kibosh on the romance between Clara (Kelli O'Hara) and Fabrizio (Matthew Morrison) is not simply the action of a controlling mother. Bit by bit, she lets us see desperation turn to hope that Fabrizio's love and his family's being on hand to replace her as Clara's safe harbor may be the girl's one chance for a full life. As we watch her navigating the threats to a happy ending via her disapproving husband back in Winston-Salem and a last minute snafu at the pre-nuptial ceremony, we also see her own growth and change. Clark's singing is as superb and confident as her acting Her "Dividing Day" near the end of the first act and the already mentioned finale are reasons enough to order a cast CD as soon as it becomes available.

The "diamonds" I mentioned as surrounding Clark's revelatory Margaret are all top quality. Kelli O'Hara brings a thrilling soprano to the part of Clara-- a difficult role since the exact nature of her handicap is rather vague and Lucas' script allows you to wonder if it might be as much a case of years of well-meaning parental smothering as brain damage inflicted by a pony's hoof.

Matthew Morrison's Fabrizio Naccarelli is sincere and ardent enough to lay to rest realists' doubts about the twenty-year-old's feelings when the blush has worn off that instant first love and Clara's mental shortcomings might be more apparent. But then, who thinks about whether Romeo and Juliet would have lasted if Shakespeare hadn't cut off all possibilities for their youthful love to have matured.

The entire Naccarelli clan is played and sung with panache, the standout being Mark Harelik as the successful haberdasher who is the head of the household. His duet with Margaret, "Let's Walk " along with her "Dividing Day" solo come closest to what is generally associated with musical show tunes.

With standup ovations having been relegated to the every day, it seems insufficient to suggest that everyone rise and cheer Bartlet Sher (best known for directing straight dramas) and his design team for transforming the capacious Beaumont stage into Florence and Rome during a 1953 summer. The drop-down, pop-up, roll out and away props evoke street scenes, museums, hotel bedrooms, the Naccarellis' home and tie shop more effectively than the 1962 hokey film version. Catherine Zuber's costumes add considerably to the period authenticity -- especially Clara's petticoat buttressed full skirted dresses and Margaret's primly fitted suits and hats and those pre-sneaker high heels (how many suitcases did these ladies bring with them -- but then why ask when the outfits are so pretty and eye-catching?). Christopher Akerlind's lighting bathes everything in rich Italinate shadows and sunlight.

There's a place for family musicals like The Lion King and Wicked that sell four or more tickets at a clip. There's also a place for some if not the crush of catalogue musicals popularized by rock music groupies. Judging from its enthusiastic reception at the Vivian Beaumont, there's also a place for The Light In the Piazza which is geared to musical theater lovers willing to open their ears to art songs that mix atonality with lyricism written for characters with a genuinely human heartbeat.



The Light In The Piazza


Book by Craig Lucas
Music and lyrics by Adam Guettel
Based on the novel by Elizabeth Spencer
Directed by Bartlett Sher
Musical Staging by Jonathan Butterell
Music Direction by Ted Sperling
---
Cast: Victoria Clark (Margaret Johnson), Kelli O'Hara (Clara Johnson), Matthew Morrison (Fabrizio Naccarelli), Mark Harelik (Signor Naccarelli), Michael Berresse (Giuseppe Naccarelli), Sarah Uriarte Berry (Franca Naccarelli), Patti Cohenour (Signora Naccarelli), Beau Gravitte (Roy Johnson), Felicity LaFortune (Tour Guide) and Joseph Siravo (Priest). Sets: Michael Yeargan
Costumes: Catherine Zuber
Lighting: Christopher Akerlind
Sound: ACME Sound Partners
Orchestrations: Ted Sperling and Adam Guettel.
Additional Orchestrations: Bruce Coughlin
Orchestra: Conductor: Ted Sperling; Associate Conductor, Piano, Celesta/: Dan Riddle; Violins--Christian Hebel (Concertmaster), Matthew Lehmann, Sylvia D'avanzo, James Tsao, Lisa Matricardi, Katherine Livolsi-Stern; Celli-- Peter Sachon, Ariane Lallemand; Harp--Victoria Drake; Bass--Brian Cassier; Clarinet/English Horn/Oboe--Richard Heckman; Bassoon--Gili Sharett; Percussion--W!llard Miller; Guitar/mandolin--Andrew Schwartz. Running Time: 2 hours 30 minutes, including one 15 minute intermission.
Lincoln Center/ Vivian Beaumont , 150 West 65th 212-239-6200
From 3/17/05 to 6/12/05--extended to 9/04/05-- and again to 3/26/06; opening 4/18/04
Tuesday through Saturday at 8 PM, Wednesday and Saturday at 2 PM, Sunday at 3 PM
Ticket price: $90 and $65
Reviewed by Elyse Sommer based on April 20th press performance
Extended to 07/02/06 Extended to 7/02/06
Musical Numbers

Act One

Overture
Statues and Stories/ Margaret and Clara
The Beauty Is/ Clara
II Mondo Era Vuoto/ Fabrizio
Passeggiata / Fabrizio and Clara
The Joy You Feel/ Franca
Dividing Day / Margaret
Hysteria/ Clara and Margaret
Say It Somehow/ Clara and Fabrizio

Act Two

Aiutami/ The Naccarelli Family
The Light in the Piazza/ Clara
Octet/ Company
Tirade Clara
Octet (Reprise)/ Company
The Beauty Is (Reprise)/ Margaret
Let's Walk/ Signor Naccarelli and Margaret
Love to Me / Fabrizio
Fable/ Margaret

Easy-on-the budget super gift for yourself and your musical loving friends. Tons of gorgeous pictures.

Retold by Tina Packer of Shakespeare & Co.
Click image to buy.
Our Review

At This Theater
Leonard Maltin's 2005 Movie Guide

Ridiculous!The Theatrical Life & Times of Charles Ludlam

6, 500 Comparative Phrases including 800 Shakespearean Metaphors by

CurtainUp

's editor.
Click image to buy.
Go here for details and larger image.