HOME PAGE

SITE GUIDE



SEARCH

REVIEWS

FEATURES

NEWS
Etcetera and
Short Term Listings

LISTINGS
Broadway
Off-Broadway

NYC Restaurants

BOOKS and CDs

OTHER PLACES
Berkshires
London
California
New Jersey
DC
Philadelphia
Elsewhere

QUOTES

TKTS

PLAYWRIGHTS' ALBUMS

LETTERS TO EDITOR

FILM

LINKS

MISCELLANEOUS
Free Updates
Masthead
Writing for Us

CurtainUp Feature
Jacobs Pillow — Summer 2008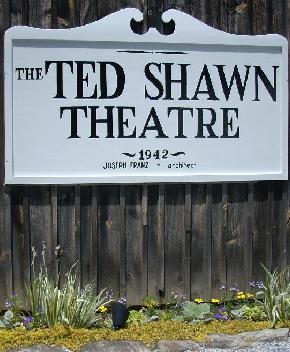 No neons, no pedicabs, no taxi noises. . .just gardens, like this small oasis in front of the Ted Shawn Main Stage
(Photo: Elyse Sommer )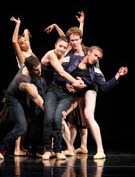 Trey McIntyre Project in Leatherwing Bat (Photo: Ben Rudic)

Sure you can see good modern dancers in many other places. But there is nothing like "The Pillow Experience." The lovely wooded setting is awash in history, going back to the 18th Century when it was a family farm that became a station in the Underground Railroad during the mid-1850s. In terms of its history as a dance mecca, that story dates back to the 1930s when Ted Shawn turned it into a school and performance space for dancers. Now, while restaurants and other modern amenities have been added, and the Pillow is a world renowned entertainment ad educational institution that's a must see for every visitor to the Berkshires and a frequent destination for those lucky enough to spend a whole season in the area.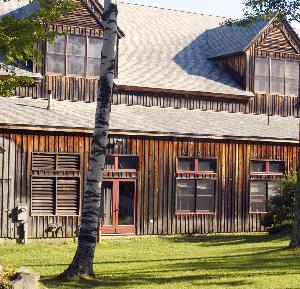 For those eager to see the latest trends in dance, the Doris Duke Studio Theater is a favorite destination. (Photo: Elyse Sommer)

The only disappointment about my visit to the Pillow on Thursday was that it was this season's final program. Fortunately, it was a wonderful, warm day — perfect for roaming the grounds and also seeing the talented Keigwin & Company, currently at the Doris Duke Studio Theatre, during their Inside/Out performance. As always this FREE event (a wonderful opportunity to introduce children to dance), was packed and the dancers' only "competition" was a gorgeous sunset.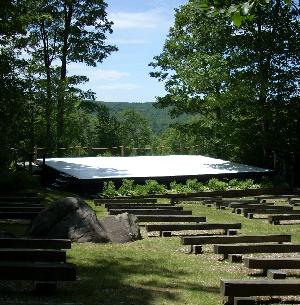 The Inside/Out with the ever-present scenery provided by Mother Nature.
(Photo: Elyse Sommer )

The Ted Shawn Theater was also packed with dance enthusiasts. They gave a rousing reception to the heretofore free lance Choreographer Rey McIntyre's debut as the head of a full-time company, the Rey McIntyre Project. The footstamping Hurrahs and Bravos were fully justified by the dynamic young dancers who, whether in solos, duets or ensemble sequences, moved on and off the stage seamlessly and with eyepopping, agile showmanship in solos solos.

Of the three pieces that comprised the program, two were world premieres. Surrender and Leatherwing Bat, were notable for their playfulness, greatly enhanced by the clever, apt choice of music.

Chanel Da Silva and Jason Hartley, the featured dancers of Surrender, segued from a Broadway-musical like beginning to the music of without missing a beat from a Grand Funk Railroad to Tchaikovsky and Regina Spektor— all with impressive arm and shoulder as well as footwork, and without missing a beat.

John Michael Schert, Brett Perry, Virginia Pilgrim, Annali Rose, Dylan G-Bowley and Lio Cirio proved to be terrific interpreters of McIntyre's amusingly crafted story ballet, Leatherwing Bat. The whimsical, children's book flavored lyrics of the musical selections from Peter, Paul and Mary's album Peter, Paul and Mommy ("Iíve been swallowed by a boa constrictor, and I don't like it" ) turned out to be a perfect fit for the distinctively choreographed moves. The ever endearing "Puff, the Magic Dragon" was particularly enchanting.

The final piece, The Reassuring Effects (Of Form and Poetry was set to the music of Dvorak. It featured eight dancers, including a reprise from the outstanding Jason Hartley from Surrender, in a stunning display of traditional given a strikingly contemporary twist.

All in all the evening confirmed Jacob Pillow's commitment to presenting adventurous dance. It should reassure Trey McIntyre that, his having ventured from a successful free lance career to undertake the risks of heading his own full-time company, has a good chance of succeeding. If he and his dancers continue to met with the enthusiasm of the Pillow audience, the Trey McIntyre Project is unlikely to be swallowed up by a boa constrictor.

While the Festival season ends on August 24th, Jacob's Pillow is a year-round organization, so check their website (which, not so incidentally, is one of the entertainment world's most attractive, informative and easy to navigate sites) regularly: Jacob's Pillow web site.

Try onlineseats.com for great seats to
Wicked
Jersey Boys
The Little Mermaid
Lion King
Shrek The Musical
Visit CurtainUp's Friends

Retold by Tina Packer of Shakespeare & Co.
Click image to buy.
Our Review