HOME PAGE

SITE GUIDE

REVIEWS

FEATURES

NEWS
Etcetera and
Short Term Listings

LISTINGS
Broadway
Off-Broadway

NYC Restaurants

BOOKS and CDs

OTHER PLACES
Berkshires
London
California
DC
Philadelphia
Elsewhere

QUOTES

TKTS

PLAYWRIGHTS' ALBUMS

LETTERS TO EDITOR

FILM

LINKS

MISCELLANEOUS
Free Updates
Masthead
Writing for Us
A CurtainUp Review
Grey Gardens
Original Review & Song List
Grey Gardens Background
So How Does the Garden Bloom On Broadway?

l to r: Erin Davie, Mary Louise Wilson, Christine Ebersole, (Photos: Joan Marcus)



To cut right to the chase, The garden and interior of the East Hampton mansion called Grey Gardens is as messy as ever, but the show which was a welcome and unique original at Playwrights Horizon is now in full and glorious bloom at the Walter Kerr theater.

The Broadway Grey Gardens — flaws eliminated, strong points enriched, audience appeal broadened— may not play for umpteen years like Phantom of the Opera, but its book, lyrics and music make it one of the Broadway season's brightest new offerings that is likely to have a good solid run — certainly, for as long as Christine Ebersole is available to metamorphose from Edith Bouvier Beale, a spotlight starved society matron with a song always at the ready, to her funny but heartbreakingly frustrated middle-aged daughter Little Edie. However, that's not to say that this is strictly a star vehicle of Ebersole and her show-stopping "The Revolutionary Costume for Today."

Not to take anything away from Ebersole's mega-watt dual role playing which is, if anything, even richer than it was originally, the recasting of the Little Edie part in the first act adds sheen and nuance to the entire galaxy of ensemble players. Most importantly it makes a strong psychological connection between the 1941 backstory (Act 1) to the 1973 segment (Act 2) based on the famous documentary by the Maysles brothers.

As this musical was the jewel to crown a hard working theatrical career for Ebersole, so Erin Davie's portrayal of the post-debutante Edie is a case of a star is born. Davie, at once fragile and determined, makes us understand the complex love-hate relationship with both her parents and how she came to be trapped in the crumbling mansion with "mother dearest."

In addition to the one major cast change (the only other newcomer is Kelsey Fowler as little Lee Bouvier since her predecessor literally outgrew the role), Grey Gardens, has also dropped some songs and added others to the benefit of the show. Happily it has retained the creme-de-la-creme numbers like "The Five-Fifteen", "Daddy's Girl", "Peas in a Pod", "The Cake I Had" and, of course, "The Revolutionary Costume for Today." Those changes have put a bigger spotlight on the always excellent Mary Louise Wilson and given that reliable pro, John McMartin, a fine new song ("Marry Well"). As McMartin's Bouvier seems to be a more rounded character, the effect of his disapproval on his artistically inclined daughter also heightens Ebersole's interpretation of the self-deluded Edith Beale Bouvier.

The music is pleasantly melodic and while not of the next day sing-in-the-shower variety begs to be heard and enjoyed again (which should be a boon to the CD's sales). The lyrics sharpen the characterizations and move the book forward with sparkle and wit — and when have you heard a more meaningful and delightful "da-da-da-da-dum" refrain?

The cast, script and song changes go a long way towards taking the iffyness out of transferring a show which, despite being a much lauded Off-Broadway sellout, was considered something of a special audience affair. The staging is now, as it was at Playwrights Horizon, stunning. That goes for sets, costumes, lighting and orchestrations.

At the matinee I attended, the theater was filled to the last row of its second balcony with that economically all-important audience segment of tourists, suburban types and "ladies who lunch" matinee goers—all exiting in a chorus of praises. Add to this my own "Bravo, Bravo!"

PRODUCTION NOTES
GREY GARDENS
Book by Doug Wright, based on 1975 documentary Grey Gardens David Maysles, Albert Maysles, Eillen Hodve, Muffie Meyer & Susan Froemke
Music by Scott Frankel
Lyrics by Michael Korie
Directed by Michael Greif
Musical Staging by Jeff Calhoun
---
Cast: Christine Ebersole (Edith Bouvier Beale 1941 & Little Edie 1973), Mary Louise Wilson (Edith Bouvier Beale, 1973), Matt Cavenaugh (Joe Kennedy Jr. in 1941, Jerry in 1973), Erin Davie (Young Edie 1941), Sarah Hyland (Jacqueline Bouvier), John McMartin (J.V. "Major") Michael Potts (Brooks, Junior & Senior), Bob Stillman (George Gould Strong), Kelsey Fowler (Lee Bouvier)
Set Design: Allen Moyer
Costume Design: William Ivey Long
Lighting Design: Peter Kaczorowski,
Sound Design: Brian Ronan
Projections: Wendall K. Harrington.
Hair & Wig Design: Paul Huntley
Orchestrations: Bruce Coughlin
Music Director/Conductor: Lawrence Yurman

Running time: 2 1/2 hours, plus one intermission
GREY GARDENS
Walter Kerr Theatre, 219 W. 48th Street.www.greygardensthemusical.com.
Tickets: $111.25 to $36.25.
Tuesday to Saturday @ 8pm, Wednesday & Saturday @ 2pm; beginning November 6:Tuesday @ 7pm, Wednesday to Saturday @ 8pm, Wednesday & Saturday @ 2pm, Sunday @ 3pm.
Reviewed by Elyse Sommer based on November 1st matinee performance

Musical Numbers

Prologue(1973) & Act One (1941)

Prologue: The Girl Who Had Everything/ Edith
The Girl Who Had Everything (continued from Prologue)/ Edith
The Five-Fifteen /Edith, Gould, Brooks, Jackie, Lee
Mother, Darling / Edith, Gould, Jackie, Lee, Brooks
Goin'Places/ Joe & Edie
Marry Well/ Major Bouvier, Brooks, Jackie, Lee, Edie
Hominy Grits / Edith, Gould. Jackie. Lee
Peas in a Pod/ Edie & Edith
Drift Away/ Gould & Edith
The Five-Fifteen (reprise) / Edith
Daddy's Girl/ Edie
The Telegram/ Edie & Edith
WiIl You? / Edith

Act Two: 1973

The Revolutionary Costume for Today/ Edie
The Cake l Had / Edith
Entering Grey Gardens/ Company
The House We Live In /Edie & Company
Jerry Likes My Corn / Edith & Edie
Around the World / /Edie
Will You? (reprise) / Edith & Edie
Choose to Be Happy /Norman Vincent Peale & Company
Around the World (reprise) / Edie
Another Winter in a Summer Town / Edie & Edith
The Girl Who Had Everything / Edith & Edie
Original Review, also by Elyse Sommer
That's Grey Gardens for you. Those on the outside, clamoring to get in, those on the inside dying to leave. --- Gould, Edith Bouvier Beale's personal pianist and friend in the Act one flashback to Grey Gardens in its heyday, though already registering enough family dysfunction to be a precursor of more troubling times to come for Edith and her daughter.

And that's the revolutionary costume pour de jour
Ya' mix, ya' match, and presto:
A fashion manifesto
That's why a revolutionary costume's de rigeur. . .
--- Edie in the show stopping introduction the second act, "The Revolutionary Costume for Today."

Pastiche = A dramatic, literary, or musical piece openly imitating the previous works of other artists, often with satirical intent.
---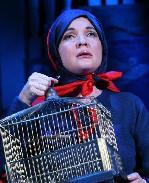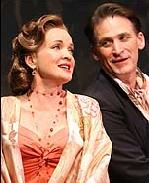 Christine Ebersole as Edie in 1973, and with Bob Stillman as Edith in 1941 (Photo: Joan Marcus)

If the new musical, Grey Gardens, had its opening in a Broadway theater instead of at Playwrights Horizon, Christine Ebersole would surely be a candidate to win a Tony for best musical theater performance. Her first appearance as the once stunning debutante "little" Edie Beale reduced to living in gothic squalor with her mother is a musical theater moment for the ages. Her head covered with an artfully tied sweater, her short skirt held together with a brooch, Ebersole embodies the grungy chic that was made famous by the Maysles documentary, also called Grey Gardens. The song she sings, "The Revolutionary Costume For Today," is long -- but for my money, and probably everyone else's, it could go on forever. This terrific tune is the jewel in the musical's crown.

While it takes that second act opening number for Grey Garden to literally explode, the entire show is original and craftily staged. Michael Korie's lyrics are playful and witty. Scott Frankel's score is enjoyably bubbly and melodic and smartly orchestrated by Bruce Coughlin.

While Grey Gardens isn't an old-fashioned Rodgers & Hammerstein hummer, neither is it one of those new musicals I think of as poperas. Thanks to Pulitzer prize winning book writer Doug Wright's (I Am My Own Wife) clever first act flashback to the Grey Gardens saga, what we have are basically two shows in one: The first act is a pure pastiche that looks, feels and sounds like a Cole Porter musical (think High Society) and romantic comedies like The Philadelphia Story. The second act is a musicalized still basically plotless version of the famous docudrama about these two oddball ladies surrounded by cats, cobwebs and empty cans -- the mother weak and nattering on about a marriage she insists was happy and a voice that was "pure as Venetian glass"); the daughter also clinging to her might-have beens.

The concept provides a back story to make the documentary section more than a gothic portrait of two colorful characters but a more fully realized depiction of a symbiotic relationship with which less eccentric mothers and daughters can identify. What's more, much as the Grey Garden film's avid fans probably can't fathom such a possibility, there are plenty of people who don't know these women's riches to rags, cats and raccoons story. For them this flashback serves as an entertaining and touching clarifier.

The set you see as you take your seat is the front of the shabby East Hampton mansion, with just a faint glimmer of the deterioration within. When the lights dim there's a brief prologue with the voices of an unseen, bickering Edith and Edie. Edith, whatever voice she had clearly gone, insists that it's is exactly as it was when she was forty-five and to prove it, she sings the first song ("Toyland") which ends "Now I am grown/Time has flown/ Lost is my childhood's/Joy land. . ." From that beginning, to which we are bound to return, Allen Moyer's spooky Dickensian mansion gives way to a view of its elegant drawing room during the women's glory days in 1941.

The flashback focuses on the preparations for a lawn party to announce "little " Edie Beale's engagement to John F. Kennedy's older brother Joe Kennedy (the one who would probably have been president had he not been shot down). In this act, Ebersole plays the mother of the bride to be. As Doug Wright makes Edith Bouvier Beale the kind of mother who tends to undermine and eclipse her daughter so Ebersole as that mother is the centerpiece of this segment. Her party planning "The Five-Fifteen" again getting things off to a fine musical start.

The young Bouvier cousins are very much on stage -- Audrey Twitchell as the tomboyish Lee; Sarah Hyland as an adorable young Jackie in a smocked dress similar to the ones that were once a stock item in the children's department of the former Best & Company on Fifth Avenue (all the costumes are wonderful, which is hardly a surprise given that the costumer is William Ivey Long). Hyland and Twitchell are both winning. Bob Stillman gives strong support as Edith's gay live-in accompanist and so does the always reliable John McMartin as the disapproving family patriarch. Gould, the young Edie and the Bouvier kids get together for the satiric "Being Bouvier" ("This crest of our French royal provenance/It took a while for it/We paid a pile for it. . "). Edie and Edith's "Peas in a Pod" is a smartly conceived musical take on the mother-daughter dynamic ("We're an act like Crosby and Hope./A rosy complexion and Ivory soap./Pip and miss Estella./Hedda and Louella./Two peas in a pod.")

Except for two problems there's more that's right than wrong. The flashback act could use some judicious trimming. Sarah Gettelfinger is miscast as the 1941 version of Edie. It's not that she isn't an attractive performer who sings well, but her looks just don't fit the personality called for. I have no problem using my imagination to move from the 1941 actress to her being played by Ebersole in the 1973 follow-up. But Gettelfinger exudes the sort of primness associated with Grace Kelly rather than the "It Girl" zip of a deb with a reputation for daring, Gettelfinger's Edie comes across more as someone who'd genuinely love to be a budding politician's helpmeet rather than going on the stage. Consequently, her demeanor seems in opposition to the lyrics of "Better Fall Out of Love", her duet with Joe (Matt Cavenaugh ) in which she counters his "I need a leading lady with me neck and neck/To help me lobby for a campaign check" with "The only lobby I know is the Martin Beck." I think someone like the delicate and versatile Nancy Anderson (currently starring in Fanny Hill) would have been a much more ideal fit.

My nitpicking about the first act aside, I think its inclusion contributes enormously towards making this a unique musical rather than just a musicalized staging of a cult film. Director Michael Greif has seen to it that the 1941 and 1973 acts are solidly connected. There's just enough of the superb Mary Louise Wilson's Edith in the Prologue to make us eager to see her become more prominent in the second act. Having the actors from the first act also participate as striking ghostly participants not only abets the connection, but makes for some stunning musical moments. As Ebersole has the audience in stitches with her bravura "Revolutionary Costume" number, so she ultimately tugs at your heart with her melancholy "Another Winter in a Summer Town" and the deep sigh underneath her cheery "Coming, Mother Darling."

While this is one of those shows likely to divide critics and audiences, brisk ticket sales have already led to a two week extension during previews. Readers interested in more details about the real events and characters in this show, will find chapter and verse under the heading Factual Background used in Grey Gardens after the song list below.



GREY GARDENS
Book by Doug Wright, based on 1975 documentary Grey Gardens David Maysles, Albert Maysles, Eillen Hodve, Muffie Meyer & Susan Froemke
Music by Scott Frankel
Lyrics by Michael Korie
Directed by Michael Greif
Musical Staging by Jeff Calhoun
---
Cast: Christine Ebersole (Edith Bouvier Beale 1941 & Little Edie 1973), Mary Louise Wilson (Edith Bouvier Beale, 1973), Matt Cavenaugh (Joe Kennedy Jr. in 1941, Jerry in 1973), Sara Gettelfinger (Young Edie 1941), Sarah Hyland (Jacqueline Bouvier), John McMartin (J.V. "Major") Michael Potts (Brooks, Junior & Senior), Bob Stillman (George Gould Strong), Audrey Twitchell (Lee Bouvier)
Set Design: Allen Moyer
Costume Design: William Ivey Long
Lighting Design: Peter Kaczorowski,
Sound Design: Brian Ronan
Pprojections: Wendall K. Harrington.
Orchestrations: Bruce Coughlin
Music Director/Conductor: Lawrence Yurman
Musicians: Associate Conductor/Synthesizer, Karl Mansfield; Violin, Eric Degioia; Cello, Anik Oilianine; Reeds, Ken Hitchcock & Tom Murray; Trumpet/Flugelhorn, Jeremy Miloszewicz; French Horn, Patrick Pridemore; Acoustic Bass, Bill Sloat; Percussion/Drums,Tim McLafferty
Running time: 2 1/2 hours, plus one intermission
Playwrights' Horizons Main Stage, 416 West 42nd Stree (212) 279-4200 www.playwrightshorizons.org
From 2/10/06 to 4/09/06--extended to 4/23/06 and again to 4/30/06; opening 3/07/06
Tuesdays through Fridays at 8PM, Saturdays at 2:30 & 8PM and Sundays at 2:30 & 7:30PM.
Tickets; $65; HOTtix or $20 rush tickets, subject to availability, day of performance only, starting one hour before showtime to patrons aged 30 and under; $15 Student Rush tickets, subject to availability, day of performancestarting one hour before curtain to full-time graduate and undergraduate students.
Reviewed by Elyse Sommer based on March 4th press performance
Musical Numbers

Prologue(1973) & Act One (1941)

Prologue: Toyland/ Edith
The Five-fifteen /Edith, Gould, Brooks, Jackie, Lee
Body Beautiful Beale/ Gould, Edith, Brooks, Edie, Jackie, Lee, Joe
Mother, Darling / Edie. Edith, Gould
Better FalI Out of Love/ Joe & Edie
Being Bouvier/ Major Bouvier, Brooks, Jackie, Lee, Edie
Hominy Grits / Edith, Gould. Jackie. Lee
Peas in a Pod/ Edie & Edith
Drift Away/ Gould & Edith
The Five-Fifteen (reprise) / Edith
Tomorrow's Woman / Edic, Jackie, Lee
Daddy's Girl/ Edie
The Telegram/ Edie & Edith
Being Bouvier- (reprise) / Major Bouvier, Jackie, Lee
WiIl You? / Edith

Act Two: 1973

The Revolutionary Costume for Today/ Edie
The Cake l Had / Edith
Entering Grey Gardens/ Company
The House We Live In /Edie & Company
Jerry Likes My Corn / Edith & Edie
Around the World / /Edie
Will You? (reprise) / Edith & Edie
Choose to Be Happy /Norman Vincent Peale & Company
Around the World (reprise) / Edie
Another Winter in a Summer Town / Edie & Edith
Peas in a Pod (reprise) / Edith & Edie
Grey Gardens Background
Factual Background used in Grey Gardens
Despite the decrepid state of the 28-room mansion in which the destitute Edith Bouvier Beale and her daugher "Little" Edie lived with dozens of cats and more than a few racoons, these loopy ladies were scrappy enough to make their story more interesting to the Maysles brothers than that of the rest of the family. (It was their cousin Lee Radziwill who contacted the brother about making a film about the Bouvier family).
Edie Bouvier Beale was in actuality a frustrated professional singer, who in deference to her conservative husband, limited herself to living room concerts. Like the Edith of the musical she did have a live-in accompanist named George Gould Strong (about whose later years nothing is known) and even when not concertizing, the ladies of the house were known to burst into a Cole Porter song at the drop of a hat. Beale did, as per the letter at the end of the first act, obtain a Mexican divorce which yielded no alimony. That, combined with her being disinherited by her father, accounted for the lack of funds to maintain Grey Gardens or anything resembling her former life style. She died in 1977, after falling off a wobbly chest of drawers.
What about Jacqueline Kennedy and the destitute Beales? Though Kennedy didn't appear in the Maysles film she is said to have visited her aunt occasionally and provided enough financial help to satisfy the board of health grievances.
In the 1940s Edie Bouvier Beale was a prominent and much sought after debutante, whose suitors included the Rockefeller Brother and J. Paul Getty. She actually was nicknamed "Body Beautiful Beale" (per one of the songs) after her bathing suit came undone mid-dive at East Hampton's posh Maidstone Club. She really was engaged to Joe Kennedy Jr but Doug Wright's presentation of how the engagement ended is as credible a scenario as anyone has come up with. The mother and daughter love-hate relationship depicted in songs like "Mother, Darling", and "Peas in a Pod" serve as an apt precursor to the later years of dysfunctional and and oddly loving togetherness captured in the documentary.
While Edie never achieved the career to which she aspired, the film gave her a degree of fame as an influential fashionista. Well known designers like John Bartlett, Todd Oldham and Calvin Klein declared her extradordinary way of assembling various mismatched garments into what she called her "revolutionary costumes" as trendsetting fashion statements. Small wonder that Christine Ebersole's "The Revolutionary Costume for Today" in her first number as little Edie at age 57 is the musical's super show stopper. The real " little" Edie tried to capitalize on the documentary's fate with a short-lived night club singing act. After her mother died, she moved to Miami Beach where she died in 2002.
A second act character, a young caretaker named Jerry who's played by Matt Cavanaugh, is like his Joe Kennedy Jr. of the first act, based on a real young man named Jerry Torre. The Grey Garden ladies really did nickname name him for Nathaniel Hawthorne's The Marble Faun (which graces the Playbill cover). The film makers looked for Torre for years, but he wasn't discovered until years after the film came out (driving a taxi). There's an article, The Marble Faun, in the March 6th issue of the New Yorker which includes some of his recollection of the Edies and his reaction to seeing a preview of the musical.
Grey Gardens, the Musical is not the final chapter in the social register cat ladies saga. A film which will star Drew Barrymore and Jessica Lange is on the not too distant horizon.
Stage Plays
The Internet Theatre Bookshop "Virtually Every Play in the World"--even out of print plays