HOME PAGE

SITE GUIDE

SEARCH


REVIEWS

REVIEW ARCHIVES

ADVERTISING AT CURTAINUP

FEATURES

NEWS
Etcetera and
Short Term Listings

LISTINGS
Broadway
Off-Broadway

NYC Restaurants

BOOKS and CDs

OTHER PLACES
Berkshires
London
California
New Jersey
DC
Philadelphia
Elsewhere

QUOTES

On TKTS

PLAYWRIGHTS' ALBUMS

LETTERS TO EDITOR

FILM

LINKS

MISCELLANEOUS
Free Updates
Masthead
Writing for Us


A CurtainUp New Jersey Review
The Colored Museum
We don't ask for acceptance. We don't ask for approval —Miss Roz
---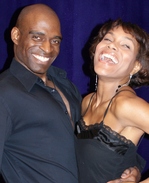 Derric Harris &, Tiffany Jewel in The Colored Museum

The Colored Museum was recognized in 1986 as an important new work by up-and-coming playwright George C. Wolfe. It was chosen as the best new play in America by Crossroads Theatre during the CBS/FDG New Plays Program, a nationwide search for new writing talent sponsored by CBSand The Foundation for the Dramatic Guild. Wolfe's sketch-propelled play had its world premiere at Crossroads where it is now having a revival in connection with Crossroad's 30 anniversary season.

Generously filled with myth and madness, the myths behind stereotypes and the madness behind reality, The Colored Museum may be showing its age, but it remains an audacious if problematic entertainment focusing on cultural identities and racism. The entertainment factor is prominent, but the problems are also conspicuous in this production under the direction Rajendra Ramoon Maharaz. Over zealous in his approach and apparently unwilling to completely trust in the satirical thrust of the material, Maharaz too often pushes the performers over the edge of comical invention. Many of the play's most sardonic and subtle points are missed in the general hysteria that engines this production. Rarely do the energetic and robust performers Inga Ballard Inga, Latonia Phipps, Derric Harris, Tiffany Jewel, and Timothy Ware land squarely on their targets.

The themes that Wolfe expounds upon in this early work are seen through the lens of a time-traveling fantasy, and as preserved for posterity through a comedic inventory of historical signposts. "Fasten your shackles," reads a sign aboard a celebrity slave ship. Using comedy as the primary tool, Wolfe has imaginatively envisioned an exhibit of numerous black stereotypes that have existed through the years.

While the play is a sincere, focused and often searing assault on a culture in the throes of transition and discovery, this production goes overboard to ignore the varying and subtler perspectives. It relies mainly on sheer overkill. This is observed mostly in scenes in which the performers tend to reduce their characters to the level of a cartoon. The structure of Wolfe's exhibit has been compiled to mix the pain of recognition with the pleasure of contradiction. The individual skits reveal aspects of African-American culture, as eager to discard old definitions as it is willing to embrace objectifying patterns.

There's more brewing in Aunt Ethel's "down home cooking show" than we can initially see. Standing in her own cauldron is the whimsically costumed chef à la Aunt Jemima who shows us how to stir up a couple of chocolate dipped surprises. An amusing photo session all "smiles and no pain," at Ebony Magazine features a couple of high cheek-boned models. An episode wherein a Vietnam soldier is suddenly killed in battle and able to see into the future is poignantly prescient. But Miss Roz, a self-labeled "extra-terrestrial in patio pants," who boozes it up and rants away in a gay club called "The Bottomless Pit," is almost unbearably abrasive.

Most of the 12 skits, including monologues and painful, soul-searching diatribes, run out of steam long before they are finished. A promising one about an expatriate chanteuse named La La L'Amazing Grace turns maudlin. In the now famous sketch called "The Last Mama - On - The - Couch - Play" a passive Mama and her three grown and rebellious children deliver a hybrid piece of sitcom-edy that mocks every form of black-oriented dramaturgy from Raisin in the Sun, to Madea. The best and funniest sketch put the spotlight on a woman as she carefully puts on her makeup. She is flanked at her dressing table by a pair of wigs, one blonde one afro who hilariously begin to challenge each other as to which one is better suited for the occasion.

Adam Koch's set design effectively evokes a dark and dingy wooden-walled museum storehouse cluttered with vintage posters, artifacts, signs, strewn pieces of clothing and an American flag. Lighting designer Josh Bradford's lighting keeps the spotlight on the action. Catherine Homa-Roccio appears to have had fun dressing the company in various garbs and getups. Arthur Toombs deserves credit for his fine drumming accompaniment.

The successful launching in 1986 of The Colored Museum at Crossroads led to a long-running engagement at the Public Theater where Wolfe would eventually become its artistic director. He has since expanded his horizons to become a lauded Broadway and film director (Lackawanna Blues for HBO and the recently released Nights in Rodanthe).



The Colored Museum
By George C. Wolfe
Directed by Rajendra Ramoon Mahara

Cast: Inga Ballard Inga, Latonia Phipps, Derric Harris, Tiffany Jewel, Timothy Ware, Arthur Toombs, Khailah Marie Johnson
Scenic Design: Adam Koch
Costume Design: Catherine Homa-Rocchio
Lighting Designer: Josh Bradford
Projections: Luckydave
Sound Designer: Elizabeth Rhodes
Running Time: 1 hour 45 minutes including intermission
Crossroads Theatre Company, 7 Livingston Avenue, New Brunswick, NJ 08901 (732) - 545- 8100
Performances Thursday, Friday, Saturday at 8 PM; Saturday and Sunday matinees at 3 PM.
Tickets ($45)
Opened 09/27/08. Ends 10/05/08
Review by Simon Saltzman based on performance 09/27/08





REVIEW FEEDBACK
Highlight one of the responses below and click "copy" or"CTRL+C"

I agree with the review of The Colored Museum
I disagree with the review of The Colored Museum
The review made me eager to see The Colored Museum
Click on the address link E-mail: esommer@curtainup.com
Paste the highlighted text into the subject line (CTRL+ V):

>Feel free to add detailed comments in the body of the email and state if you'd like your comments published in our letters section.


Try onlineseats.com for great seats to
Wicked
Jersey Boys
The Little Mermaid
Lion King
Shrek The Musical
---
---

South Pacific

In the Heights

Playbill 2007-08 Yearbook

Leonard Maltin's 2008 Movie Guide


>