HOME PAGE

SEARCH

REVIEWS

FEATURES

NEWS
Etcetera and
Short Term Listings

LISTINGS
Broadway
Off-Broadway

BOOKS and CDs

OTHER PLACES
Berkshires
London
California
Philadelphia
Elsewhere

QUOTES

On TKTS

LETTERS TO EDITOR

FILM

LINKS

MISCELLANEOUS
Free Updates
Masthead
Writing for us


A CurtainUp Review
The Cherry Orchard
by Ariana Mufson
You shouldn't be sitting in a theater watching a fictional life you should be examining your own instead.
---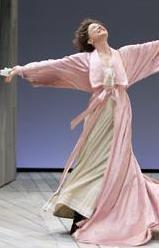 Annette Benning as Madame Ranyevskaya


Chekhov's The Cherry Orchard has been played both as a comedy poking fun at class, age, and intellectualism and as a tragedy revealing the pain of change and loss that accompanies the passing of time. Ultimately, a successful production should blend the two, finding laughter in even the bleakest settings and allowing the sadness to give way to optimism. Chekhov himself has insisted that the comedy in the show should never be forgotten, although the structure and plot disregard the typical " Hollywood" ending.In the new production at the Mark Taper Forum in Los Angeles, director Sean Mathias tries to reveal both aspects of Chekhov's work, but creates varied performances, tone and images instead.

Chekhov's characters are confused and vulnerable, plagued by the past and unsure of the future. The play was written in the midst of deep societal change taking place in Russia, both social and industrial. The serfs had recently been liberated, which is reflected in the story line of Madame Ranyevskaya (a scene stealing and wonderful Annette Bening) returning to her old home after five years in Paris to find her previous serf, Lopakhin (Alfred Molina, who lights up the stage), now a wealthy landowner who advises her on the monetary crisis that plagues her own estate. Ranyevskaya's daughter, Varya (Sarah Paulson) has been running the estate, while harboring a secret love for Lopakhin. Ranyevskaya's impressionable younger daughter, Anya (Rebecca Mozo), returns as well, and promptly falls for the young intellectual, Trofimov (Jason Butler Harner). Ranyevskaya's valet, Yasha (Peter Cambor), also stirs up love in the form of a triangle completed by seducing the servant Dunyasha (Jennifer Dundas), who is in turn loved by the clutzy, unlucky Yepikhodov (Raphael Sbarge).

The many plot lines are kept lively by Martin Sherman's new and riveting translation. In updating the language, he makes Ranyevskaya accessible rather than flighty. This is abetted by Benning's sympathetic portrayal of a woman who refuses to seriously address the issue at hand, plagued as she is by memories of the past. Although she flits about instead of seriously considering a plan to save her estate, we forgive her because of the humanity with which she imbues her performance.

But it is Molina who most commands the stage every time he makes an entrance. His ease and phenomenal stage presence make him a pleasure to watch. He sets the tone perfectly, launching us squarely into comedic territory with energy and humor.

Strangely, however, the two leads seem to have chosen different styles to present their characters. Molina's Lopakhin is natural and easy. Bening's Ranyevskaya comes off presenational. Both choices work alone, but when seen on the same stage they sometimes appear part of different productions, making some scenes awkward and hard to follow.

There are other inconsistencies in Mathias' direction. The blocking forces the characters into static configurations. As Trofimov ruminates on life he remains planted to one spot instead of roaming about and philosophizing. Although the set, created from wooden planks, does rake toward the ceiling as it works its way upstage, it is for the most part one-dimensional. This doesn't help to convey the beauty and warmth of home that the Cherry Orchard represents. Along with the lighting, it effectively washes out the actors, giving them few levels to play with. Thankfully, the set parts in the second act, revealing stairs and a platform that allow the characters to move about and interact with the space. Still, the beautiful and extravagant costumes almost look out of place in such a sparse and white washed setting. Because the exterior lighting is so similar to that of the interior, the different scenes blend into one, giving us little hint of the magic of the orchard when the characters are outside their house. Although the intent may have been to draw on the emptiness of the characters who are plagued by loss and displacement, the effect of this set and lighting leaves us feeling isolated from their plight instead of being drawn in.

When the characters finally disperse, it is hard to know what to feel. Ranyevskaya loses her orchard, Varya and Lopakhin go their separate ways, and Firs (a brilliant Alan Mandell) is left behind in the old house to die as we hear the chopping of wood and the loud and somber twang of a clock string (or, as some insist, a heart string) breaking. When Firs murmurs, "Nothing left. Nothing" for the first time the stage seems appropriately bare and our feelings of sadness crystal clear. Although Mathias never achieves a true balance between the comedy and tragedy, and the result is an uneven production, moments like this from such strong actors make the production worthwhile.

Editor's Note: For other Cherry Orchard productions we've reviewed and more about Chekhov, see our Chekhove Backgrounder.

The Cherry Orchard
Playwright: Anton Chekhov
Director: Sean Mathias
Adapted By: Martin Sherman
Cast: Annette Bening, Lothaire Bluteau, Peter Cambor, Tom Costello, Jennifer Dundas, Frances Fisher, Jeanie Hackett, Jason Butler Harner, Heidi Johanningmeier, Lyle Kanouse, Alan Mandell, Alfred Molina, Tim Monsion, Rebecca Mozo, Sarah Paulson, Reed Rudy, Raphael Sbarge, Don Oscar Smith, Alison Weller, Alexander Zale
Set Design: Alexander Dodge
Lighting Design: James F. Ingalls
Sound Design: Jon Gottlieb
Costume Design: Catherine Zuber
Running Time: 2 hours 20 minutes with a 15 minute intermission
Dates: From to February 2, 2006 to March 19, 2006. Tuesdays through Saturdays at 8 pm; Sundays at 7:30 pm; Sat. and Sun. matinees at 2:30 pm. No performances on Mondays.
Mark Taper Forum at 135 N. Grand Ave. in Los Angeles at the Music Center.
Tickets: $42-$55. Tickets available through the Center Theatre Group box office at the Music Center or by calling CTG Audience Services at (213) 628-2772. Online at: www.centertheatregroup.org Reviewed by Ariana Mufson on 2/12/06.

Easy-on-the budget super gift for yourself and your musical loving friends. Tons of gorgeous pictures.

Retold by Tina Packer of Shakespeare & Co.
Click image to buy.
Our Review

At This Theater
Leonard Maltin's 2005 Movie Guide

Ridiculous!The Theatrical Life & Times of Charles Ludlam

6, 500 Comparative Phrases including 800 Shakespearean Metaphors by

CurtainUp

's editor.
Click image to buy.
Go here for details and larger image.