HOME PAGE

SEARCH

CurtainUp



REVIEWS

FEATURES

NEWS
Etcetera and
Short Term Listings

LISTINGS
Broadway
Off-Broadway

BOOKS and CDs

OTHER PLACES
Berkshires
London
LA/San Diego
DC
Philadelphia
Elsewhere

QUOTES

On TKTS

LETTERS TO EDITOR

FILM

LINKS

MISCELANEOUS
Free Updates
Masthead
NYC Weather
A
CurtainUp
Review
Boy
I thought what you did when you grew up was have a viable career and fall in love so as to maintain some semblance of a fucking life worth living. That's what I thought. I guess I'm just a stupid kid from Iowa but I recently notice that. You should try noticing simple things like that.
---Boy
---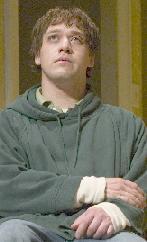 T. R. Knight as the title character of Boy

Technically the only boy in Julia Jordan's new play is the seventeen-year-old referred to only as Boy and played with all the spot-on ticks of a bright but physically and emotionally troubled teenager by T. R. Knight. In point of fact, there's also a boy still residing in the thirty-something Mick (Kelly AuCoin), who left his girlfriend Sarah (Miriam Shor) to pursue an acting career but has now returned to Minnesota hoping to resume their relationship. What connects these two "boys" is an internet correspondence.

The Boy-Mick e-mail connection is the impetus for Mick's return to his home town in Minneapolis. Boy, who comes from a nearby Iowa town, also heads there and enrolls in a community college writing course taught by Mick's mother Maureen (Caitlin O'Connell). To further his entanglement with Mick and the fragile psyches of Mick and his family Boy also shows up in the office of Terry (Robert Hogan), a therapist who happens to be Mick's dad and Maureen's husband.

Because director Joe Calarco has not only tapped into the nuances of this intriguingly convoluted plot but done so with a good deal of suspense, I'm loathe to spoil the fun of putting all the pieces of Ms. Jordan's puzzle together by going into too many specicifics. That goes for Mick's relationship with Sarah, who's the most focused character on stage (well on her way to a meaningful career as a forensic doctor), as well as the nameless boy's tragedy; not to mention his role as a catalyst for revealing how these people with whom his life intersects have trouble connecting to each other.

To tell you as much as possible without giving too much away: Mick is something of a spoiled Peter Pan -- he's still floating from one self-actualizing career possibility to another, drops his clothes on the floor, childishly snacks on peanut butter by the spoonful and expects the girl friend he left without a by-your-leave three years earlier to welcome him into her bed -- but he's a charmer. His amusing imitation of John Malcovitch does stir irresistible memories for Sarah about about their three-year relationship as graduate students. It won't be too much of a credibility stretch to draw comparisons between the Sarah-Mick and doctor father-teacher mother stories.

What makes the history that seems to haunt the Boy and also accounts for his limp intriguing is not what happened (which doesn't take a Sherlock Holmes to figure out) but the way the details surface bit by bit. The whole play is an experience akin to peeling the layers off an onion. In doing so you come to recognize the parallels between the older and younger characters and see that all the literary talk about beginnings, middles and endings is a thematic metaphor for the way Boy, Mick and his parents -- and all of us -- struggle to move through the stages of our lives.

With Mick having caught enough of his mother's passion for literature and good writing, it makes sense to see Boy's still unfocsed writing abilities encouraged by Professor Mom and Mick. George Elliot's often mentioned novel The Mill On the Floss, which is set on an English instead of a Minneapolis river town, doesn't need to be read or re-read to grasp the playwright's metaphoric implications.

While T.R. Wright's bravura performance is the one you're likely to remember longest, the entire ensemble is excellent. Robert Hogan as Terry is a wonderful counterpoint to Boy's fidgety persona. His understated performance as the doctor trying to get the edgy teenager to speak about what keeps him hovering around the doorway or dragging himself around the room turns devastatingly explosive when Terry suddenly tilts to Boy's side of the emotional see-saw. The other three actors also contribute strongly towards making much that is incredible seem credible. The production generally makes excellent use of the tight space of this theater.

Despite all the talk about beginning, middles and endings, this is not an easy to watch kitchen sink drama. . Attention must be paid. What you get from it relies much on what you bring to it. Like another young playwright, Christopher Shinn, whose new play Where to We Live we just reviewed (the review), Ms. Jordan is on a career track that indicates more and constantly improving work. Even though Boy is full of head-scratching elements and a somewhat weak ending, it left me anticipating her next play, as did St. Scarlet and Tatjana In Color.



Boy


Written by Julia Jordan
Directed by Joe Calarco,
---
Cast: Kelly AuCoin, Robert Hogan, T.R. Knight, Caitlin O'Connell, Miriam Shor
Set Design: Michael Fagin
Costume Designe: Anne Kennedy
Lighting Design: Chris Lee
Original Music & Sound Design: Lindsay Jones.
Running time: 2 hours with one intermission.
Primary Stages, 45th Street Theatre, 354 West 54th Street 212/ 279-4200 www.primarystages.com
5/05/04 to 6/27/04; opening 5/18/04.
Tuesday through Saturday at 8pm, with matinees Saturday at 2pm, and Sunday at 3pm.
Tickets: $48.
Reviewed by Elyse Sommer based on May 13th performance

Retold by Tina Packer of Shakespeare & Co.
Click image to buy.
Our Review

Mendes at the Donmar
Our Review

At This Theater
Leonard Maltin's 2003 Movie and Video Guide

Ridiculous!The Theatrical Life & Times of Charles Ludlam

6, 500 Comparative Phrases including 800 Shakespearean Metaphors by

CurtainUp

's editor.
Click image to buy.
Go here for details and larger image.