HOME PAGE

SITE GUIDE

SEARCH


REVIEWS

REVIEW ARCHIVES

ADVERTISING AT CURTAINUP

FEATURES

NEWS
Etcetera and
Short Term Listings

LISTINGS
Broadway
Off-Broadway

NYC Restaurants

BOOKS and CDs

OTHER PLACES
Berkshires
London
California
New Jersey
DC
Philadelphia
Elsewhere

QUOTES

On TKTS

PLAYWRIGHTS' ALBUMS

LETTERS TO EDITOR

FILM

LINKS

MISCELLANEOUS
Free Updates
Masthead
Writing for Us


A CurtainUp New Jersey Review
Twelfth Night
Thus the whirligig of time brings in his revenges &mdash Feste, the clown to Malvolio.
---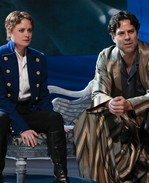 Rebecca Brooksher (Viola, disguised as Cesario) and Christopher Innvar (Orsino) in Twelfth Night
(Photo: T. Charles Erickson)

Everything exhilaratingly and extravagantly comes up roses in director Rebecca Taichman's vision of Twelfth Night. She is abetted by set designer Riccardo Hernandez, who has created an expressionistic world that evolves from an abstracted terrain of icey blues and greens to a rose garden nurtured as much by pretense as it is by passion. As it turns out, the setting becomes an integrated partner in this outstanding production adding, as it does, a witty and often comical aesthetic.

Every now and then there is that rare confluence of conception, acting, directing, design, stage craft and in this instance music (a small orchestra provides song support and lovely incidental music) marks a production as sheer bliss. This is what Twelfth Night is providing for the next few weeks and firmly disproving the general consensus that this is one of William Shakespeare's weaker plays. A co-production between McCarter and D.C.'s The Shakespeare Theatre Company, Taichman has addressed the play's outrageously convoluted plotting and re-considered the bountiful mix of tomfoolery and romance from a distinctly sensual, sexual, and psychologically inverted perspective. But don't worry, as it is suitable for the whole family.

Here is a disarmingly daring staging in which the many aspects of sexual identity are allowed to take precedence over the tomfoolery. That's a good thing for those of us who are more apt to wince rather than welcome the antics of the secondary characters. Just as the bard cleverly considered the hidden transvestite in us in this perceptive comedy, Taichman and her extraordinary ensemble have embraced the multi-layered story in ways that are as dazzling as they are defining.

Just to refresh your memory: The courting of wealthy and titled Lady Olivia by the personable but dull Duke Orsino of Illyria becomes complicated by the arrival of Viola, a young girl who masquerades as a page to the duped Duke after a traumatic separation from her twin Sebastian during a violent storm at sea. Viola unwittingly falls in love with the Duke only to discover that Olivia has fallen head over heels in love with her as Cesario, the page. The arrival of look-alike Sebastian to Ilyria, who, instantly smitten with ardor upon seeing the fair Olivia, creates a series of comical burlesque encounters that provide a stage for "What You Will."

If Shakespeare's delightful crew of secondary characters is usually encouraged to run amuck in order to confuse us as well as the lovers, they suddenly seem to have inherited an importance and dramatic weight that is rarely considered or conceived. Arguably strained and incredulous, the story nevertheless, seems to benefit from Taichman's tempered touch. This is not to imply that the slapstick has been forfeited for the sake of the overriding sentiments that pervade the action. Those who savor silliness will also be rewarded.

That suave sentimentalist Duke Orsino is winningly played by the virile, romantically inclined Christopher Innvar. Traditionally the Duke is remembered best for his brief yearnings for the love of Lady Olivia (Veanne Cox). Here, Innvar is mostly troubled by his attraction to Viola/Caesar (Rebecca Brooksher), an issue, a cornerstone and a more deliberated dimension to his conflicted personality. It is no small feat that Brooksher makes as good an impression as a woman as she does in the guise of a man. Her sweet but commanding acting style is a cause for celebration. As Sebastian, Kevin Isola may not get as much stage time as her twin but he gives us a robust account of an easily provoked and more easily infatuated young man.

As central as are situations that that fuel the Viola/Cesario predicament, it is Olivia who dominates the production. While Cox's flair for comedy has brightened many plays and musicals on and off Broadway, I can't recall that she has ever been more comically seductive as she is as the bedazzled Olivia. She is outright hilarious in the scene in which she and Viola/Cesario have found themselves prostrated in increments out of a sense of courtesy. In the manner of Scarlett O'Hara, Cox finds more humorous ways than you can imagine swirling and sashaying around Ilyria in the four breathtaking gowns — black, lime green, peach and white — designed by Miranda Hoffman.

Most happily, the antics appear organic to the comic artistry displayed by Rick Foucheux, as the wine-guzzling, cigar-chomping and ever-belching Sir Toby Belch and Tom Story, as his dim-witted sidekick Sir Andrew Aguecheek. But what a wonderful treat it is to see distinguished theatre veteran Ted van Griethuysen brink the kind of delectably arrogant countenance to the role of the maligned "affectionate ass" Malvolio, as he succumbs to the unkind plot machinations as devised by the clever servant Maria, lustily played by Nancy Robinette. Griethuysen accomplishes what so many who undertake the role don't, to win our pity even if that misguided stuffed shirt with yellow stockings attempts to ride his bike.

Taichman, who was at the helm of the recently presented Shakespeare Theatre production of the play, has taken what is naturally strained and incredulous in Shakespeare to heart. Keeping up with Shakespeare's mixture of parody and poignancy is not an easy task for any director, seasoned or otherwise. This production is a triumph for her as much as it is for Twelfth Night.



Twelfth Night
  By William Shakespeare
  Directed by Rebecca Taichman
---
>Cast: Christopher Innvar, Rebecca Brooksher, Kevin Isola, Veanne Cox, Nancy Robinette, Rick Fouchette, Tom Story, Ted van Griethuysen, J. Fred Shiffman, Stephen DeRosa, Brent Langdon, JaMario Stills, Rich Dreher, Ben Graney, Janella Abbott, Ben Graney, Meda Miller, Jamal Green. Musicians: Barbara Irvine, Phillip Racz, Peter Zimmerman, Alex Schmauk, Gregory Teperman, Valentina Fleer. Set Design: Riccardo Hernandez
  Costume Design: Miranda Hoffman
  Lighting Design: Christopher Akerlind
  Original music and sound design: Martin Desjardins
  Fight Director: Rick Sordelet
  Choreographer (McCarter) Sean Curran and Daniel Pelzig (Shakespeare Theatre Company).
  Running Time: 2 hours 45 minutes including intermission
  McCarter Theatre, 91 University Place, Princeton, NJ
  (609) 258 – 2787
  Tickets: $15 - $55
  Performances 03/10/09 through 03/29/09
  Review by Simon Saltzman based on performance 03/13/09
REVIEW FEEDBACK
Highlight one of the responses below and click "copy" or"CTRL+C"

I agree with the review of Twelfth Night
I disagree with the review of Twelfth Night
The review made me eager to see Twelfth Night
Click on the address link E-mail: esommer@curtainup.com
Paste the highlighted text into the subject line (CTRL+ V):

>Feel free to add detailed comments in the body of the email and state if you'd like your comments published in our letters section. . .also the names and emails of any friends to whom you'd like us to forward a copy of this review.

You can also contact us at Curtainup at Facebook or Curtainup at Twitter

Try onlineseats.com for great seats to
Wicked
Jersey Boys
The Little Mermaid
Lion King
Shrek The Musical
---
---

South Pacific

In the Heights

Playbill 2007-08 Yearbook

Leonard Maltin's 2008 Movie Guide


>