HOME PAGE

SEARCH

CurtainUp



REVIEWS

FEATURES

NEWS
Etcetera and
Short Term Listings

LISTINGS
Broadway
Off-Broadway

BOOKS and CDs

OTHER PLACES
Berkshires
London
LA/San Diego
DC
Philadelphia
Elsewhere

QUOTES

On TKTS

LETTERS TO EDITOR

FILM

LINKS

MISCELANEOUS
Free Updates
Masthead
NYC Weather
A
CurtainUp
Feature
Rudi Stern: Theater of Light
By Les Gutman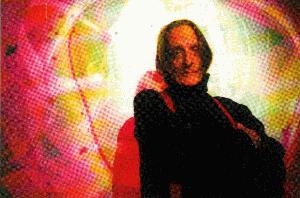 Rudi Stern (Photo: Alan Tannenbaum )




I first met Rudi Stern last summer. He and his crew were putting on a brief light show in Jersey City to the accompaniment of recorded music. Beaming his enormous hand-painted slide images from a handful of projectors onto the front of one of those new buildings on the waterfront, it was a counter-message, of sorts, to the "bigger" events of the city's July 4th and OpSail celebrations.

I was impressed by what I saw, but what I remember most about Rudi that night was how upset he was that a few people in the building had forgotten to lower their blinds, thus creating a hole in his "canvas". It was the first indication I had of the fastidious attention to detail that marked this artist. I'm not sure it occurred to me that what I was witnessing was "theater," but there was no doubt I was transported. I soon came to learn that Rudi was not one who felt bound by conventional definitions.

A few months later, I found Rudi and his images in more familiar surroundings -- at La Mama, where his Theater of Light was included in the Henson Foundation's International Festival of Puppet Theater. That time, too, Rudi's work seemed to break from the traditional mold: the only offering at the puppet festival that didn't have puppets!

We now find Rudi ensconced in the Lower East Side's FlamboyŠn Theater for a three month run evolving and expanding his Theater of Light. It's a show that now elegantly integrates puppets, both directly and in shadow, as well as masks. It also includes the rudiments of a story based on Herman Hesse's Steppenwolf. But Rudi Stern is not interested in simply telling a story to a captive audience; his theater is intended to lubricate rather than restrict our imagination, propelling audiences into "voyages to some of the destinations inside of us all". As it happens, Steppenwolf is a tool in that enterprise. "I have no big theories of theater,"he told me. "Compare this to pulling a candle close to you, seeing your own imagery in the shadows it casts. That's the direction the show hopes to take you. Theater for me is the potential for magic. Creating a hope for intelligent unexpected events. An exhibition is static even if the people are moving. I want people to go into their own Magic Theaters...and to get a lifetime subscription. This is all a tease for that promotional purpose."

Rudi's work on Theater of Light actually began in 1964, when he worked with Jackie Cassen on a psychedelic celebration for Timothy Leary, based on Steppenwolf. "I am coming back to this project, which has been my favorite creative activity. I have a great deal of love for it. Aesthetically, it's completely different from what I was doing 35 years ago -- richer and deeper. My ability to visualize coherent layers of color, to create mosaics of light and to differentiate rhythms of projected interaction has (luckily) gotten better. And I've put 35 more years of memories, image banks and life experiences into it."

The centerpiece of Theater of Light remains Rudi's spectacular images, emanating from over 2000 slides (each hand-painted by Mr. Stern). It requires over 40 slide projectors, each controlled to the split second, to realize the cascading journey on which Stern takes us. (Eight projections overlay one another for most of the pieces.) Each of the dozen works included in this show is set to music. In some cases, program notes tell us, the music prompted the images, whereas in others the images prompted the music.

"Adding the puppets was inspired by people I met at the Puppet Festival, especially Janie Geiser, whose show happened to share the space at La Mama with us. We've been evolving the way they are used, and have added a new fusion piece recently. Exploring puppetry is to begin to understand the nature of live shadow play. I love the interaction of negative and positive spaces in the projected light fields of this theater space. I wanted to use three dimensional puppets and specifically Benruku because I am intrigued with the relationship of the puppet to its manipulator...that is why I like the harnessing of the puppets to their handlers. AND that is why I make no attempt to hide the puppeteer. " Indeed, as a separate conversation with puppeteer Matt Lavin revealed, some audience members focus on the shadows created by the puppets, others like to look at the (quite wonderful) puppets themselves and still others like to watch the puppeteers plying their craft. Watching the show a third time from the outer edge of the theater's side section, I was astonished how much of the puppetry depended on choreography that was interesting to focus on as well. (Puppetry direction is by Erik Blanc, who is also one of the three puppeteers.)

It would be wrong to approach Theater of Light expecting a clear narrative line. Adding the puppets, Rudi admonishes, "is not intended to 'tether' the imagination but rather to build the gondola of richer and more substantial materials. I want the architecture to be as strong as possible". Think of it instead perhaps as an art exhibition through which you are gently guided by the artist. Here is an opportunity to go to the theater to relax, to let your mind wander and discover the direction in which it heads. As Rudi says it, "a momentary respite perhaps from the visual hamster wheel of our environment."

I'm reminded of the motto -- I think it's actually from Dante's Purgatory -- of the Scripps newspaper chain: "Give light and the people will find their own way".

Flamboyán Theater is located at the Lower East Side's CSV Cultural Center -- easily accessible from the F train's Delancey Street station (two short blocks east on Delancey, left 1 block on Suffolk, at 207 Suffolk, between Rivington and Delancey). It is home to the show until the end of March. Reservations via Ticket Central at (212) 431-7408.Performances are Wed. - Sunday@8, plus Thurs. - Sat. @10; $20. .