HOME PAGE

SITE GUIDE

SEARCH


REVIEWS

REVIEW ARCHIVES

ADVERTISING AT CURTAINUP

FEATURES

NEWS
Etcetera and
Short Term Listings

LISTINGS
Broadway
Off-Broadway

NYC Restaurants

BOOKS and CDs

OTHER PLACES
Berkshires
London
California
New Jersey
DC
Philadelphia
Elsewhere

QUOTES

TKTS

PLAYWRIGHTS' ALBUMS

LETTERS TO EDITOR

FILM

LINKS

MISCELLANEOUS
Free Updates
Masthead

A CurtainUp Feature
Itís the Economy Stupid! or The Turning Point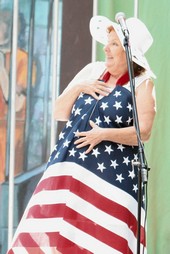 Crystal Field (Photo: Ariel Hessing)

Theater for the New Cityís 32nd annual summer tour once again brings politically aware free entertainment to all five boroughs from August 2 through September 14. This yearís musical, written and directed by Crystal Field with a score composed and arranged by David Tice, is called Itís the Economy Stupid! or the Turning Point.

review continues below



The show features a cast of 50 — children, teenagers and adults — singing, dancing and having lots of fun while Gabriel (Michael David Gordon), a mild-mannered angel who would rather save people from their own bad dreams, comes to earth so that he can warn its inhabitants that they need to take better care of themselves and their planet. Gabriel ends up battling a vicious Dark Force Messenger called Electric Man (Primy Rivera), who represents corruption, greed and the abuse of power. Gabriel finally convinces the people that the turning point has arrived and they must take matters into their own hands.

Field wrote her first full street theater piece in 1976. It was called Mama Libertyís Bicentennial Party and she played Mama Liberty. "I donít totally remember the story,"Ēshe says, "but it was just when we were getting rid of some terrible President [with a little prompting she remembers it was Richard Nixon] and there was a vaudeville number featuring Halderman, Erhlichman and Dean. Tim Robbins was one of the three."Ē

In fact, Field, who opened Theater for the New City with her ex-husband George Bartenieff, had been involved in street theater ever since the late 60s when she was a member of the Philadelphia company, Theater of the Living Arts. At that time she was invited by Peter Schumann, founder of Bread and Puppet Theater, to perform at an anti-Vietnam War event in Central Park. As she recalls it: "I wrote a small skit and [Schumann] liked it very much and told me to keep writing street theater and perform it.,"A short while later Schumann recommended Field to Robert Nichols, founder of the Judson Poets Theater, who had written The Expressway, about Robert Mosesí highway project, which many people feared would destroy lower Manhattan.

Field was in a car and had to smash into the stage, made up of boxes and struts designed by Nicholas, who is a landscape architect as well as a poet. Apparently she smashed up the stage so well that Nichols took a liking to her and began asking her to help with his street theater plays. At first Nichols would start a scene or a song and ask Field to finish it. But she soon began contributing more and more until in 1976 Nichols moved to Vermont and turned the whole job over to Field.

Fieldís shows mix the Broadway musical, commedia dellíarte and vaudeville. They use masks, trap doors, a smoke machine and giant puppets. The actors, a diverse group from all over the city, attend two weeks of workshops in June when they learn motion, dance, mic techniques, improvisation and character development. Then they have two weeks off while Field finishes the play and about seven songs. After three weeks of rehearsals the tour opens outside Theater for the New City on East 10th Street (this year rain brought the show indoors).

The performers go to different neighborhoods where people donít have the money to go to plays and are very grateful. We talk about issues they all know about — housing, healthcare, the environment, the war. These issues are handled with humor and sympathy. "When people can laugh at authority figures that are oppressing them, they feel better," says Fields.

But Field doesnít want to just entertain people. She wants to inspire them to take action. "When people are unorganized they are unable to do anything. We encourage people to take political action and vote," This is especially important during a presidential election. However, Field never advocates for any candidate. "We let people come to their own decisions."
Born and raised in New York, Field believes this is a city of many little neighborhoods. and In her shows "the neighborhood always wins. It may be only for the moment, but it is a victory."

For more information on Itís the Economy Stupid! or The Turning Point visit www.theaterforthenewcity.net.
Try onlineseats.com for great seats to
Wicked
Jersey Boys
The Little Mermaid
Lion King
Shrek The Musical
---

South Pacific

In the Heights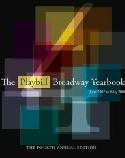 Playbill 2007-08 Yearbook

Leonard Maltin's 2008 Movie Guide