HOME PAGE

SEARCH

REVIEWS

FEATURES

NEWS
Etcetera and
Short Term Listings

LISTINGS
Broadway
Off-Broadway

BOOKS and CDs

OTHER PLACES
Berkshires
London
LA/San Diego
Philadelphia
Elsewhere

QUOTES

On TKTS

LETTERS TO EDITOR

FILM

LINKS

MISCELLANEOUS
Free Updates
Masthead
Writing for us
A CurtainUp Review
Sweeney Todd: The Demon Barber of Fleet Street
This being Movie City (the word Tinseltown will never pass these fingers), the touring production of John Doyle's revival of Sweeney Todd, now at The Ahmanson, was met with some trepidation. Some people weren't sure they wanted to see it again or at all. Almost everybody had seen the movie. Almost everybody loves Johnny Depp, whatever he does. Tim Burton's got Batman creds.

Well, pull your sox up and get down there. You won't need to spend half of this production with your hands over your eyes. When Sweeney slits a throat, the lights turn red, the action freezes, and a high string performs the role of a shriek. The book of this musical, sub-titled "The Demon Barber of Fleet Street", has an operatic tone and though it doesn't rank with Rigoletto musically, it certainly out-Toscas Tosca in the tragic story line about a barber unjustly imprisoned because the Judge (Keith Butterbaugh) lusts after his beautiful wife and who, crazed by his ordeal, returns to London to turn his barber chair into a guillotine.

Some aficionados consider this score the best of Stephen Sondheim and what John Doyle did with the revival in a stark and brilliant rendition is so unique we spent gallons of ink reviewing it in New York. Since the original cast is almost intact here, I won't repeat what's been covered, except for a few observations but, first of all, a tribute to what the New York production didn't have: David Hess as Sweeney Todd and Judy Kaye as Mrs. Lovett.

Hess is a tall, loose-limbed performer whose whole body imitates the sweeping gestures of the murderous barber. His portrayal is demonic and daffy. Both he and Kaye give the ghoulish pair playfulness and purpose. There's humor in this production, unlike the unrelievedly dark film version. Much of that is due to Kaye's impeccable timing, the delicacy of her yearning and her way with a tuba. All the cast play musical instruments, a move initially inspired by the English touring company's budget limitations. Kaye, who looks like she was born to play the tuba, actually inherited it from Patti LuPone, who played Mrs. Lovett on Broadway and played the tuba in high school. Both Kaye and Hess project the pain and tragedy of the demon barber, devastated by loss and 15 years in prison, and the woman warped by loneliness and poverty who becomes his perfect partner for a brief and bloody while.

Another inspired bit of business is having Johanna (Lauren Molina) and her lover Anthony (Benjamin Magnuson) play twin cellos. Doyle and Lauren Molina brought out a quirky quality in Johanna, an outrageous volte-face from the typical save-me ingénue interpretation of this role. Edmund Bagnell plays Tobias, the beggar boy who sings the heartbreaking "Not While I'm Around" with Mrs. Lovett which doesn't save him from her decision to decapitate him. Bagnell's instrument is the violin and in his hands, it gives the slight young actor's portrayal the look of one of the Irish fairy folk who caper and enchant, luring the unsuspecting to a delicious doom.

No credit was listed for the touring stage design, on which the musician/actors who are all on stage all the time, move ladder, coffin and other props, giving the production the impromptu quality of a rehearsal or recital. The lighting design by Richard G. Jones is masterful, somehow managing to imply shadows without actually projecting any. oyle's production is a blazing example of the value of poverty to imagination and we're all the richer for it.

Los Angeles Cast: Mrs. Lovett - Judy Kaye; Sweeney Todd - David Hess; Tobias - Edmund Bagnell; Judge Turpin - Keith Buterbaugh; Beggar Woman ... Diana DiMarzio; The Beadle - Benjamin Eakeley; Anthony - Benjamin Magnuson;Jonas Fogg - Steve McIntyre; Johanna - Lauren Molina Pirelli - Katrina Yaukey
From March 11-April 6, 2008 at the Ahmanson Theatre, N. Grand Avenue, Los Angeles, Reservations: (213) 628-2772 -Reviewed on March 12.
Attend the tale of Sweeney Todd.
His Skin was Pale and his eye was odd.
He shaved the faces of Gentlemen
Who never thereafter were heard of again
He trod a path that few have trod,
Did Sweeney Todd,
The Demon Barber of Fleet Street
--- from "The Ballad of Sweeney Todd"
---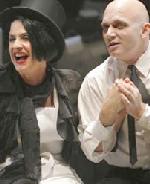 Patti LuPone and Michael Ceveris (Photo: Paul Kolnick)

Multi-tasking wasn't in our lexicon back in 1846 when a razor-wielding barber who turned his victims into meat pies appeared in a penny dreadful serial "The String of Pearls: A Romance" by Thomas Prest. Multi-tasking was yet to emerge on the lexical horizon when Stephen Sondheim transformed the demonic barber's story into a musical with a higher body count than Hamlet. But now that multi-tasking has become a way of life and the cost of mounting a musical can exceed the $10million mark, why not a multi-tasking Sweeney Todd: The Demon Barber of Fleet Street revival? Why not indeed! Especially, when British director John Doyle has given a whole new meaning to the old saw about necessity being the mother of invention with this cost-cutting but eccentrically entrancing actor-musician production.

Doyle's directorial vision, with its Brechtian flavor and flair and inspired borrowing from maddest of madhouse dramas, Marat/Sade, makes this third Broadway production truly new again. But whether grand like Harold Prince's 1979 production, or medium lite like Susan H. Schulman 1989 revival or Eric Schaeffer's at Washington's Signature Theatre in 1999, it's the resilience of Sondheim's score and lyrics that makes Sweeney Todd so adaptable and allowed Doyle to create the piquantly petite guignol production that brings a super-sized dose of fresh blood (figuratively as well as literally by the bucket) to the re-telling the grizzly tale.

Like theaters following the old actor-manager model of having directors and actors also handle management tasks, the actor-musician model that Mr. Doyle pioneered at his Watermill Theatre has its inherent problems -- in this case, watching the ten cast members juggle their instrument playing with singing Sondheim's often tricky score can be a bit distracting (I spent a good bit of time trying to see how the various performers took each others' places at the keyboard). Ultimately, however, the potential drawbacks are enriching because they work so well.

The cast elegantly handles the multi-tasking challenge -- especially Patti LuPone, who has already distinguished herself with a concert performance as Mrs. Lovett. She has brushed up on her schoolgirl tuba playing, without any diminishment of her diva-ish vocalizing. With her mesh knee hose and figure exaggerating, short black dress, her sexy and sassy Mrs. Lovett is one you won't soon forget.

Michael Cerveris embodies the "pale of face" and "odd-eyed" demon barber. He's eerie, very physical and, like LuPone, oddly sexy. His entrance from the main prop, a coffin, establishes the pitch black mood. Cerveris handles guitar, orchestra bells and percussions as effortlessly as he delivers a cornucopia of haunting songs. As the big black coffin is his point of entry as well as the counter of Mrs. Lovett's pie shop, a judge's bench and a lover's alcove, so a smaller white coffin does double duty as Sweeney's deadly barber chair and an infant coffin.

With the multi-tasking concept applied to the props as well as the actors, the only additions to the coffins are some chairs and an upstage ladder and ceiling high shelf containing assorted bric-a-brac of daily or normal life. No scenic recreations of Victorian London! No realistic barber's chair or oven to bake the human flesh filled pies! As Doyle trusts his performers to combine their instrumental and vocal skills, so he entrusts viewers to use their imagination to fill in the images evoked by Hugh Wheeler's book and Sondheim's lyrics.

For anyone needing a plot synopsis: Sweeney Todd was not always a vengeance focused, blood thirsty killer, but a loving husband and father -- that is, until he was exiled without just cause to Australia for fifteen years by the story's villain, Judge Turpin (Mark Jacoby) who wanted him out of the way because he lusted after his wife. The play begins with the wronged husband, now disguised as Sweeney Todd, back in London, finding his wife apparently dead and daughter Johanna (Lauren Molina) the ward of none other but the evil and still lascivious judge. Sweeney finds a willing helpmeet in Mrs. Lovett (LuPone), whose bakery dishes up "The Worst Pies In London."

The insane asylum framework sacrifices the underlying class struggle of the original and might be a bit confusing at first, but it fits the insane rage that drives the barber beautifully and allows viewers to see the entire story as an inmate's nightmare. That inmate whom we first see in a straightjacket and gagged, turns out to be the the half-witted Tobias (Manoel Felciano) and the gag, a red scarf knitted by Mrs. Lovett when she's not singing or playing the tuba or orchestra bells. Feliciano plays this part with appealing gentleness and his "Not While I'm Around" duet with Mrs. Lovett is one of the show's many musical highlights.

Once Tobias is released from his straightjacket, the story introduces the entire company with a riveting rendering of "The Ballad of Sweeney Todd." Sweeney enters seething with rage at the world to which he's returned ("There's a hole in the world / Like a great black pit / And the vermin of the world inhabit it / And its morals aren't worth / What a pig could spit / And it goes by the name of London").

The entire cast moves seamlessly from portraying their main characters and being part of the ensemble singing and instrument playing (I've included the instruments played by each performer in the production notes and if it strikes you that the instruments seem especially suited to the characters portrayed, you're right). Richard G. Jones's lighting is full of dazzling blazing red moments. Not one to ask more of his cast than himself, Doyle also multi-tasks, adding just enough blood-red accents to his stark black and white pallette.

Whether the economic benefits of this reduced cast Sweeney and the mostly ecstatic first round of reviews will break the Sondheim curse (great critical reception, so-so box office short-circuiting hopes for long runs), remains to be seen. If the packed house and enthusiasm of the audience at the performance I attended is any indication, this Sweeney Todd will sing and sizzle for a long time. I hope so.



SWEENEY TODD: The Demon Barber of Fleet Street
Music and lyrics by Stephen Sondheim
Book by Hugh Wheele,rbased on an adaptation by Christopher Bond.
Direction, Scenic and Costume Design: John Doyle
---
Cast: Patti LuPone (Mrs. Lovett--tuba/orchestra bells/ percussion ), Michael Cerveris (Sweeney Todd-- guitar/orchestra bells/percussion), John Arbo (Jonas Fogg--bass), Donna Lynne Champlin (Pirelli--accordion/keyboard/flute), Manoel Felciano (Tobias --violin, clarinet, keyboard), Alexander Gemignani (The Beadle -- keyboard, trumpet), Mark Jacoby (Judge Turpin--trumpet/orchestra bells/ percussion,) Diana DiMarzio ( Beggar Woman--clarinet), Benjamin Magnuson (Anthony--cello/ keyboard) and Lauren Molina (Johanna-cello).
Lighting Design: Richard G. Jones
Sound Design: Dan Moses Schreier
Hair & Wig Design: Paul Huntley
Music Supervisor: David Loud
Music Coordinator: John Miller
Musical supervision and orchestrations: Sarah Travis
Running time: 2 hours, 35 minutes, including one 15 minute intermission
Eugene O'Neill Theatre, 230 W. 49 St., 212, 239-6200
From
From 10/03/05; opening 11/03/05.
Mon through Sat @ 8:00PM, Wed & Sat @ 2:00PM; beginning 11/6 Tues @ 7:00PM, Wed through Sat @ 8:00PM, Wed, Sat & Sun @ 2:00PM br> Tickets: $101.25 to $36.25, Wednesday matinees $96.25 and $36.25
Closing 9/03/06 after 349 performances and 35 previews, then launching a national tour.
Reviewed by Elyse Sommer based on November 9th performance
Musical Numbers

Act One

The Ballad of Sweeney Todd/Company
No Place Like London/Anthony, Beggar Woman
The Barber and His Wife/Sweeney Todd
The Worst Pies in London/Mrs. Lovett
Poor Thing/ Sweeney Todd, Mrs. Lovett
My Friends/ Mrs. Lovett
Green Finch and Linnet Bird/ Johanna
Ah, Miss/ Anthony, Beggar Woman
Johanna/ Anthony
Pirelli's Miracle Elixir/Tobias, Sweeney Todd, Mrs. Lovett, Company
The Contest/ Pirelli
Johanna/Judge Turpin
Wait/ Mrs. Lovett
Kiss Me/Johanna, Anthony
Ladies in Their Sensitivities/ The Beadle
Quartet/ Johanna, Anthony, The Beadle, Judge Turpin
Pretty Women/ Sweeney Todd
Epiphany/ Sweeney Todd
A Little Priest/Sweeney Todd, Mrs. Lovett

Act Two

God,That's Good!/ Tobias, Mrs. Lovett, Sweeney Todd, Company
Johanna/ Anthony, Sweeney Todd, Johanna, Beggar Woman
By the Sea/Mrs. Lovett
Not While I'm Around/ Tobias, Mrs. Lovett
Parlor Songs/The Beadle, Mrs. Lovett
City on Fire!/ Tobias, Johanna, Anthony, Company
Final Sequence/Anthony, Beggar Woman,Sweeney Todd, Judge Turpin, Mrs. Lovett, Johanna, Tobias
The Ballad of Sweeney Todd/ Company