HOME PAGE

SITE GUIDE

REVIEWS

FEATURES

NEWS
Etcetera and
Short Term Listings

LISTINGS
Broadway
Off-Broadway

NYC Restaurants

BOOKS and CDs

OTHER PLACES
Berkshires
London
California
DC
Philadelphia
Elsewhere

QUOTES

On TKTS

PLAYWRIGHTS' ALBUMS

LETTERS TO EDITOR

FILM

LINKS

MISCELLANEOUS
Free Updates
Masthead
Writing for Us SEARCH
A CurtainUp Review
Shining City
. . .you know, it's weird to accept what happiness really is. . .nothing is ever like anyone expects, is it, you know? Like, it's not a fairy tale. . .I mean it has to be just kind of ordinary, you know? A bit boring even, otherwise it's probably not real, you know? --- John
---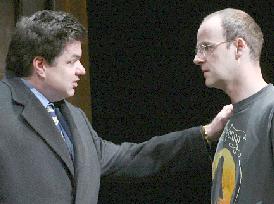 Oliver Platt and Brian F. O'Byrne in Shining City
(Photo: Joan Marcus)

If any more Irish plays land at Broadway theaters, we're all likely to be talking with a bit of a brogue. The arrival of Conor McPherson's newest play, Shining City, presents a chance to see both a Friel classic and a play by the prolific young playwright who's regarded as one of Friel's outstanding disciples.

As you can see from the links below, we've followed McPherson's career since he first made his mark at age twenty. He's now in his mid-thirties and his recent plays, while still quiet and in the story-telling mode, have had more dressed up presentations in which, instead of one charcter holding the stage, three or four actors interact. Thus unlike The Faith Healer, with its four separate but interconnected monologues, Shining City has five scenes, each a duet between Ian (Brian F. O'Byrne), an ex-priest now working in Dublin as a therapist, and one of the play's three other characters.

Typical of writers like Synge, McPherson has a penchant for ghosts. In St. Nicholase a has-been theater critic is spooked by his wrongdoings. His last Broadway play, The Weir, used a village pub as a setup for swapped ghost stories.

Ghosts are also a handy means for exploring the psyches of males trapped in guilt and insecurity driven emotional solitary confinement. In Shining City, MaPherson employs the therapeutic setting to tell the parallel stories of two such men and, skilled storyteller that he is, he has managed to take a rational as well as a more metaphysical approach to the ghosts that haunt John and Ian.

The play opens with Ian preparing for the arrival of his first patient. That patient, John (Oliver Platt), recently lost his wife in a car crash. Now, this practical businessman who's heretofore dealt with life's little and big blows with typical male restraint is completely discombobulated by visions of his dead wife. The dead wife who goes bump in the night has spooked him into moving out of his house and seek counseling. It's a bit hard to believe that a man so new to therapy could so quickly unloosen his feelings and find use for the box of tissues Ian has tactfully put on the coffee table. But then, he IS desperate, and we only have ninety minutes for not only John but Ian to bring forth and try to get rid of their demons.

It's fairly obvious from that first scene (there are five scenes altogether, with two months elapsing between each) that John's spectral visions stem from a less than perfect marriage and that his revelations will stir up complementary unresolved insecurities about religious faith, sexual identity and commitment in Ian. Oliver Pratt, a well-known stage and TV character actor is an intense and often droll John and Brian F. O'Byrne, who was still a working priest in his most recent Tony-award nominated role in Doubt, is well cast as the self-defrocked priest. The strong chemistry between the actors helps us to understand the differences as well as the similarities that have stranded each man at a troublesome crossroad in his life.

The therapist's problems turn out to be more complicated than his patient's. This is borne out by a scene between O'Byrne and Neassa (Martha Plimpton), the woman who has been his lover and borne his child -- and also via a brief encounter with a young man (Peter Scanavino) that mirrors his patient's marital misadventures. The O'Byrne/Plimpton encounter is harrowing, not because of any physical violence, but in its depiction of a man who, unable to make peace with himself, is ready to break as finally with a woman he loves as he did with his faith.

Neasa bears considerable kinship to Grace in The Faith Healer but McPherson has written her a less plummy role; and, while Plimpton probably does the Irish accent better than Cherry Jones as Grace, she's not as riveting to watch. In any case, the heart and soul of Shining City is in the building relationship between the two mixed-up men.

Director Robert Falls moves the story forward with understated grace, though the bits of business about the difficulties of buzzing visitors into Santo Loquasto's handsome and almost too spacious Dublin walk up are a bit overdone. As in another Irish play currently on the Great White Way, The Lieutenant of Inishmore, there's a stunning surprise ending which you won't hear more about from me. However, don't expect that play's kind of bloody excitement from Shining City. Unlike Mr. McDonagh's gun-wielding loose cannons, Mr. McPherson's characters explode strictly with words -- without a drop of spilled blood.

LINKS
Links to Other Reviews of Plays by Conor Mc Pherson
Dublin Carol
the Good
Port Authority
Rum and Vodka
This Lime Tree Bower
St. Nicholas
Links to Other Irish Plays Currently on Broadway
The Faith Healer
The Lieutenant of Inishmore



SHINING CITY

Playwright:Conor McPherson
Directed by Robert Falls
---
Cast: Martha Plimpton (Neasa), Brian F. O'Byrne (Ian), Oliver Platt (John), Peter Scanavino (Laurence)
Set Design: Santo Loquasto
Costume Design: Kay Voyce
Lighting Design: Christopher Akerlind
Sound Design: Obadiah Eaves
Dialect Coach: Deborah Hecht
Incidental Music Credits: "Polly Come Home," "Through the Morning, Through the Night" and "Fair and Tender Ladies" by Gene Clark; " Razor Love" by Neil Young.
Running time: 90 minutes, without an intermission
Manhattan Theatre Club at Biltmore Theatre, 261 West 47th Street, 212/239-6200
From 04/13/06 to 7/02/06; opening 05/03/06
Tues 8:00 pm, Wed 8:00 pm, Th 8:00 pm, Fri 8:00 pm, Sat 2:00 pm, Sat 8:00 pm, Sun 2:00 pm, Sun 7:00 pm
Reviewed by Elyse Sommer based on May 5th press performance
Shining City Gets a Somewhat Less Enthusiastic Review in its Director's Home Town than During Its Broadway Run
It takes a village to make an Irish play–or it used to. The new Dublin represented by 37-year-old Irish playwright Conor McPherson is as modern in alienating its citizens and abandoning tradition as its plethora of Euro dollars and cybercafes (where communal drinking is hardly the main activity).

Shining City, which Goodman Theatre artistic director Robert Falls directed last season on Broadway and which he now brings to his Chicago with a strong local cast, is a puzzling 90 minutes (reputedly, the first play McPherson wrote while sober). Here the usual Big Cs—context, causes, connections, consequences, and crises— don't apply. That may well be the point but it's hardly gripping. The old beliefs—ghosts, religion (the title alludes to heaven), marriage for procreation— are left behind, while new ones—psychotherapy and casual sex—have yet to fill the void.

Ian (Jay Whittaker) is a Dublin therapist and, significantly, a former priest whose patient John (John Judd) is a childless, 52-year-old caterer whose wife recently died in an especially pointless car crash. Driven sleepless by visions of his wife's ghost, John has left his home and sought kneejerk sex to drive away this too-close memory. Ian has also left home, here his brother's house, abandoning his common-law Neasa (Nicole Wiesner), who also left orders, and child to these unsympathetic relatives. Finally, another, strangely sympathetic, character (Keith Gallagher) appears to expose a different side of Ian's life of denial.

In scenes that play more like episodes from a series than parts of a play, the characters clumsily reach out to help or hurt. Ian sees his diminished duty, not as a priest who can intercede with heaven, but as a good listener who helps "stuck"people get out of their rut and move on. By the end, he's returned to his fiancee and child and is moving to Limerick. Oddly indeed, this seemingly contemporary play ends with a genuine Gothic-style shock effect straight out of an Irish nightmare. No question, it has its effect but, an instant later, seems gratuitous and silly, a punchline with no setup.

It's one of the few false notes in Falls' painstaking and sometimes moving look at lonely folks searching for balance amid a major city's relentless change. Very athletically driven, Whittaker's trouble-seeker Ian, Wiesner's magnificently anguished and totally helpless wife, and, especially, Judd's haunted husband dying for the slightest hope—these roles won't harmonize into an ensemble. They're sadly separate. If they connect, it's as arbitrary as anything in the city. Only the ghosts, it seems, persist.

Shining City, plays at the Goodman Theatre, 170 N. Dearborn, through Feb. 17, 2008. Tickets are $30-$70. Reviewed by Lawrence Bommer.