HOME PAGE

SITE GUIDE

SEARCH


REVIEWS

REVIEW ARCHIVES

ADVERTISING AT CURTAINUP

FEATURES

NEWS
Etcetera and
Short Term Listings

LISTINGS
Broadway
Off-Broadway

NYC Restaurants

BOOKS and CDs

OTHER PLACES
Berkshires
London
California
New Jersey
DC
Philadelphia
Elsewhere

QUOTES

TKTS

PLAYWRIGHTS' ALBUMS

LETTERS TO EDITOR

FILM

LINKS

MISCELLANEOUS
Free Updates
Masthead
Writing for Us


A CurtainUp Review
The Shape of Metal
Failure. It really is just a question of how great are one's failures. And how one lives with them.— Nell, the eight-two-year old artist reflecting on a life which saw failure as a contagious disease to be avoided even if it meant abandoning the husband she considered a failure.
---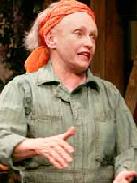 Roberta Maxwell
(Photo: Stephen Lovekin)

In this portrait of an artist in the deepest winter of her discontented decline, Thomas Kilroy has written a juicy role for an older actress. And Roberta Maxwell makes a feast of her role as an ailing and lonely octogenarian sculptor whose works are about to be given a permanent home in a new national museum.

Too bad that Nell Jeffrey isn't all that memorable a character. Too bad also that Kilroy's exploration of the effect of her career and self-indulgent life style on her personal relationships adds up to a somewhat murky mother-daughter drama, complete with a dark family secret uncovered just as Nell seems ready for a rendezvous with the Grim Reaper.

The Shape of Metal, which derives its name for the metal and stone Nell works with, had its premiere in 2003 at Dublin's Abbey Theatre, where early on in his career Kilroy worked as a play editor. Set at the time it was written, but with flashbacks to 1974, t he play is now making its New York debut for a very brief run at 59E59. It's directed by Brian Murray, who most of us are accustomed to seeing on stage (though his directing credits include productions of Hay Fever, Arsenic and Old Lace, Blithe Spirit and The Circle). With the help of set designer Lex Liang, Murray has managed to give the miniscule stage of Theater B the aura of an atelier for creating large works, complete with a large rolling door revealing a glimpse of a garden. However, the two hour drama never fulfills the promise of its breathtakingly atmospheric and dramatic opening since Murray and his trio of fine actors are stuck with the bafflingly vague aspects of plot and characters that fail to lead to a clarifying and solidly dramatic conclusion.

While there's much talk about love affairs and ruminations about meetings with Beckett and Giacometti, the plot centers around a visit from Nell's daughter Judith (nicely portrayed by Julia Gibson) after the death of Eddie, the husband Nell long ago threw out because she could not tolerate his being a failure. ("Failure is like a damp. Seeps into everyone and everything nearby.") It turns out that Judith not only didn't care very much for her father but also harbors plenty of hostility towards her mother. Nevertheless she feels a need to get to the bottom of her family history: Could she have been caring for a man who wasn't really her father? And more importantly, why did her older sister Grace (Molly Ward ) disappear thirty years ago? Ward as this mentally crippled combination of Laura Wingfield and James Joyce's mentally ill daughter Lucia makes several ghost-like appearances via Nell's and Judith's dreamy memories. It's her disappearance and its cause that's the dark secret driving the plot.

While the secret of Grace's flight from her mother's home IS revealed (I won't be a spoiler by detailing it here), we never learn much about just how Nell became an artist or what Judith has been doing since her bookworm teens besides looking after her dad in his final years. Kilroy's efforts to show the similarities between mother and daughter despite Nell's sexual appetites and Judith's preference for women are also unclear.

Most puzzling of all is that while Judith is in a proper rage once she discovers just what drove Grace away and to an unknown fate, the play makes a sharp turnaround towards the end. That end finds Judith not exactly reconciled with her mother, but her outrage over the family secret that she said made it impossible that anything could ever be the same again seems to have evaporated. Instead of ranting about Nell's failure as a mother, she is now focused on championing her art. Since she seems to have no job to go back to once this visit is over, one can only conjecture that, like many children of famous artists, she will become the caretaker of her mother's artistic legacy — despite the mother's own realization that "no matter who you are or what you've done everything comes down finally to what is ordinary. Boots and shoes. And tired feet."



THE SHAPE OF METAL
By Thomas Kilroy
Directed by Brian Murray
---
Cast: Roberta Maxwell,(Nell Jeffrey), Julia Gibson (Judith), Molly Ward (Grace)
Sets: Lex Liang
Costumes: Elizabeth Flauto
Lighting: Phil Monat
Sound: Zachary Williamson
Dialect Coach: Amy Stoller
Origin Theatre Company in association with The Sullivan Project at 59E59 Theaters, (212) 279-4200 or www.59e59.org
From 9/08/07 to 9/30/07; opening 9/12/07
Tuesday — Saturday at 8:15 PM and Sunday at 3:15 PM.
Running Time: 2 hours with one intermission
Tickets: $21
Reviewed by Elyse Sommer at 9/11 press performance



Try onlineseats.com for great seats to
Wicked
Jersey Boys
The Little Mermaid
Lion King
Shrek The Musical

Easy-on-the budget super gift for yourself and your musical loving friends. Tons of gorgeous pictures.

Leonard Maltin's 2007 Movie Guide

At This Theater
Leonard Maltin's 2005 Movie Guide


>