---
HOME PAGE

SITE GUIDE

SEARCH

ADVERTISING AT CURTAINUP

REVIEWS

FEATURES

NEWS
Etcetera and
Short Term Listings

LISTINGS
Broadway
Off-Broadway

NYC Restaurants

BOOKS and CDs

OTHER PLACES
Berkshires
London
California
New Jersey
Philadelphia
Elsewhere

QUOTES

TKTS

PLAYWRIGHTS' ALBUMS

LETTERS TO EDITOR

FILM

LINKS

MISCELLANEOUS
Free Updates
Masthead
Writing for Us



A CurtainUp Los Angeles Review
Getting Frankie Married-and Afterwards
You're at the mercy of whatever talent you have.— Horton Foote
---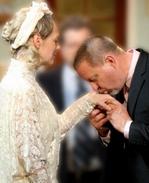 Martha Demson as Frankie and John Lacy as Fred (Photo: )

It's unmistakably Horton Foote country where the people are conventional, the dialogue is everyday and yet you're spellbound by the intensity with which they live, the importance that permeates their trivial conversation. Debuting at The Open Fist Theater, &quotGetting Frankie Married-and Afterwards&quot is a masterpiece/

The Willis home in 1990 is comfortable but tasteless, home to Fred (John Lacy), the middle-aged son of Mrs. Willis (Judith Scarpone) whose father died when he was seven. It also houses Mae (Algerita Lewis), who tends Mrs. Willis with one eye on the bible and most of the time Frankie (Martha Demson) is there, the sweet 39-year-old girl who has been Fred's sweetheart since they were teen-agers.

The plot unwinds through the gossip of the three fates, Constance (Stephanie Erb), Laverne (Laura Richardson) and Isabel (Teresa Willis) — conventional married ladies who contrast vividly with Georgia Dale (Maia Madison) and husband S.P. (Jim Haynie). Georgia Dale is the marrying kind. S.P. is her third husband and she keeps an eye on him in a sharp acerbic way, timing his medications, taking him home when he starts to complain.

Fred is a stay-at-home son and protects Frankie, though she doesn't realize it, from the imperious Mrs. Willis. Everybody in the small town whispers that Frankie is Fred's common-law wife. Eveybody, too, gossips when Carlton Gleason (Bjorn Johnson) comes back to town, because Carlton is reputed to be Fred's daddy's son. Fred's daddy married Fred's mama hastily to avoid marryin' Carleton's mama. Now history repeats itself, as Fred is slapped by a breach of promise suit by young and lovely Helen Vaught (Laetitia Leon) and begs Frankie to marry him the next day.

She agrees in a dripping lace dress that's to die for, but the first act ends with Frankie screaming for Fred in the living room while his mother screams for him in the bedroom. It's a great first act curtain!

Act II, also a three-scener, whisks along to its climax. Fred has a middle-aged man's passion for Helen, two babies are born and the end is drenched in tears.

The beauty of Foote's plays is that he never condescends to his people. Fred, hogtied to his imperious mother, maintains through his stupidity a dignity and sweetness. He's forthright in his talks with Frankie. Frankie, a small-town conventional woman, also never loses her dignity. Mrs. Willis, an irascible old curmudgeon, is vulnerable in her fear of illness: "I don't want to lie in that bed helpless."

Martha Demson is lovable as Frankie and her outraged impassioned screams when Fred deserts her on her wedding day have all the power of received truth. John Lacy is an exasperating Fred, but understandable. Judith Scarpone is superb as Mrs. Willis, imperious one minute, childlike the next. It's a part that plays all the ends, one of the few Foote has written, and Scarpone makes the most of it. Jim Haynie as old S. P. is every inch the old man, bent, crippled and complaining. Let's hope someday Mr. Haynie gets a part with more range. He's partnered by an acerbic Maia Madison, dripping in jewels and well on her way to trap Carlton til Frankie stops her in her tracks.

Scott Paulin directs with a keen and sensitive eye to the nuances in Foote's plays. He never lets his fine cast go over the top and they're cast with care. James Spencer's scenic design catches Mrs. Willis's small town Texas living room with all its pomposity, complemented by Dan Reed's lighting design. Getting Frankie Married is another sometimes hilarious, sometimes tragic instance of Mr. Foote finding the humanity in ordinary lives.



Getting Frankie Married-and Afterwards
Playwright: Horton Foote
Director: Scott Paulin
Cast: Frankie (Martha Demson), Fred (John Lacy), Mrs. Willis (Judith Scarpone), Constance (Stephanie Erb), Laverne (Laura Richardson), Mae (Algerita Lewis), Georgia Dale (Maia Madison), S. P. (Jim Haynie), Isabel (Teresa Willis), Helen Vaught (Laetitia Leon), Bill Simmons (Andrew Schlessinger), Carlton Gleason (Bjorn Johnson).
Scenic Design: James Spencer
Costume Design: Christina Wright
Lighting Design: Dan Reed
Wig Stylist: Joseph DiMaggio
Sound Design: Peter Carlstedt
Stage Manager: Renee Peffer
Running Time: Three hours, one intermission
Running Dates: April 2-May 15, 2010
Where: The Open Fist Theatre, 6209 Santa Monica Blvd., Los Angeles. Reservations: (323) 882-6912.
Reviewed by Laura Hitchcock on April 2, 2010.

Subscribe to our FREE email updates with a note from editor Elyse Sommer about additions to the website -- with main page hot links to the latest features posted at our numerous locations. To subscribe, E-mail:

esommer@curtainup.comesommer@curtainup.com
put SUBSCRIBE CURTAINUP EMAIL UPDATE in the subject line and your full name and email address in the body of the message -- if you can spare a minute, tell us how you came to CurtainUp and from what part of the country.
Visit Curtainup's Blog Annex
Curtainup at Facebook . . . Curtainup at Twitter
REVIEW FEEDBACK
Highlight one of the responses below and click "copy" or"CTRL+C"
I agree with the review of Getting Frankie Married
I disagree with the review of Getting Frankie Married
The review made me eager to see Getting Frankie Married
Click on the address link E-mail:
esommer@curtainup.com
Paste the highlighted text into the subject line (CTRL+ V):
Feel free to add detailed comments in the body of the email. . .also the names and emails of any friends to whom you'd like us to forward a copy of this review.