HOME PAGE

SITE GUIDE

SEARCH


REVIEWS

REVIEW ARCHIVES

ADVERTISING AT CURTAINUP

FEATURES

NEWS
Etcetera and
Short Term Listings

LISTINGS
Broadway
Off-Broadway

NYC Restaurants

BOOKS and CDs

OTHER PLACES
Berkshires
London
California
New Jersey
Philadelphia
Elsewhere

QUOTES

TKTS

PLAYWRIGHTS' ALBUMS

LETTERS TO EDITOR

FILM

LINKS

MISCELLANEOUS
Free Updates
Masthead

A CurtainUpReview
Encores' On the Town
New York, New York, a helluva town,
The Bronx is up and the Battery's down.
The people ride in a hole in the groun'.
New York, New York, it's a helluva town!!
---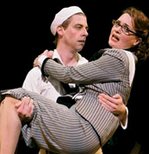 Christian Borle as Ozzie and Jennifer Laura Thompson as Claire DeLoone
(Photo: Joan Marcus)

Even with financial gloom and doom hanging over New York's economy, it's still "a helluva town" and well worth celebrating. Ten years ago, when On the Town last played on a New York stage, Broadway seemed bereft of innovative new musicals. That made the time ripe for a revival of this dance studded musical with Leonard Bernstein's thrilling symphonic score. But while the music was, and always will be indestructible, the revival staged by the Public Theater's creative wizard George C. Wolfe proved to be as disappointing as the season's so-so new musical bill of fare.

Now the invaluable Encores! series has again put our razzle-dazzle city into the spotlight to give New Yorkers a chance to once again experience the magic of this first of a trio of New York musicals by Comden and Green (Wonderful Town, 1953, again with music by Bernstein which five years went from an Encores! revival to a successful Broadway run; and The Bells Are Ringing, 1956, with music by Jules Styne).

It's not much of a story (Set in wartime 1944, the show chronicles the adventures of three sailors on a 24-hour shore leave in New York City). But oh that gorgeous music! For all its symphonic resonance, this is, a real dancing show which, in fact, had its genesis in Jerome Robbins' ballet, "Fancy Free." Several of Robbins' terrific dance numbers have been reconstructed by Encores' Warren Carlyle with an assist from Scott Wise who won the Tony Award for his performance in Jerome Robbins' Broadway. As each of the sailors — this time played by Justin Bohon, Christian Borle and Tony Yazbeck— falls in love with a woman, so the show's creators reveal the main object of their affections: New York City. And so, as we follow the sailors on their madcap 24-hour leave, we're taken to all the attractions that made New York circa 1944 "New York, New York, a visitors place/ Where no one lives on account of the pace,/ But seven millions are screaming for space."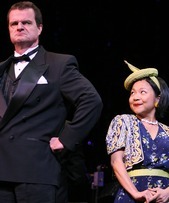 Michael Cumpsty & Julyana Soelistyo
(Photo: Joan Marcus)

Since On the Town was a wartime entertainment, and still is (even though unlike World War Ii , our armed forces aren't as highlyly visible a part of the New York scene), so this revival aptly begins, as it did originally, with Todd Ellison's orchestra striking up the band with "The Star Spangled Banner." The Encores! production is especially timely since it's is part of the city-wide Leonard Bernstein 90th Birthday Celebration. As Jack Viertel explains in his fine background piece in the show's Playbill, this production was conceived as a tribute to both Bernstein and Jerome Robbins and it was this focus on the show as a homage to these two men, that dictated the presentation choices. Thus, the orchestra which was after all Bernstein's instrument, is not only larger than usual, but positioned more prominently on stage, in between the close to the audience section where the story plays out, and the elevated area where the Robbins choreography is performed. The concept works beautifully to showcase Bernstein's thrilling music, his wonderful show tunes and the gorgeous Robbins choreography.

While this production has not abandoned the scripts-in-hand style that's part of these all too short runs with their limited rehearsal times, this dance heavy show makes those scripts more unobrusive than ever. Tony Yazbeck, on leave from Gypsy is an attractive and endearing Gabey. Jessica Lee Goldyn's Miss Turnstiles makes you understand his being smitten the minute he spots her picture in the subway poster. The fleetfooted Christian Borle and Justin Bohon are perfect choices to round out the bell-bottomed trio on their first visit to New York.

Leslie Kritzer must surely be enjoying the fun role of Hildy Esterhazy after her recent and considerably darker role in The Catered Affair. She puts a fresh stamp on the role of the romantically aggressive taxi driver. Andrea Martin's so hilariously chews up the scenery as a way with over the top Madame P. Dilly that at one point Jessica Lee Goldyn could barely contain her own giggles.

Michael Cumpsty, whose mellifluous speaking voice has lately worked well in musicals like Sunday in the Park With George, is a fine Pitkin W. Bridgework. His role is relatively minor but he takes his "I Understand" to a full throttle solo in which he finally declares that he doesn't understand Julyana Soelistyo is adorably funny in the even smaller role of Hildy's sneezing roommate Lucy Schmeeler

I could go on, but you get the idea. Count yourself among New York's luckiest if you nabbed a ticket for one of the seven performances.

Note: If you saw the original, you'll see that a few songs have been eliminated and/or reorganized, but overall, the best of the show is intact.



ON THE TOWN
Music by Leonard Bernstein
Book and lyrics by Betty Comden and Adolph Green
Based on an idea by Jerome Robbins
Directed by John Rando
Choreographed by Warren Carlyle
Cast: Tony Yazbeck (Gabey), Christian Borle (Ozzie), Justin Bohon (Chip), Jessica Lee Goldyn (Ivy), Leslie Kritzer (Hildy Esterhazy), Jennifer Laura Thompson (Claire DeLoone), Andrea Martin (Madame P. Dilly), Michael Cumpsty (Pitkin W. Bridgework), Julyana Soelistyo (Lucy Schmeeler)
Ensemble: Lawrence Alexander, Andrea Beasom, Kristine Bendul, Tanya Birl, Angie Canuel, John Carroll, Rachel Coloff, Michael Cusumano, Susan Derry, Emilee Dupré, Autumn Hurlbert, Ryan Jackson, Mary MacLeod, Monica L. Patton, Adam Perry, Steve Schepis, Geno Segers, Charlie Sutton, Kevin Vortmann, Price Waldman, J.D. Webster and Ashley Yeater. Sets by John Lee Beatty
Costumes by Martin Pakledinaz
Lighting by Clifton Taylor
Sound by Tom Morse
New York City CenterWest 55th Street between 6th and 7th Avenues), www.nycitycenter.org
Tickets: $95 to $25
Performance Schedule: November 19, 20, 21, 22, 2008 at 8:00 pm, November 22, 2008 at 2pm; November 23 at Sunday, November 23 at 6:30 pm

---
On The Town Song List
Act One
I Feel Like I'm Not Out of Bed Yet / Geno Segers, Price Waldman, Kevin Vortmann and J. D. Webste
New York, New York/ Christian Borle, Justin Bohan, Tony Yazbeck, and Girls
Presentation of Miss Turnstiles / Kevin Vortmann, Jessica Lee Goldyn and Ensemble
Come Up to My Place / Justin Bohan and Leslie Kritzer
Carrried Away / Jennifer Laura Thompson and Christian Borle
Lonely Town / Tony Yazbeck and Ensemble
Carnegie Hall Pavane (Do, Re Do) / Jessica Lee Goldyn, Andrea Martin, Women Ensemble
I Understand/ Michael Cumpsty
Carrried Away (reprise)// Jennifer Laura Thompson and Christian Borle
I Can Cook Too/ Leslie Kritzer
Lucky to Be Me / Tony Yazbeck and Ensemble
Times Square Ballet (Sailors on the Town)/ Company

Act 2
So Long, Baby / Ensemble Women
I Wish I Was Dead / Rachel Colott
Congo Cabana/Orchestra
I Wish I Was Dead / Rachel Colott
Ya Got Me / Leslie Kritzer, Jennifer Laura Thompson, Christian Borle, Tony Yazbeck
Slam Bang Blues/Orchestra
I Understand (Reprise)/ Michael Cumpsty
Imaginary Coney Island / Orchestra
Pas de Deux/ Tony Yazbeck, Jessica Lee Goldyn, Ensemble
Some Other Time /Jennifer Laura Thompson,, Justin Bohan, Leslie Kritzer, Christian Borle
The Real Coney Island / J. D. Webster and Company
Finale/ Charlie Sutton, Adam Perry, Michael Cusumano and Full Company
REVIEW FEEDBACK
Highlight one of the responses below and click "copy" or"CTRL+C"

I agree with the review of Encores! On the Town
I disagree with the review of Encores! On the Town
The review made me eager to see Encores! On the Town
Click on the address link E-mail: esommer@curtainup.com
Paste the highlighted text into the subject line (CTRL+ V):

Feel free to add detailed comments in the body of the email.