HOME PAGE

SITE GUIDE

SEARCH

ADVERTISING AT CURTAINUP

REVIEWS

FEATURES

NEWS
Etcetera and
Short Term Listings

LISTINGS
Broadway
Off-Broadway

NYC Restaurants

BOOKS and CDs

OTHER PLACES
Berkshires
London
California
New Jersey
Philadelphia
Elsewhere

QUOTES

TKTS

PLAYWRIGHTS' ALBUMS

LETTERS TO EDITOR

FILM

LINKS

MISCELLANEOUS
Free Updates
Masthead
Writing for Us


A CurtainUp Los Angeles Opera Review
Don Giovanni
I need women more than the food I eat or the air I breathe. To love just one would be cruel to all the others.— Don Giovanni
---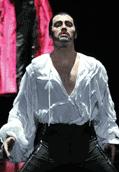 Erwin Schrott in Don Giovanni

Alas, Don Giovanni's character is as relevant as ever, the philanderer to whom women are a game played by the numbers which are tallied in a notebook by his servant Leporello. Devilishly attractive as portrayed by Uruguayan baritone Erwin Schrott in silken scarlet 18th century suit, tricorn horn-shaped hat, hair cut to a demonic widow's peak and a mask that hides him from the women he seduces or rapes, Schrott prowls after his fascinated victims like a jaguar. With them he is the suave smitten courtier but his vicious side emerges as he murders the Commendatore, father of Donna Anna whom he tried to assault, and bullies Leporello, even trying to shift the blame to him.

This production returns by popular request to The Los Angeles Opera, where it was performed in 2003 to 95% capacity. Mozart's opera, which premiered in Prague in 1787, is based on the legend of Don Juan. The libretto is by Lorenzo Da Ponte, who was Mozart's librettist for The Marriage of Figaro. Here Mozart combines the divine retribution ordained for sinners by the counter-Reformation with the opera buffa elements beloved by audiences. These occur in the relationship between Leporello and his master and with Don Giovanni's hi-jinks with the peasants Zerlina and Masetto on their wedding day.

The three women in the piece, though stock characters, are familiar present-day types as well. Donna Anna, in a velvet-voiced LA Opera debut by Alexandra Deshorties, resists the Don's advances and mourns her father's murder, consoled by her handsome fiancée, Don Ottavio (Charles Castronovo, a graduate of Cal State Fulleton, whose beautiful unaffected tenor and stage presence charmed the audience). Donna Elvira, in a performance of passionate obsession by Maria Kanyova, alternates between wanting vengence on Don Giovanni and wanting him back. Hers is the largest part with the most range and it's too bad she's determined to go to a convent at the end. Light-hearted Zerlina, whom her fiancé Masetto describes as "a little tramp" who drives him crazy, would willingly enter into Don Giovanni's bed games with no ill effects. She's played with mischievour élan by Lauren McNeese, partnered by James Creswell who makes her fiancée Masetto a bewildered buffoon.

Kyle Ketelsen finds puckish humor and exasperation in the long-suffering Leporello, who can't quite break away from his mesmerizing master. Kang-Liang Peng plays the Commendatore with dignified authority, both before he is killed in a duel with Don Giovanni and after his statue returns from the cemetery to send his rakish murderer straight through the stage floor to hell. .

Director Mariusz Trelinski underlines the domineering spirit of the time and the rake by having Leporello drive the servants like horses and making Don Giovanni's maids prance like dogs. Despite the passion, lust and crime, Mozart makes us see that there is no true feeling or connection between the characters, with the exception of Donna Anna's mourning for her father and Don Ottavio's love for her. Trelinski underlines the abstract distance between the characters by placing them on an equally abstract set, a dark box striped with red neon lights designed by Boris F. Kudlicka.

Arkadius's sumptuous costumes are equally abstract, blending elements of Velazquez, Kabuki and opera buffa. They are dispensed with almost altogether for The Commendatore and his fellow ghosts who are nearly nude with marble skin that echoes both tombstones and the hue of the Commendatore's statue which comes to life and comes to dinner.

Choreographer Emil Wesolowski echoes the abstract theme by having performers pirouette like figures on a music box or, in a mime performance during the overture, move as stiffly as puppets. His ghosts creep across the stage with grave inhumanity.

Conductor Harmut Haenchen finds a perfect blend for the opera's several sextets and the Masked Trio at the ball. He coaxes Erwin Schrott from the exquisite Act II aria in which he serenades Donna Elvira's maid to his dashing "Fin ch'han dal Vino" and his final terror at the approach of the sepulchral Commendatore at the end. He pinpoints Ketelsen's scornful lightness in "Madamina.",wherein Leporello itemizes Don Giovanni's conquests, brings out the richness in Deshorties' rendition of Donna Anna's tour de force vendetta aria and keeps Kanyova from going over the top in Donna Elvira's anguished aria "I still feel for him pity."

It's both a tribute and lament for our time to say that Mozart's 220-year old opera would make a wonderful movie. In this performance, Erwin Schrott, who also gave LA Opera a bold and dashing Escamillo in Carmen, is perfectly cast in what has become his signature role and the production flourishes and writhes around him like the most alluring flowers of hell.



DON GIOVANNI
Composer: Wolfgang Amadeus Mozart. Libretto: Lorenzo da Ponte:
Conductor: Harmut Haenchen
Director: Mariusz Trelinski
Cast: Kyle Ketelsen (Leporello), Alexandra Deshorties (Donna Anna), Erwin Schrott (Don Giovanni), Kang-Liang Peng (Commendatore), Charles Castronovo (Don Ottavio), Maria Kanyova (Donna Elvira), Lauren McNeese (Zerlina), James Creswell (Masetto)
Set Design: Boris F. Kudlicka
Lighting Design: Alan Burrett/BrianGale
Costume Design: Arkadius
Choreography: Emil Wesolowski
Running Time: Three hours 15 minutes with one intermission
Running Dates: November 24-December 15, 2007.
Where: Los Angeles Opera, Dorothy Chandler Pavilion, 135 N. Grand Avenue, Los Angeles, Reservations: (213) 972-8001
Reviewed by Laura Hitchcock on November 24.



Easy-on-the budget super gift for yourself and your musical loving friends. Tons of gorgeous pictures.

Leonard Maltin's 2007 Movie Guide


>