HOME PAGE

SITE GUIDE

SEARCH

ADVERTISING AT CURTAINUP

REVIEWS

FEATURES

NEWS
Etcetera and
Short Term Listings

LISTINGS
Broadway
Off-Broadway

NYC Restaurants

BOOKS and CDs

OTHER PLACES
Berkshires
London
California
New Jersey
Philadelphia
Elsewhere

QUOTES

TKTS

PLAYWRIGHTS' ALBUMS

LETTERS TO EDITOR

FILM

LINKS

MISCELLANEOUS
Free Updates
Masthead
Writing for Us


A CurtainUp Los Angeles Review
The Color Purple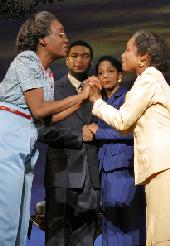 Jeannette Bayardelle as Celie (L) greets LaToya London as Nettie (R)
(Photo: Paul Kolnik)

And here she is, given touching life by Jeannette Bayardelle in the touring production of the Broadway hit, cover ing all the bases from rape and brutalized repression to a successful business woman who finds love— and not a minute too soon.

The story is set in Georgia between 1909 and 1949. Celie is impregnated twice by her stepfather who gives the children away, then marries her off to Mister (Rufus Bonds, Junior), a bully who treats her like a slave through 30 years of marriage. It's no wonder she joins the men in falling in love with Shug Avery (Michelle Williams), a gorgeous bisexual singer. Celie's little sister Nettie (LaToya London), the only person she felt loved by, runs away from the lascivious stepfather but, because Mister hides her letters, Celie never knows that Nettie has accompanied the local minister's family to Africa where they work as missionaries. Thanks to Shug, Celie breaks away from Mister and, through the hard work and talent that have never deserted her, comes into her own.

A strong sub-plot presents Mister's son Harpo, a gentle man exuberantly portrayed by Stu James, and his super-size wife Sofia, in which Felicia P. Fields re-creates her original Broadway role as a feisty woman who tries to stand up for herself in the brutally segregated south and is beaten almost out of her senses because of it.

Marsha Norman's book mines the richness of the characters in Alice Walker's novel, though it's longer than necessary, perhaps to accommodate the variety of musical styles ranging from jazz to gospel created by Brenda Russell, Allee Willis and Stephen Bray. The music is pleasant, lively and appropriate, interpreted by Donald Byrd's dynamic choreography.

Act II begins with Celie reading Nettie's letters from Africa. Even allowing for the costumes as figments of Celie's imagination, the African dancers look more Las Vegas than anything Celie could have dreamed of, especially since she's never seen Las Vegas either.

The glory in this production is the cast. Supporting Bayardelle are LaToya London, who outstandingly conveys Nettie's youthful idealism with luminous charm, Rufus Bonds, Jr., whose Mister ranges from dour and opporessive to an old man liberated by love, Stu James as Harpo, Fields and Williams as Sofia and Shug respectively. The Church Ladies are a delicious Greek Chorus Gospel Style and, in Act II, amusingly re-created African style. This production exploits the star power of Michelle Williams, familiar to audiences from Destiny's Child, and LaToya London from American Idol.

Director Gary Griffin's astute eye for character is reprised in this production, as are the production values discussed in— our Broadway review . That review also includes the production numbers.



THE COLOR PURPLE
Book: Marsha Norman, Music and Lyrics by Brenda Russell, Allee Willis and Stephen Bray, adapted from the novel by Alice Walker
Director: Gary Griffin
Choreographer: Donald Byrd
Cast: Diamond White (Young Nettie, Young Henrietta), Alex De Castro (Young Celie, Young Olivia, Older Henrietta), Bridgette Bentley (Church Soloist), Kimberly Ann Harris, Virginia Ann Woodruff, Lynette Dupree (Church Ladies), Trent Armand Kendall (Preacher, Prison Guard), Quentin Earl Darrington (Pa, Chief), LaToya London (Nettie), Jeannette Bayardelle (Celie), Rufus Bonds, Jr. (Mister), Anthony Williams II (Young Harpo, Young Adam), Stu James (Harpo), Felicia P. Fields (Sofia), Stephanie St. James (Squeak), Michelle Williams (Shug Avery), Adam Wade (Ol' Mister), Lesly Terrell Donald (Buster, Bobby), Keith Byron Kirk (Grady), Tiffany Daniels (Daisy), Sumayah McRae (Older Olivia), Grasan Kingsberry (Older Adam)
Set Design: John Lee Beatty
Lighting Design: Brian MacDevitt
Costume Design: Paul Tazewell
Sound Design: Jon Weston
Hair Design: Charles G. LaPointe
Running Time: Two hours, 45 minutes, one intermission
Running Dates: December 13. 2007-March 9, 2008
Where: Ahmanson Theatre, 135 N. Grand Ave., Los Angeles, Reservations: (213) 628-2772.
Reviewed by Laura Hitchcock on December 16.



Easy-on-the budget super gift for yourself and your musical loving friends. Tons of gorgeous pictures.

Leonard Maltin's 2007 Movie Guide


>