HOME PAGE

SITE GUIDE

SEARCH


REVIEWS

REVIEW ARCHIVES

ADVERTISING AT CURTAINUP

FEATURES

NEWS
Etcetera and
Short Term Listings

LISTINGS
Broadway
Off-Broadway

NYC Restaurants

BOOKS and CDs

OTHER PLACES
Berkshires
London
California
New Jersey
DC
Philadelphia
Elsewhere

QUOTES

TKTS

PLAYWRIGHTS' ALBUMS

LETTERS TO EDITOR

FILM

LINKS

MISCELLANEOUS
Free Updates
Masthead

A CurtainUp Review
The Cocktail Hour
Why write plays? Why is that the one thing in the world I want to do?— John
---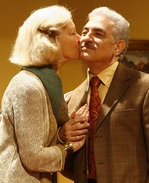 Melanie Boland, George Ashiotis in The Cocktail Hour (Photo: Carol Rosegg)

At a time when many families rarely even have dinner together, the significance of the cocktail hour in A.R. Gurney's eponymous comedy may be difficult to convey. But for the playwright it is crystal clear. The cocktail hour is the time when people unwind and, sometimes, family ties unravel.

Like so much of Gurney's work The Cocktail Hour is about the life of traditional WASPs living in the Northeast, and Theater Breaking Through Barriers' production, directed by Ike Schambelan, is unstintingly proper, daffy and conventional in a way that is endearingly evocative of that dying American breed.

The particular cocktail hour Gurney presents is important because it marks a family crisis. John (Nicholas Viselli), an emerging playwright, has come home to ask his father's permission to produce a show that's all about the family's tics, as well as what makes it tick. The title of his play is The Cocktail Hour. It's a cute twist on Gurney's part, but one that is not without merit.

John's father, Bradley (the company's co-artistic director, George Ashiotis), an inept but well-connected businessman, is horrified. He can't understand why his son wants to expose the family skeletons by "fouling his own nest." John's mother, Ann, (Melanie Boland), a sweet, wealthy woman, who, one suspects, has traded a nonconformist nature for personal safety, would rather her son wrote a book, for reasons that are revealed toward the end of the play. And his self-righteous, long-suffering sister, Nina (Pamela Sabaugh) is frustrated because the play gives her a "supporting" rather than a primary role.

As more and more liquor is consumed, thanks to the incompetence of the newly hired cook, tongues are loosened and old grudges, repressed anger, secret longings and stifled hopes are revealed. John asks his parents why they never gave him the attention and love he craved. Nina discloses that she would really like to work training Seeing Eye dogs.

The cocktail hour reaches its climax when it is interrupted by a phone call from John and Nina's younger brother Jeeter. Nina and Bradley are now startled by the news that Jeeter is going to move to California and build ships. What's more, he has been aided and abetted by John. Those who appreciate Gurney's basically optimistic view of life will not be disappointed by the resolution.

If making John a playwright was Gurney's way of injecting The Cocktail Hour with a bit of personal history, it also permitted him to comment on the current state of theater. And he does this so slyly it's impossible to tell which side he's on. One hears comments on "noisy British musicals," plays that are filled with obscenities and nudity, and reviewers who have nothing better to do than sit around criticizing.

TBTB gives The Cocktail Hour a solid production that neither surprises nor disappoints. Boland is especially lovable as the somewhat ditsy Ann, and Viselli is an amiable lynchpin in the family drama.

Theater Breaking Through Barriers was formerly known as Theater By the Blind, founded in 1979 by co-artistic director Ike Schambelan. Recently the company has changed its name to include all artists with disabilities. Although last year's The Rules of Charity not only was written by a disabled playwright and focused on a man in a wheelchair, most of the company's productions are typical plays featuring actors whose disabilities are difficult to discern.

Fortunately TBTB's work has intrinsic merit that goes well beyond the company's admirable goal.





THE COCKTAIL HOUR
By A.R. Gurney
Directed by Ike Schambelan
Cast: George Ashiotis (Bradley), Nicholas Viselli (John), Melanie Boland (Ann), Pamela Sabaugh (Nina)
Set and Lighting Designer: Bert Scott
Costume Designer: Chloe Chapin
Sound Designer: Nicholas Viselli
Running Time: 1 hour 45 minutes, with one 10-minute intermission
Presented by Theater Breaking Through Barriers
Kirk Theatre at Theatre Row
410 West 42nd Street (between 9th & 10th Avenues)
From 5/24/08; opening 6/08/08; closing 6/29/08.\
Wednesday through Sunday. Wed & Thu at 7pm, Fri & Sat at 8pm, Sat & Sun at 3pm
Tickets: $41.25, 212-279-4200 or ticketcentral.com
Reviewed by Paulanne Simmons June 7, 2008


REVIEW FEEDBACK
Highlight one of the responses below and click "copy" or"CTRL+C"

I agree with the review of The Cocktail Hour
I disagree with the review of The Cocktail Hour
The review made me eager to see The Cocktail Hour
Click on the address link E-mail: esommer@curtainup.com
Paste the highlighted text into the subject line (CTRL+ V):

b>Feel free to add detailed comments in the body of the email and state if you'd like your comments published in our letters section.


Try onlineseats.com for great seats to
Wicked
Jersey Boys
The Little Mermaid
Lion King
Shrek The Musical
---

South Pacific

In the Heights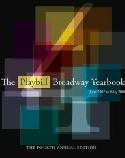 Playbill 2007-08 Yearbook

Leonard Maltin's 2008 Movie Guide